One event. One global family.
On the largest single day of fundraising for
St. Jude

Children's Research Hospital, the love and care of millions were on display.

December 07, 2022 • 2 min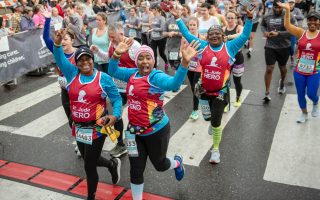 As 20,000 runners gathered before the start of last week's St. Jude Memphis Marathon, I was filled with optimism. For the day, but also for what it meant to see so many coming together behind the purpose of finding cures and saving children.
In that starting corral was the very spirit Danny Thomas envisioned when he opened the doors to St. Jude Children's Research Hospital 60 years ago this year — people of diverse backgrounds, races, ethnicities and circumstances coming together in the service of this lifesaving mission.
It was one day, one event, but it's the same spirit we see in supporters like you around the world.
More than 12 million donors and one million volunteers who keep Danny's dream moving forward to the next great leap in scientific discovery and the next lifesaving treatment protocol. To the next child who returns home, graduates from school, begins a career and a family, and truly impacts the world in their own way.
This support is so crucial as the $12.9 billion St. Jude strategic plan seeks to expand our mission on a global scale and make inroads on cancers without answers, insidious diseases with almost no chance at survival.
And yet, the possibilities remain endless. Since 1962, researchers and doctors at St. Jude — fueled by your support — have made the impossible possible.
For 60 years, with you by our side, we've given kids with cancer hope and a second chance at life.
These are kids like Stella, whose St. Jude journey began seven years ago on the start line at St. Jude Memphis Marathon Weekend. It was the one-mile St. Jude Kids Marathon, she was 6 years old and her grandmother, Becki (Bella to her grandkids), a longtime St. Jude supporter and half-marathoner, thought it would be a great way to get her granddaughter involved with the mission.
Stella crossed the finish line that day and, two years later, crossed the threshold of St. Jude Children's Research Hospital as a patient, diagnosed with papillary thyroid carcinoma, a cancer of the thyroid gland.
Her granddaughter's diagnosis added weight to Bella's support and purpose behind running. But she would have run and supported St. Jude regardless. Like you, Bella was part of this mission because, as she'd explained to Stella, "It's the right thing to do."
As runners lined up last weekend, I was reminded of that purpose, humbled by the tens of thousands on-hand, and millions more around the world who hold St. Jude in their hearts, doing all they can, for "the right thing to do."
During that moment at the start line last week, watching runners gather, talk, laugh and even pray, I saw the future of St. Jude and the global fight against childhood cancer and other life-threatening diseases.
I saw one family, united, just the way Danny Thomas envisioned. Together, we will realize his dream to find cures and save children. Everywhere.