At the heart of our mission are the milestones reached by patients
St. Jude

patient Bailey's 16th birthday shines a light on our purpose.

April 09, 2021 • 2 min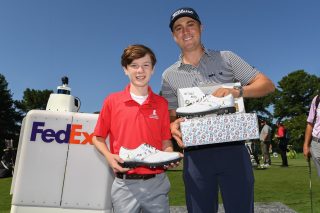 The heart of our mission is found in the lives of our patients and the possibilities their futures hold.
We were provided a stirring example of those possibilities recently in a social media post by Kimberly, mom to St. Jude patient Bailey. She wrote:
Sixteen. To know him is to love him. To really know him is a lesson in honesty, truth, perseverance, humor, and a little like sweet tea on a front porch. To be his mother is an honor. He knows a lot about a lot of things and a whole lot about what matters in life. He's been filling my mind full of facts for nearly sixteen years and filling my heart for even longer. I'm the luckiest.
Bailey arrived at St. Jude Children's Research Hospital to be treated for osteosarcoma when he was just 11 years old. His 16th birthday might as well have been a lifetime away. Thanks to your support, he reached that cherished milestone: Sweet Sixteen.
Along the way, he picked up golf and had his artwork incorporated into a pair of FootJoy shoes he presented to PGA TOUR golfer Justin Thomas during the 2019 World Golf Championships-FedEx St. Jude Invitational.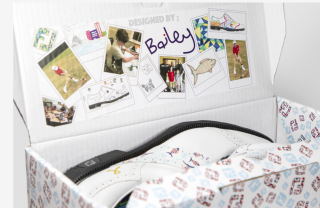 It was the kind of moment one doesn't forget. The kind of moment one points to as what the St. Jude mission is all about.
It is. And, also, it's not.
Because it's not just the big moments. It's the everyday possibilities. It's Kimberly's note to her son. The way she writes about him, and the time she's been able to spend with him.
It's about the young adult Bailey has grown into.
"He's a wonderful wise old soul in a teenager body and while he doesn't want any real recognition for how far he's come, he inspires us all to do better and more," Kimberly said.
Bailey loves to fish and play golf. Every fishing trip or afternoon on the golf course describes this mission, too.
He's a tough kid who refused to get in a wheelchair during treatment and insisted on walking on crutches the entire time. When he could finally ride his bike again after treatment, he couldn't bend his prosthetic leg enough to ride sitting down, so he rode standing up instead.
Bailey had surgery to implant an adult prosthesis just before Christmas. We all hope it's the final surgery from the limb-sparing procedure that saved his leg, and the final sentence in this chapter of Bailey's life — the chapter about childhood cancer. From here on, we hope his life is characterized by what he chooses to do with it.
The most rewarding part of supporting St. Jude, always, is hearing St. Jude patients reached a milestone. It's those milestones, whatever they may be, that are at the heart of the St. Jude mission.
This time it was a 16th birthday. We can't wait to see what dreams Bailey realizes in his lifetime, and we're so thankful you're all along for the journey.
(Image credit: Ben Jared, PGA TOUR)