St. Jude

began as a bold dream; we continue to boldly dream for the future
When American Lebanese Syrian Associated Charities was founded in 1957,
St. Jude

Children's Research Hospital was still a dream. A blue-sky idea guided by imagination, heart and compassion.

August 26, 2022 • 2 min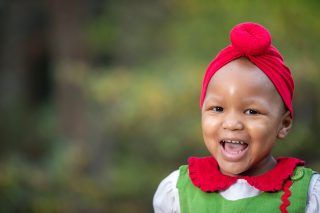 When American Lebanese Syrian Associated Charities was founded in 1957, St. Jude Children's Research Hospital was still a dream. A blue-sky idea, one without limits, guided by imagination, heart and compassion.

Over the next five years, the idea of a specialty children's hospital to treat kids of all races, religions and ethnicities at no cost to families would become more focused. And the sky, for so many families, became brighter.

Even after 60 years — after decades of scientific leaps and treatments that have helped raise the overall childhood cancer survival rate in this country to more than 80 percent — there is still room for blue-sky dreaming at St. Jude.

In fact, it's written into the historic $12.9 billion strategic plan St. Jude adopted last year: "Our blue-sky projects amplify the strengths of the hospital's plan – allowing St. Jude to accelerate mission-critical objectives and test novel scientific and clinical approaches."

It goes on to describe these projects as bold and the possibilities as endless.

St. Jude has always been bold, always a place of possibility. From Danny Thomas vowing to find a cure for leukemia to the pronouncement less than a decade later that our researchers had, in fact, helped to raise the survival rate from 4 percent to 50 percent. "Leukemia can no longer be considered an incurable disease," the 1970 announcement stated.

Bold. Audacious. The impossible made possible.

At the end of the 1960s, it cost about $3 million a year to fund St. Jude. In the coming years, that figure will exceed $2 billion annually.

Our fundraising and awareness goals must be as bold and audacious as those blue-sky initiatives taking shape in the laboratories and at the bedsides of kids at St. Jude. We must reach for the sky when it comes to fueling the research into difficult-to-treat cancers such as diffuse intrinsic pontine glioma (DIPG) and infant acute lymphoblastic leukemia. Devastating diseases that hold survival rates to 80 percent.

Blue-sky research projects will transform the future of global pediatric healthcare and have already produced the Pediatric Cancer Genome Project, Global Hemophilia Gene Therapy Trial, Pediatric Translational Neuroscience Initiative and the Global Initiative for Childhood Cancer, among others.

Projects like Inspiration4 and Polaris Dawn have pierced the sky and taken our mission to space, raising funds and awareness on a global scale along the way.

There are so many more opportunities on the horizon as we seek to solve the multi-year, multi-trillion-dollar, multi-national problem of childhood cancer that affects more than 400,000 each year.

There are so many opportunities to support St. Jude, from our nationwide St. Jude Walk/Run events next month to running or supporting a friend in the upcoming St. Jude Memphis Marathon Weekend. As a monthly Partner in Hope donor or with your own, bold DIY fundraiser.

We thank you for all you've done and remind you the time for your support of this mission has never been more crucial as we seek to provide sunnier days for kids of today and patients of tomorrow.