St. Jude

in one word
Donors often use 'hope' to describe
St. Jude,

but accomplished doctor, researcher offers another powerfully descriptive word.

September 18, 2020 • 3 min
I recently heard Dr. Charles Roberts, Executive Vice President at St. Jude Children's Research Hospital, describe St. Jude as an 'oasis.'
That single word conveys so much about what St. Jude is — a peaceful place in the middle of a difficult situation.
Dr. Roberts knew this before leaving Dana-Farber Cancer Institute and Harvard University to join St. Jude in 2015. "I knew the incredible science and impact of St. Jude," he said, "but also what St. Jude does for our children and their families."
An oasis. And so much more.
Consider the St. Jude Comprehensive Cancer Center, of which Dr. Roberts is director. This is the first and only National Cancer Institute (NCI)–designated Comprehensive Cancer Center devoted solely to children. It is the linchpin in a global effort to combat childhood cancer everywhere and has received consecutive highest ratings from the NCI. In 2017, then-NCI Director, Dr. Douglas Lowy, called St. Jude "a jewel in the crown of pediatric cancer research."
During Childhood Cancer Awareness Month, we celebrate this jewel — this oasis — as a group effort. From the doctors, nurses and researchers to all of you, our supporters, who Dr. Roberts said enable "the engine of what we do."
It's because of you kids from around the world get the best care available anywhere at no cost to their families.
This was the case for Ramon Hernandez, diagnosed with acute lymphoblastic leukemia in Guadalajara, Mexico, when he was only 6 years old. Scared and unsure where to turn, a family friend told them about St. Jude where they were then referred. Ramon and his mom left home and family behind for the unknown. All he knew of America, Ramon said, was as the location of Disneyland and what he gleaned from the movie Home Alone.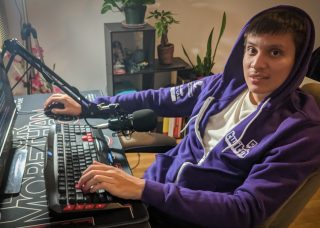 He was given platelets to help him through the flight. They spoke no English and a connecting flight through Houston was missed, but a good Samaritan helped show them the way. Ramon spent three years in treatment at an oasis more than 1,200 miles from home. Today, having graduated from UCLA, he works at the Consulate General of Mexico in Los Angeles.
Ramon's is one of thousands of similar stories made possible because of you, our supporters.
It's because of you St. Jude last year shared more than 540 important scientific advances with the global scientific community. That's more than one discovery per day.
And it's because of you massive amounts of scientific data can be put into the St. Jude Cloud powered by Microsoft and DNAnexus where — every week — more than 2,500 researchers around the world access it to bolster their own work.
You are the reason families like Ramon's, in the darkest times of their lives, have an oasis.
I've talked with many parents over the years, both at the beginning of their child's cancer journey and at the end, whether that was at a No More Chemo party or a funeral. They've all had their own words to describe St. Jude: Hope. Blessing. Miracle. Loving.
That's your impact.
As Dr. Roberts describes it in a single word: Transformative.
Richard C. Shadyac Jr. is President and CEO of American Lebanese Syrian Associated Charities, the fundraising and awareness organization for St. Jude Children's Research Hospital.