St. Jude

leaders, supporters celebrated during Black Philanthropy Month
In August, and year-round, we offer our deepest gratitude to pioneers of color who have led the way and the generous donors who help make it possible.

August 11, 2022 • 3 min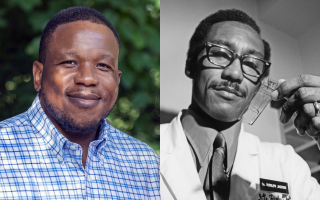 On a mild December day in 2016, Dr. Vernon Rayford ran through the campus of St. Jude Children's Research Hospital as part of a half marathon. As with so many participants, it was the most meaningful third of a mile of the St. Jude Memphis Marathon Weekend six years ago.

"It's my favorite part of the race, going through campus," Rayford said. "Seeing the patients there, knowing who you're (running) for, it just really spoke to me."

Rayford has run marathons as a St. Jude Hero throughout the country over the last six years. This September — which is both Sickle Cell Awareness and Childhood Cancer Awareness Month — he'll run in Berlin, Germany, with the St. Jude logo emblazoned across his chest and our mission in his heart.

This is what philanthropy looks like. It's the giving of time, talent and treasure in pursuit of purpose of greater than self. And for Rayford, that purpose has grown and expanded the more he learns about the St. Jude mission and its history of research and treatment of pediatric diseases such as sickle cell disease.

He's became more committed the more he learns about the 60-year history of diversity, equity and inclusion at St. Jude, and of one of its first Black doctors, Dr. Rudolph Jackson.

Rayford is a primary care physician in rural North Mississippi whose patients are often from marginalized communities of color.

Jackson, who came to St. Jude in 1968, helped found a program to send caregivers into the homes of poverty-stricken neighborhoods in Memphis to ensure equity of healthcare.

For Rayford, there is inspiration in Jackson's story, and a professional and purposeful kinship found in their mutual call to serve.

"I wish I'd known him because that would've been an incredible (lesson) of the challenges of being the first, of being someone who started work when things were about as bad as it could be in terms of civil rights," Rayford said of Jackson.

The program Jackson began to treat and care for families in the poorest neighborhoods went on to serve as the template for WIC, the federal initiative for women, infants and children. And the sickle cell disease research and treatment he helped pioneer at St. Jude would go on to be one of the largest such programs in the country.

August is Black Philanthropy Month and, as we do year-round, we're honoring bold and courageous leaders like Jackson, and thanking generous supporters like Rayford, who recently made a $10,000 gift toward a $2 million fundraising campaign honoring his hero.

Last month, St. Jude dedicated research and clinical space to Jackson. It's important space where the study and care of hematological diseases are carried out.

Important, too, because these are places where patients will see and learn about a pioneer who looks just like them, letting them know they can one day do great, world-changing things as well.

When Rayford laces up next month in Berlin, I hope he'll think of Jackson, too, and find inspiration and motivation in the purposeful life he led.

I hope he'll know we're all there with him in gratitude as he runs to support kids of all races, religions, ethnicities and economic circumstances who look to St. Jude for hope and healing today and in the future.