St. Jude

partnership helps Armenian kids with cancer
Founder Danny Thomas' dream of no child dying in the dawn of life is spreading around the globe.

July 29, 2021 • 2 min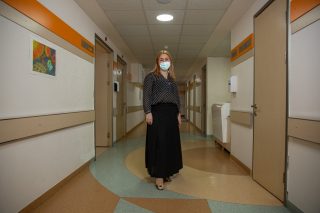 When our founder Danny Thomas opened the doors to St. Jude Children's Research Hospital, he said no child should die in the dawn of life. We take that literally.
No child.
Anywhere.
It's estimated more than 400,000 children worldwide develop cancer each year, and nearly half of them are never diagnosed. Can you imagine being a parent and not knowing why your child got so sick or died? And if they do receive a diagnosis, not having treatment options or realizing it would cost more than your house?
Ester Demirtshyan knows those worries. She's executive director of City of Smile Foundation in Armenia. It's Ester's job to raise money so Armenian children with cancer can survive their disease. Her foundation has endured economic instability, COVID-19 — even war — to ensure every child is treated and has a chance to go home.
Two years ago, Armenia was the first country to join the St. Jude Children's Research Hospital Global Alliance — a program that aims to increase survival rates of children with cancer and other catastrophic diseases worldwide. In a short time Alliance membership has grown to 153 institutions in 57 countries.
Just as St. Jude doctors and scientists are sharing cutting-edge discoveries and training doctors, ALSAC is lending expertise, too. We've shared with Ester our knowledge of fundraising, grant writing and event planning so she can adapt the expertise we've built over the decades to her own country and culture.
She says it has made a difference for Armenian kids.
It has made a difference in other countries, too. Mexico, Moldova and Brazil. India, Haiti and Zimbabwe. We've seen countries raise their childhood cancer survival rates and more kids go home because of these partnerships.
But there's more work to do.
Still today, the single most significant predictor of whether a child with cancer will survive is where he or she lives. In many countries, the survival rates are just like they were in the United States in 1962 when St. Jude opened. Four in five children diagnosed with cancer will die.
That's unthinkable.
And it's why St. Jude Global has an audacious goal to raise the global survival rate for six of the most common forms of childhood cancer from 20 percent (or less) to 60 percent by 2030. That's just nine years away. But it's a goal we must achieve.
We have the responsibility to help children receive the same quality of care no matter where they live. With your help, St. Jude will spread our founder's dream to every corner of the earth.
Ester, a true steward of Danny Thomas' vision, says it best: "It doesn't matter whether you are Armenian, Russian, Kazakh, American, English — whatever — it's kids," she said. "And there are no nationalities to kids. Kids are kids everywhere, and we have to make sure they are protected."
It's an essential truth. Every child deserves the same chance to live no matter their race, economic status, ethnicity, faith or nationality. No child should die in the dawn of life. Anywhere.
To learn more about City of Smile visit their website at www.cityofsmile.org.