In these uncertain times created by COVID-19, there is still
St. Jude

- thanks to you.

April 10, 2020 • 3 min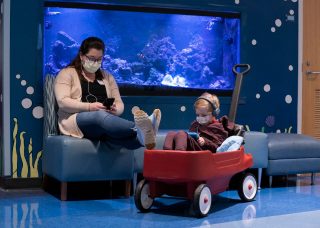 There's a colorful mosaic on the campus of St. Jude Children's Research Hospital that spells out an essential message in a single word.
HOPE.
It's essential for families in their darkest hours after a cancer diagnosis. And for us – collectively – during the immense challenge of COVID-19.
To me, it's appropriate that in the midst of the biggest public health challenge of our lifetimes we're also in the season of several important religious observations that create a powerful sense of hope for many of us. No matter your beliefs, hope connects us as humans.
These last few weeks have been emotionally wrenching. Nearly every aspect of our lives has been disrupted, creating so much uncertainty and worry, personally and professionally.
Yet, like you I hope, I also have an overwhelming sense of gratitude that provides balance during such an emotionally wrought time. My family is healthy. I'm surrounded by ALSAC colleagues determined to do whatever necessary to sustain the St. Jude mission. And I'm buoyed by the knowledge our colleagues at St. Jude are doing everything possible to protect the health of the children under their care.
Access to patient care areas is strictly regulated. Those working closest with patients are regularly screened for symptoms of the virus and tested. There are restrictions on patient siblings allowed on campus.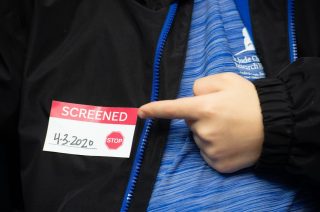 Nearly all of ALSAC's employees, me included, are restricted to home offices and kitchen tables now as Memphis, our hometown, like many cities around the nation, operates under safer at home orders. We're not hosting visitors or supporters on campus. And we've cancelled or postponed fundraising events that require people to gather in close proximity, or we're conducting others 'virtually.' Fundraising is the lifeblood of our mission, and although it's been severely disrupted, we are thankful for all who are able to continue to give.
A month into this new normal, I've come to understand there is something much more powerful in Danny Thomas' vision than even perhaps he knew in 1962 when St. Jude opened. Something was seeded and nurtured inside those walls for decades, but it's no longer contained or defined by physical structures.
We are apart – and that may be the case for several more weeks – but it's increasingly apparent we are forever deeply connected by what Danny started in Memphis decades ago. Connected by a common goal to end childhood cancer. Connected by a promise no family ever receives a bill for treatment, travel, housing or food because, even today while the world faces this unprecedented health threat, one truth remains -- we believe all a family should worry about is helping their child live. It's our moral compact with thousands of patients and their families no matter the health and economic uncertainties. No matter where we work.
So, separately, we've come together. In patient rooms and clinics at St. Jude where our heroic care teams haven't wavered in their commitment to providing the best care anywhere while worrying about their own families. In the labs where important research continues. And, at ALSAC, on those now ubiquitous, laptop video grids where working moms and dads can be seen balancing kids on one knee, but never taking their eye off our financial promise to the kids and parents who needs us now more than ever.
In these uncertain times, there is still St. Jude – thanks to you.
That gives me so much hope.
Richard C. Shadyac Jr. is President and CEO of American Lebanese Syrian Associated Charities, the fundraising and awareness organization for St. Jude Children's Research Hospital.