Through the eyes of an expert
Dr. Robert Webster puts COVID-19 into historical perspective as he explains why
St. Jude

has studied infectious diseases for decades.

June 19, 2020 • 2 min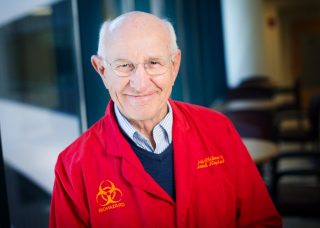 For decades now, St. Jude Children's Research Hospital has been home to one of the world's leading experts on infectious diseases, the amazing Dr. Robert Webster.
Dr. Webster, now an emeritus professor on the faculty, began his work at
St. Jude in 1968 – six years after it opened its doors – and may know more about flu viruses and their global origins than nearly anyone on the planet. He's not just studied viruses in his St. Jude lab for decades, but all over the world: China, Russia, England, Australia and his native New Zealand.
But when I tell people that, I typically get the same surprised response: What's a pediatric cancer research center doing studying infectious diseases?
So I asked Webster that question during a fascinating webinar with St. Jude supporters, and I want you to hear his answer because it's so important today amid the COVID-19 pandemic.
Webster said he got that question from an interviewer years ago and his answer then is his answer now:
"Because our children are on drugs for treatment of cancer and infectious diseases can interrupt that treatment. The treatment of infectious diseases is absolutely critical…
"…It's the infectious diseases like influenza, like measles, like whooping cough…(and now) like COVID-19 that kill our children. That's what we have to address. To make sure we have vaccines and medicines for our children."
He said donors should be proud – and I couldn't agree more – how their contributions have lifted St. Jude into its world-leading position in research that ultimately saves children everywhere. This man has invested five decades to this life saving work – at St. Jude – and sees and understands the collective power of your donations.
He's humble and appreciative and, importantly in this time of so much anxiety over COVID-19, optimistic researchers around the world are racing toward an effective vaccine, perhaps by the end of the year. That confidence, based on a lifetime of study and experience, should give us all such hope. After all, this brilliant, gentle man was among the first researchers in the world allowed into China nearly 50 years ago to study flu viruses he's confident originated from live animal markets, the suspected source of COVID-19.
I think donors on the webinar with Dr. Webster found solace, too, in his descriptions of the meticulous steps St. Jude has taken to protect patients and their families through aggressive testing of its workforce. Those tests, developed at St. Jude, are administered weekly to employees, and analyzed at labs on the St. Jude campus.
He described it as "one of the safest places in the world."
And generously, Dr. Webster thanked you, our supporters, for that.
So do I.
Richard C. Shadyac Jr. is President and CEO of American Lebanese Syrian Associated Charities, the fundraising and awareness organization for St. Jude Children's Research Hospital.