The true impact of cures
New report hopes to reverse the thinking on the economic impact of global childhood cancer

August 28, 2020 • 3 min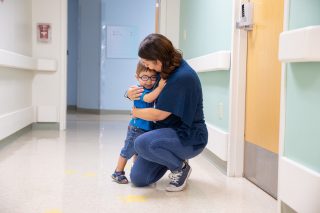 Our founder Danny Thomas' vision for St. Jude Children's Research Hospital was twofold: cutting edge research and treatment while taking finances out of the equation for families.
It shows in how kids with cancer and other catastrophic diseases are treated at St. Jude. Thanks to our generous donors, we spend as much as it takes to save a child, though that cost can soar into the millions of dollars over years of care.
And we're able to provide this treatment, along with housing, food and travel, without ever sending a bill to patients' families.
That's still not the case in many places around the world where economics continue to dictate outcomes for kids with cancer. But because of a fascinating report authored in part by St. Jude researchers, I'm hoping we'll begin to view the financial challenge through a very different lens.
The report by the Lancet Oncology Commission found if healthcare spending worldwide increased by about $20 billion a year through 2050, more than half of the 11 million children who would otherwise die of cancer during that period could be saved. That's 6.2 million deaths that could be prevented – mostly in low- and middle-income countries, where access to adequate care is limited.
And here's the kicker: the cumulative $594 billion investment over the 30-year period would yield net economic benefits totaling $1.99 trillion.
In other words, every dollar spent on the initiative would generate a return of more than three dollars.
How could that be?
Think of all that is lost when a life is extinguished in childhood – all the potential productivity, creativity, innovation and leadership that dies, too. Along with our broken hearts.
Yet because it's so rare, pediatric cancer tends to get overlooked when countries set funding priorities and decide which diseases get covered in universal health plans. Sure, more than 100,000 kids die of cancer around the world each year, but just the two deadliest adult cancers – lung and colorectal – kill 1.76 million and 860,000, respectively.
The problem with case numbers and mortality figures is they don't convey the massive burden of childhood cancer. A child who dies of cancer can lose 60 or more years of life, while some adult cancers, on average, shorten lives by a decade or so. which, of course, is still unacceptable.
Saving those 6 million kids, the Lancet Oncology Commission found, would bequeath to them a total of 318 million years of life.
The resulting "lifetime productivity gains" account for the economic benefits cited in the report.
Dr. Carlos Rodriguez-Galindo, who chairs the St. Jude Department of Global Pediatric Medicine, co-chaired the commission authoring the report. During a recent call with donors, he talked about how children around the world continue to die of curable cancers and the tragedy of leaving unprotected "the most vulnerable in our societies."
Children aren't just the most vulnerable members of society. In many ways – and in our own hearts we know this to be true - they're the most valuable. While we can never attach a dollar figure to a precious life, this is an important perspective. This is your impact.
Richard C. Shadyac Jr. is President and CEO of American Lebanese Syrian Associated Charities, the fundraising and awareness organization for St. Jude Children's Research Hospital.