We all have a choice
And we are thankful for yours.

October 30, 2020 • 3 min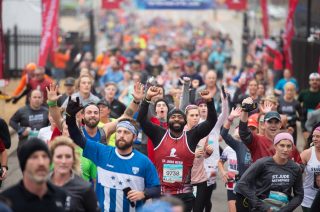 If there's one thing that could be said of every person who supports St. Jude Children's Research Hospital, it's that they give freely — by choice, not obligation.
Millions of generous people have looked at the landscape of worthy causes and chosen to support the efforts of St. Jude to search for cures and save the lives of children worldwide. They have chosen to give of themselves in support of children and families in desperate need of care.
The decision to support St. Jude is not born of obligation but rather a sense of compassion; and if you need evidence of that, look no further than the family of our founder, Danny Thomas. As his daughter Marlo told me during our St. Jude Insider Spotlight Series: "Dad was extremely concerned that Terre, Tony and I would feel an obligation to the hospital, so he made it very clear to us, 'This was my promise, not yours. And after I'm gone, I don't want you to feel that the work of the hospital will be your burden to carry' — which was, of course, psychologically brilliant," she added with a laugh, "because here we all are today!"
One by one, each of the Thomas siblings forged their own personal connection to the hospital. Marlo became St. Jude's National Outreach Director, while Terre and Tony, both longtime board members, regularly lend their talents and leadership to a variety of St. Jude initiatives. Together the three created St. Jude's national holiday fundraising campaign, Thanks and Giving.
For Marlo, it's all about the children.
"I look into their little faces and see such courage and strength and compassion and an unbelievable capacity for joy in the face of such adversity. I see the humanity that is possible in all of us."
While our reasons may differ slightly, they can be summarized in one word: Purpose. The St. Jude mission is defined by equality and wrapped in selflessness. It's built on truths that cut to the core of all of us. All people should be treated equally. All those who need care should receive it.
I just learned this deep sense of purpose stretches farther back in history than we even thought. We thought Danny's public discussion of St. Jude began in the early 1950s. Our foundational stories begin there, with a monumental push to St. Jude's opening on February 4, 1962.
But a kind-hearted donor recently sent me an article from The Boston Daily Globe dated January 17, 1949. It includes a paragraph where Danny describes St. Jude as not just a shrine to the patron saint of hopeless causes, as he promised, but a research hospital open to Black Southerners who were, at the time, barred from health care facilities deemed "White Only."
Publicly, as early as January 1949, and surely privately before that, Danny Thomas was establishing the purpose of St. Jude Children's Research Hospital. More than 70 years after his interview for that article, that purpose remains — to care for those who need it.
Each day we have a choice. And we are all deeply grateful you continue choosing to support St. Jude.
Richard C. Shadyac Jr. is President and CEO of American Lebanese Syrian Associated Charities, the fundraising and awareness organization for St. Jude Children's Research Hospital.