'We won't stop'
Sacred promise to the world guides our daily actions

October 09, 2020 • 2 min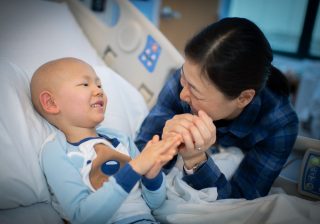 St. Jude was built on not just hope, but a promise – a sacred promise, one that can be traced all the way back to our founder, Danny Thomas. A gifted storyteller, he spoke of how he hoped to someday throw the keys to St. Jude in the nearby Mississippi River because beginning with leukemia, once a death sentence, he dreamed of the day when no child would die from cancer.
That dream became our promise: We won't stop until no child dies from cancer.
That's the promise we've pursued ever since St. Jude opened in 1962, and one that we continue to build on today.
It's a promise I can see taking shape every day in the ongoing construction of a massive $412 million Advanced Research Center, where, we hope, scientists will find the next breakthroughs that lead to new cures.
It can be found in our creation of the world's largest and most comprehensive collection of scientific resources for studying pediatric solid tumors and their related biology, and made available, as is our practice, to scientists and doctors around the globe.
It lives in the recruitment of renowned experts, such Dr. Richard S. Finkel, a leading pediatric neurologist, to guide the creation of a Center for Experimental Neurotherapeutics, which will expand research into neurologic disorders.
And in the recent discovery of an inherited genetic variation linked to relapse in children with acute lymphoblastic leukemia; the doorway to increase ALL survival beyond its already remarkable 94 percent rate.
It's a promise that guided us in research pinpointing the molecular basis for pontine gliomas, a type of brain cancer with a two-year survival rate of less than 10 percent. This knowledge could lead to a day when doctors no longer have to tell parents all they can do is make their child comfortable once diagnosed.
It propelled our discovery of a common gene variant among people of Brazilian descent that increases their risk of developing cancer.
And our development of a software system that enables better detection of cancer-causing gene fusions and offers insights for new drug treatments.
Not to mention the groundbreaking data work to identify which survivors of childhood cancer are at risk of developing another cancer in adulthood, or partnerships with clinics around the world to plug resource and knowledge gaps with the goal of saving more of the 400,000 kids who develop cancer every year.
We won't stop.
We can't stop.
Not for a cancer with a 94 percent survival rate like ALL or one below 10 percent like pontine gliomas. Not for kids in the United States, in Zimbabwe or anywhere.
It's our sacred promise.
Richard C. Shadyac Jr. is President and CEO of American Lebanese Syrian Associated Charities, the fundraising and awareness organization for St. Jude Children's Research Hospital.