Welcome to the United States of
St. Jude,

where hope heals and love rules
We're telling
St. Jude

stories from each state, capturing the caring nature of this great country.

July 07, 2021 • 2 min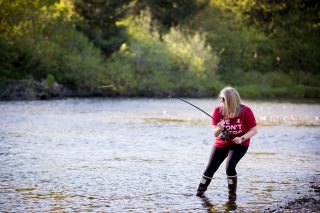 We're taking you on a glorious journey, across this great land of ours, to a place we're calling The United States of St. Jude.
We've gathered stories from each of the 50 states, plus the District of Columbia and Puerto Rico — stories of patients and survivors; stories of families, some bereaved but all of them grateful for St. Jude; stories of donors and volunteers, and everyone else keeping our founder's dream alive of a world where no child dies in the dawn of life.
Whether told in traditional written form, through audio or video presentations, with photographs or artist illustrations, these stories form a map of a land that loves, supports and is forever lifting the children of St. Jude.
You'll visit Kodiak Island, Alaska, home to the Kodiak bear, the world's largest brown bear — and also to St. Jude patient Brandi Noe. She lost her right eye to retinoblastoma, but she's never let it stop her from living a full life. "If anything, that's the thing that pushes me forward," said Brandi, a wife and mother who climbs mountains and loves to fish — and once caught a 75-pound halibut.
You'll visit Albuquerque, New Mexico, which budding sports journalist Austin Denton called home in his all-too-short life. Austin was known as "The Voice" of La Cueva High athletics, for all his games as a student broadcaster, but you may have seen him on national TV — announcing a first-round pick during the NFL draft or interviewing Peyton Manning during Super Bowl week.
"I may be in a wheelchair. I may only be able to walk on crutches or a walker. But that doesn't stop me from doing what I want to do," Austin said in our video tribute of him. He passed away in 2019. I'll never forget Austin, and I bet you won't either.
And you'll visit the Hawaiian island of Maui for a fundraiser like no other — the Saddle Up for St. Jude trail ride, with riders on horseback stretched for more than a mile through gulches and over prairies as they make their way into the mountains for a stunning view of the ocean.
"We brag to everybody that St. Jude shares its breakthroughs with everybody in the world. We're just so proud of that. It's not just the children (in Memphis) they're helping. They're helping everybody," said Theresa Thompson, a member of the event's host family, inspired in part because they knew a young girl, diagnosed with leukemia, who was successfully treated in an Oahu hospital on a plan pioneered by St. Jude.
Whether they're coming from four thousand miles from Memphis, or just a state away, these are stories that never fail to hit home.
Stories of hope and healing, gratitude and giving.
Stories of the people and places that make up this land we all love.
The United States of St. Jude.