From a pub in Queens, a lifetime of love endures through a lifesaving mission

July 06, 2021 • 5 min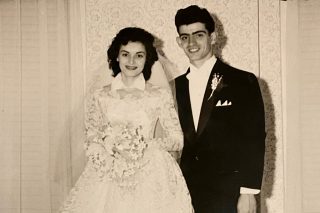 GLENDALE, Queens, N.Y. — This is a story about Vinnie DePaola, the love of his life, and the good that people can do when they listen to their hearts.
In Vinnie's case, the heart speaks with a Queens, New York, accent, which is where all this takes place — more than 1,100 miles from St. Jude Children's Research Hospital in Memphis, but really just as close as the neighborhood pub.
That's the setting for Vinnie's little St. Jude fundraiser that's gotten happily out of hand, bringing in more than $200,000 over six years — including a record $70,000 in 2019, and another $26,000 in the pandemic year of 2020 when they had no event and the pub was closed.
It all began when Camille, Vinnie's beloved wife, passed away in 2012. At one point, talking about their lives together, he stopped, almost as if to interrupt himself.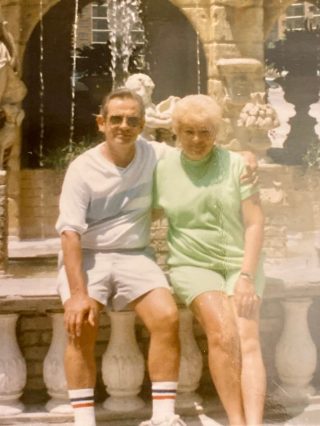 "Hey, we were together 66 years," he said. "That'll answer your question. We were married 66 years."
It's actually a few years shy of that, if you do the math. But what's math to the power of love? See, Vinnie's still counting. They're still married, in his mind.
"He goes to visit her grave every day," said Maria Joost, part of Vinnie's team that makes the fundraiser go. "He'll still say, 'My wife, my wife.' She gone but she's not."
So, yeah. Vinnie and Camille. That one took. And Camille, who worked for 25 years in a doctor's office, who would administer blood tests among her other duties, "had a heart of gold," Vinnie said, "she always took care of older people."
And cared deeply for young ones, too. St. Jude was her favorite charity, no matter the lack of geographical proximity or any kind of personal connection. Camille and Vinnie had known about St. Jude, and its mission to care for kids with cancer and other catastrophic diseases, from way back.
"When we were young, me and my wife, we went to Vegas and we saw Danny Thomas," Vinnie said. "He performed in Vegas."
Now, Vinnie, he's a talker. Interviewing him is a bit like stepping into New York traffic. Good luck with that.
But a few minutes later, he was asked what year he and Camille had seen Danny Thomas, the celebrated comic and actor who founded St. Jude in 1962, following an early-career promise to build a shrine to the patron saint of hopeless causes.
Vinnie laughed.
"I'm 86," he said, "I'm going on 87."
He joked then about his memory, but it seems as sharp as his wit. This is Vinnie's fundraiser and he's always thinking up new ways to make it bigger and better. "New people, new faces, new excitement," he said, sounding half his age.
The event takes place in an Irish pub called Celtic Gasthaus (yes, Gasthaus is German, and so was the bar, in another time, under other ownership). It's in the Queens neighborhood of Glendale, but Vinnie is always looking to branch out.
When we were young, me and my wife, we went to Vegas and we saw Danny Thomas.
"We were just watching the basketball, us guys," he said, "and I knew the owner of this place, up in Forest Hills. And he agreed to do a benefit up there. Yeah. Well, I try to get the money all together and then make one lump sum (donation to St. Jude.)
"It's just ideas that pop in my head, out of nowhere, you know?"
But it wouldn't be possible, Vinnie said, without his team, which includes his son, Anthony, who serves as the event's treasurer — and was devoted to his mother, especially when she was ill near the end of her life.
"I know a lot of sons love their mother and love their father," Vinnie said of Anthony, "but you should have seen him, taking care of her."
Like father, like son — and that extends to Anthony visiting his mother's grave "every single, solitary day," Vinnie said.
They're keeping her memory alive with their daily visits — and all the time they spend throughout the year working on behalf of her favorite cause.
The main fundraiser for St. Jude takes place on a Sunday, usually in October, because the football games are on and that helps draw a crowd and keeps things lively. It goes all day. "Oh, it's fantastic," said Aidan Quinn, who co-owns the pub. "Continuous flow of people coming in and out."
There are drawings for prizes. There's a band playing in the beer garden out back.
There's a special T-shirt every year, with a St. Jude-inspired slogan, like "Finding Cures, Saving Children" or this year's "Angels Amongst Us," and the names of loved ones who have died. The first year there were two names — Camille and Margaret, Aidan's late wife. Margaret loved and supported St. Jude, as well. "It's one thing, your wife dying of cancer," Aidan said, "but to see a little kid dying of cancer, that's tough. And it's tough on the families, too. That absolutely goes through me, that a little kid would have to suffer like that."
Now there are about 10 names on the T-shirts. This year's version will be "gorgeous," Vinnie promised.
And there's always a raffle of donated items from area businesses — beer coolers, golf bags, and lots of gift cards. Vinnie, who spent some 25 years in the International Brotherhood of Electrical Workers ("I was in Local 3," he said) before getting into the bar and restaurant business, is in charge of soliciting donations. He's good, very good.
"He goes to every single business in the neighborhood. They've known him for years and years and years, because he's like the mayor. Nobody can say no to Vinnie," said Michelle Keane Redaj, another member of team Vinnie, which also includes Elle Kimlingen, whose husband, Pete, plays in the band.
Asked to describe Vinnie, Michelle laughed. "He's a real jokester. He's still a huge flirt. Very social guy. Very, very kind-hearted, would really do anything for anybody."
Said Aidan of Vinnie: "He will chitter chatter to everybody. He's been in the neighborhood the last 50, 60 years, so he basically knows everybody. He's just one of those real genuine neighborhood people.
"I must admit, I wish I had his stamina. Because he's like the bunny rabbit. He never gives up. It's something new every year. He pushes and pushes and pushes."
Maria — who, like Michelle and Aidan, is from Ireland — knows to expect the occasional top-of-the-morning phone call, with Vinnie on the other end: I just thought of something, I just thought of something.
That's how the event stays fresh. That's how Vinnie and crew were able to raise $26,000 during a lockdown in one of the cities hit hardest by COVID-19. It's why Vinnie is looking at this fall's event as another potential record-setter, pandemic allowing.
"He's like, 'If it gets to 100 percent capacity, I'm going to make a hundred grand this year,'" Michelle said, laughing. "I'm like 'Vinnie, slow down!' Oh, my gosh."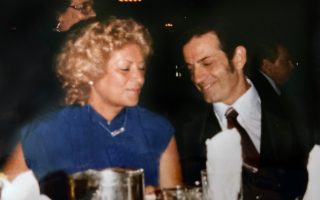 But of course, it's not just about how much, for Vinnie. It's about why. It's because of his love for Camille, and their lives together — 66 years, yes, and counting. It's because of Camille's love for the cause and kids of St. Jude, and Vinnie's, too.
"It keeps him alive," Maria said. "It keeps him going. This is his charity. This is his way of giving back, you know?"