A letter of love, the promise of hope
In a note to her son, Regina gives thanks for
St. Jude

Children's Research Hospital and the community that helped heal Emmanuel.

September 08, 2022 • 2 min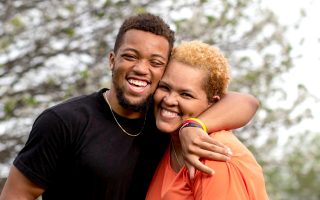 When Regina tells the story of her son, she begins with love. It's a mother's love, growing unconditionally and exponentially as she carried him.
"The day you entered this world, when I saw your tiny face and heard your first cry, my love grew still further," she wrote in a letter to Emmanuel as he headed off to college.
When she tells the story of her son's cancer journey, it's a story of community.
In that community is love, grown exponentially among doctors and nurses and child life specialists.
Danny Thomas dedicated the mission of St. Jude Children's Research Hospital to the parable of the Good Samaritan. A mission that would love and care for our neighbor regardless of race, ethnicity, religious beliefs or a family's ability to pay.
During Childhood Cancer Awareness Month, we advocate for the love and care of kids with cancer here and around the world. Love and care that begins with all of you, a community of support and hope.
We reflect on stories like Emmanuel's, who was diagnosed with retinoblastoma, a cancerous tumor of the eye.
He was just 4 years old. Life at diagnosis, Regina wrote, came to a standstill.
But at St. Jude, we know there is no standing still when it comes to the life of a child and where a child's dreams may take them.
Progress and future are what St. Jude focuses on in its $12.9 billion strategic plan, which in part will work to improve quality of life for survivors of childhood cancer. St. Jude leads the way in developing less-toxic treatments that reduce the risk of long-lasting side effects. But there's still a lot of work to be done and progress to be made so kids like Emmanuel can realize their dreams and reach their full potential.
Regina reflected on their arrival at St. Jude: "Later that night after we got you settled in, I remembered looking at you and not knowing your destiny. I prayed and I cried until my faith was strengthened."
Faith plays a big part in this family, and Regina found strength through prayer and the community surrounding her while her little boy healed. Her faith and the support of community would be crucial as Regina and her husband made the difficult choice for doctors to remove Emmanuel's eye to save his life.
Having only one eye hasn't held Emmanuel back. Far from it, he's living life to the fullest and pursuing his dreams. Having graduated from high school in the spring, he's off to college this month on a football scholarship in South Dakota.
These are the milestones you help St. Jude patients achieve.
This family and the community that surround them are shining examples of why it's so important to give during Childhood Cancer Awareness Month and throughout the year. Why it's important to register for a St. Jude Walk/Run event in your own community or virtually, participating with supporters from around the world.
Regina never gave up hope, not with St. Jude by her side. Thanks to you, our supporters, more kids like Emmanuel will have that hope and a lifetime of memories and milestones to carry on their journey.