Wishing you hope and optimism for the New Year
St. Jude

stories from yesterday offer a roadmap of promise and inspiration for 2021 and beyond.

January 08, 2021 • 3 min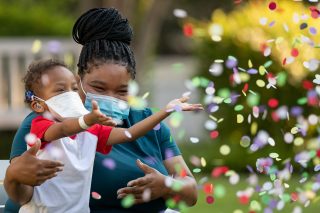 In the New Year, I hope for safety and health for all. I hope for a return of events such as the World Golf Championships-FedEx St. Jude Invitational and the St. Jude Memphis Marathon Weekend. I hope to attend fundraising events with my St. Jude family. I hope to be able to personally thank donors. I hope for a return of some normalcy.
At St. Jude Children's Research Hospital, hope is nothing new. Those four letters — H-O-P-E — may as well have been embedded in the cornerstone of the building first opened in 1962. Since then, we've seen our share of good times and bad.
And still, we come out on the side of hope.
The past year was something different, though, wasn't it? The pandemic disrupted the way we conduct business and the way we socialize. So how can one round the corner of a new year still holding tight to optimism?
I look to the children at St. Jude. I look to their parents and siblings, and the doctors and nurses caring for them all. Amid the lows, I celebrate the highs, and there were plenty:
There is so much hope in each of their stories.
There's that word again. The one that got us through last year, and the one with which we charge into 2021. Because as difficult and hopeless as 2020 felt at times, you — our supporters, our family — showed us there's kindness to be found everywhere.
It's your overwhelming kindness and support that make me optimistic for the year we've begun. A year that will see the new advanced research center open on our campus. This 625,000-square-foot facility will feature the most cutting-edge equipment and technology, and its collaborative spaces will bring together some of the brightest minds in the world to tackle childhood cancer and other life-threatening illnesses.
Throughout this year, we'll watch as the Domino's Village — the 140-unit housing facility right on the St. Jude campus — rises from its foundation to eventually be home to families traveling to St. Jude from the world over for, there it is again, hope.
And this year, with your help, we'll welcome another 8,500-plus kids to St. Jude to receive the best treatment the world has to offer, all at no cost to their families. The research and discoveries coming from our scientists will be shared the world over this year to help tens of thousands more children survive and thrive.
So what's not to look forward to?
It's good to see you, 2021. And it's great to have all of you, our supporters, along, because none of this happens without you. Thank you and God bless.
Richard C. Shadyac Jr. is President and CEO of American Lebanese Syrian Associated Charities, the fundraising and awareness organization for St. Jude Children's Research Hospital.