Women in science at
St. Jude

: Advancing research and saving lives
St. Jude

and society benefit as more and more women enter the fields of science, technology, engineering and math.

November 07, 2020 • 3 min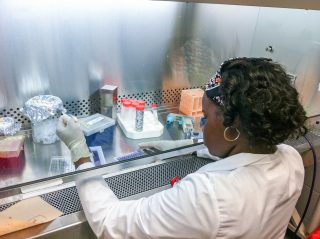 So much has changed since St. Jude Children's Research Hospital opened in 1962. Scientific breakthroughs have led to better cancer treatments and more cures. Technology has allowed St. Jude researchers to share developments more quickly and efficiently with the world.
And, happily, those researchers are increasingly women.
Women like Dr. Martine Roussel, a member of the St. Jude Department of Tumor Cell Biology and co-leader of the Cancer Biology Program, elected to the National Academy of Sciences last year.
And Dr. Emmanuelle Charpentier. She won, along with Dr. Jennifer Doudna, the 2020 Nobel Prize for Chemistry for their work with genome editing. In the late 1990s, Charpentier worked as a postdoctoral fellow at St. Jude.
Dr. Thirumala-Devi Kanneganti, vice chair of the St. Jude Department of Immunology, received a National Cancer Institute Outstanding Investigator Award in September for discoveries related to the innate immune system, inflammation, and cell death in health and disease.
It's no accident that these talented women chose to work or study at St. Jude. Since its founding, St. Jude has pursued as part of its mission the goals of diversity, equality and inclusion.
I love that we have created the EPIC Challenge to bring even more bright minds into the fields of science, technology, engineering and math (STEM). It's a curriculum for students to create an invention or idea that will ultimately improve life for kids like those at St. Jude.
I was particularly proud when I read a story recently of a St. Jude patient not just cured of her cancer but so profoundly affected by her treatment she pursued a degree in chemical engineering.
Jessica was just 7 years old when she arrived at St. Jude to be treated for stage 4 cancer, facing steep odds against surviving even five years.
"Chemistry for me was so complicated but interesting at the same time because you just think, 'Wow, look at all that's happening in a single reaction.' And for me, actually, it was also very faith-affirming because it was so complicated."
Jessica's curiosity was piqued by her St. Jude doctors and nurses.
"She was always asking questions when the doctors came in and she always had a big conversation about what they did or why they did it," her dad, Tony, said. "And they would always be generous and explain it to her."
Jessica beat the odds of surviving her disease and recently graduated from Louisiana State University with a degree in chemical engineering. It's an exciting time for Jessica as she moves into the next stage of her life and an exciting time for scientific research at St. Jude as construction on a new advanced research center — a state-of-the-art, 625,000-square-foot facility — nears completion with opening set for 2021.
The center will accelerate progress and launch a new era of scientific advancement. It will be an environment where the world's top scientists have ready access to leading-edge resources.
Thanks to generous supporters like you, the next great advancements in the treatment of childhood cancer will be borne from the new advanced research center.
To do this, St. Jude will need the best and the brightest, those who never stop learning, like Jessica.
Richard C. Shadyac Jr. is President and CEO of American Lebanese Syrian Associated Charities, the fundraising and awareness organization for St. Jude Children's Research Hospital.