Zimbabwe's childhood cancer challenges illuminate the need for collaboration
A story from the other side of the world crystalizes the St. Jude Global mission.

January 15, 2021 • 3 min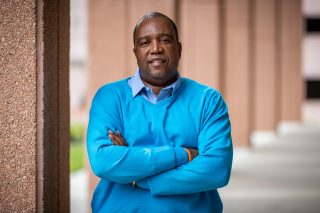 Daniel McKenzie's message was strikingly clear.
"The cancers are the same. The chemotherapies are the same. The children are the same."
Then he paused. It was apparent he was overwhelmed with emotion because of the sentence he was about to say next.
"It's just sad when we don't get the support we are needing."
McKenzie is the executive director of Kidzcan, the only nonprofit dedicated to supporting pediatric cancer and cancer-related blood disorders in Zimbabwe. Kidzcan supports the Parirenyatwa Government Hospital, a public hospital network with a number of hospitals in Harare, Zimbabwe's capital. It is the largest health service provider in the country.
Pari, as it is known, houses Zimbabwe's only pediatric oncology unit, which has space for 35 to 45 patients.
Zimbabwe is home to more than 14.5 million people — more residents than Pennsylvania, Illinois, Ohio, Georgia, or North Carolina. More residents, in fact, than any single state in the U.S. except California, Texas, Florida and New York.
One pediatric oncology unit with room to care for 35 to 45 patients.
McKenzie delivered his message during a recent webinar ALSAC hosted with our global foundation partners.
He told us Zimbabwe's government, by law, is obligated to provide treatment for children younger than the age of 5 with cancer. Yet required medication is often unavailable, forcing parents to source medication on their own. And parents of children older than 5 must obtain medications and bring them to the hospital for their children to receive treatment.
His words are a window into the challenges surrounding St. Jude Children's Research Hospital's global goal: raising the worldwide survival rates for six of the most common childhood cancers from 20 percent to 60 percent — by 2030 — in partnership with the World Health Organization. They do that by building capacity and through treatment and research. They train the next generation of pediatric oncologists, clinicians and scientists on a global scale.
And, at ALSAC, we're involved, too, advocating for our peers, mobilizing resources and sharing what we know about marketing and fundraising.
I've always believed in setting bold goals. The sentiment harkens back to St. Jude founder Danny Thomas. He was told building St. Jude and attempting to cure acute lymphoblastic leukemia, which had a four percent survival rate at the time, was an impossible task.
The way the St. Jude campus looks today and an A-L-L survival rate of 94 percent are evidence the "impossible" was, in fact, possible with enough work, determination, resilience, and, most importantly, enough compassionate supporters who believed it could be achieved.
And so, with your outstanding support, all of us at St. Jude and ALSAC look to the next challenging task. With your help, together, we can do this. It's what I told McKenzie and all of our international friends on the call. Every child. Everywhere. It's our moral imperative.
Even with the challenges his foundation faces, McKenzie shared an inspiring vision of the future. The situation is improving in Zimbabwe. Kidzcan is developing more partnerships. And in 2021, they plan to open the Rainbow Children's Home, Zimbabwe's first patient housing facility. It will accommodate 30 children and their caregivers.
It's an important step in their journey forward, and an important symbol for progress in the effort to cure childhood cancer for every child, everywhere.
McKenzie said something else deeply profound during our call. "St. Jude has shown us the ideal, the possibility. But ALSAC has given us the tools to make this a reality."
The possibility and the tools. Both are only possible thanks to you.
To learn more about Kidzcan, visit KidzCanZimbabwe.org.
Richard C. Shadyac Jr. is President and CEO of American Lebanese Syrian Associated Charities, the fundraising and awareness organization for St. Jude Children's Research Hospital.