'
St. Jude

never stopped trying' to cure difficult-to-treat cancer
Jonah passed away far too soon, but his family and community keep his selfless spirit and wish to give back alive by walking and running during Childhood Cancer Awareness Month.

September 30, 2022 • 2 min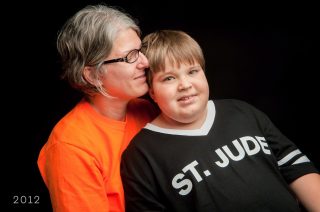 The St. Jude Walk/Run team is called Jonah and the Whales — a name with two origin stories.
Jonah's mom, Lynice, takes a biblical view. Her toddler son was swallowed by the whale, or brain cancer, which should have killed him right away but didn't.
Jonah himself considered his entire Georgia town as his whale pod and would tell his mom, "You're not big or nothin', but you're my whales, my people."
Year after year this Georgia community gathers — as they did earlier this month at a local middle school — to walk and talk and remember the boy named Jonah who left them too soon at just 11 years old. Jonah, who founded this team to give back to St. Jude, the specialty research hospital that had been a part of his life since he was just a baby.
Jonah, who loved to draw and whose own design was used in this year's team t-shirt.
Jonah, who wasn't guaranteed to live much past diagnosis, but whose family was given 10 precious years with him.
He's why his parents continue to raise funds and awareness for St. Jude Children's Research Hospital. He's the reason this Georgia town shows up again and again, raising more than $60,000 for the mission over the years.
They do so, Lynice said, because "St. Jude never stopped trying."
But Jonah had a diffuse intrinsic pontine glioma (DIPG).
The overall survival rate for childhood cancer in this and other high-wealth nations is more than 80 percent. It's cancers like DIPG and infant acute lymphoblastic leukemia that keep the rate from rising. Difficult-to-treat cancers, or "cancers without answers," are a focus of the bold, new, $12.9 billion strategic plan from St. Jude to accelerate research and treatment for children around the globe with catastrophic diseases.
The biblical Jonah survived by the grace of God. A grace that now comforts Lynice and her family. A grace she sees as St. Jude, which kept her son alive in the belly of the whale.
Jonah's whales — his people, his community — continue walking and supporting the St. Jude mission in his memory. They find grace in each footstep and each dollar raised for research and treatment to help kids like Jonah.
"We're walking for those parents that are having to walk on that path with their children," Lynice said. "We're just trying to do our part and hope that one day there's a cure that's found for this."
Childhood Cancer Awareness Month wrapped up this week, but we can't let our actions and support go with it. There is still too much to do, so many lives left to save. In memory of kids like Jonah, and in the spirit of selflessness they leave as a legacy, we ask that you continue to support this mission through participation in events, volunteering and donating as you see fit.