St. Jude

Children's Research Hospital, thy name is Hope

During September — Childhood Cancer Awareness Month — tens of thousands team up to walk and run for our mission. Those team names speak volumes.

September 15, 2022 • 2 min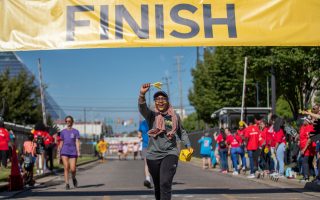 For more than 33,000 around the country lacing up for St. Jude Walk/Run events during Childhood Cancer Awareness Month — making up more than 5,700 teams — the name says it all.
Team Mariah (Portland). Team Declan (Tulsa). Team Aaron Assemble (Greater Bay Area of California). Caleb's Crew (Bloomington-Normal).
Named for kids who are or were St. Jude patients, they invoke a sense of purpose. They inspire us, urging participation for our own teams or to walk, run and fundraise on our own. Whatever we can do to help kids like Mariah, Declan, Aaron and Caleb.
Strong Country Girls (San Diego). Let's Save the Kids (Honolulu). Brooklyn Loves St. Jude! (New York).
Some are fun, some poignant. While The Holy Walkamoles may be silly, its impact is anything but. The Los Angeles team has raised more than $30,000 for the mission of St. Jude Children's Research Hospital and we couldn't be more grateful.
Team founder Jessica Burpee, along with her husband, Kevin, are the epitome of dedicated supporters. A busy mom, wife and business owner, Jessica's selflessness led her to do even more. "It's something that came into my heart and soul. Once we made that decision to do as much as we could for St. Jude that was it. That is the mission. It is something that just feels right," Jessica said.
The Burpees, like so many team leaders, individual participants and volunteers are putting their hearts and souls into St. Jude Walk/Run events happening across the country and virtually throughout the month of September, with most taking place on the 24th.
It's a unifying event, one that draws people and communities from disparate backgrounds and all walks of life together behind a singular purpose — to help find cures and save children the world over.
St. Jude Thaddeus is the patron saint of hopeless causes. A name honored by our founder, Danny Thomas, and his dream to tackle the most hopeless of causes before 1970 — childhood leukemia, a disease with a 4 percent survival rate.
Today, the survival rate for acute lymphoblastic leukemia (ALL), the most common type of childhood cancer, is 94 percent. And the name St. Jude Children's Research Hospital means hope for families around the world.
Hope for kids with ALL. Hope for kids with osteosarcoma. Hope for kids with neuroblastoma and some of the most difficult cancers to treat. Those like DIPG and infant ALL that St. Jude is committed to fighting with laser-like focus in its $12.9 billion strategic plan.
I hope you'll lend your name to this lifesaving mission during Childhood Cancer Awareness Month and year-round. I ask you to commit even a dollar-a-day — $30 for St. Jude — to help some of the sickest kids in the world find the hope they need. To help their families know their futures are not hopeless causes.
What's in a name? Hope. Inspiration. And the promise that a mile walked means a lifetime of milestones ahead.