Why we walk: For patients like Eri'Elle and her mom, who found hope at
St. Jude
During Childhood Cancer Awareness Month, we offer gratitude to everyone participating in
St. Jude

Walk/Run events. Your support means the world for kids in need around the globe.

September 22, 2022 • 2 min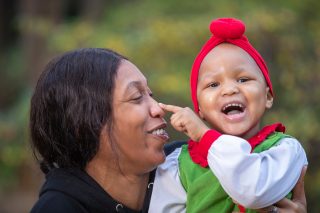 If a single picture is worth a thousand words, the video shares 60 years of our mission.
In it, Angela tells the story of her 2-year-old daughter, Eri'Elle, a beautiful little girl who lost the ability to walk from effects of a rare, malignant rhabdoid tumor on her spine.
"When I received the diagnosis with my daughter, my hope was gone," Angela said.
Thankfully, Eri'Elle came to St. Jude Children's Research Hospital where, thanks to all of you, our supporters, she found hope again.
Here at St. Jude, she underwent surgery and was treated with radiation therapy and chemotherapy.
And then, as we see in the video, Eri'Elle walked.
During Childhood Cancer Awareness Month, as more than 33,000 participate in St. Jude Walk/Run events nationwide, I hope you'll reflect on Eri'Elle's story.
I hope you'll carry the images of this little girl, with so much ahead in life, taking her first steps after having been paralyzed.
This is why we walk.
For Eri'Elle and hundreds of thousands of children like her around the world.
Over 60 years, St. Jude has walked hand-in-hand with supporters — 13 million strong now — to help raise overall childhood cancer survival rates from less than 20 percent in 1962 to more than 80 percent today.
But it's not enough. Not as long as one in five kids with cancer in this country pass away. Not as long as there are more than 400,000 new cases of childhood cancer each year, the majority in low- and middle-income countries where the overall childhood cancer survival rate is less than 20 percent. Four out of five of those children die from their cancer, and that is unacceptable.
Dr. Carlos Rodriguez-Galindo, Director of St. Jude Global, has said, "Any child suffering today of cancer is our responsibility."
Today, the most significant predictor of whether a child will survive cancer is where that child lives. But we know we can change the statistics for global survival rates because we've changed them in this country over 60 years.
For the next 60 years and beyond, kids around the world like Eri'Elle are our responsibility.
They are why we walk.
So, I thank you for participating and donating to St. Jude Walk/Run events around the country — and virtually around the world.
And I ask that you to remember Eri'Elle's first steps and the survival, struggle and loss of others during Childhood Cancer Awareness Month and throughout the year.