SAFER Ukraine provides a blueprint for responding to other global health crises
Research led by
St. Jude

scientists is cited in The Lancet Haematology.

October 13, 2022 • 3 min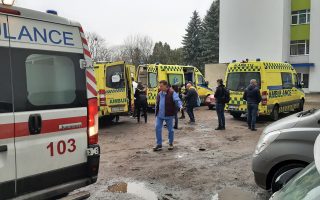 SAFER Ukraine, a humanitarian effort by St. Jude Global and its international partners to help Ukrainian children with cancer and blood disorders safely continue treatment outside Ukraine, now serves as a model for how organizations should respond to other international crises.
More than 10 million people have fled Ukraine since the first Russian bombs fell in February, with about half of the refugees crossing the border to Poland. Widespread destruction of transportation hubs, schools and healthcare facilities caused a dire situation for Ukraine's most vulnerable, especially children with life-threatening illnesses such as cancer and blood disorders.
To support the logistics of the massive patient evacuation, SAFER Ukraine created a 24-hour virtual command center, staffed by St Jude and ALSAC Global employees and more than 400 international volunteers. The command center maintained a secure electronic patient registry, translated medical records, coordinated transportation logistics, distributed medical records to referral hospitals, and facilitated communication to assure continuity of patient care.
An account of the international collaboration appears in The Lancet Haematology.
"SAFER Ukraine demonstrates the importance of collaborative networks in global health, with participation from individuals, institutions and governments, to facilitate both rapid responses to emergencies and ongoing capacity building to improve patient care and outcomes," said first and co-corresponding author Asya Agulnik, MD, MPH, St. Jude Department of Global Pediatric Medicine.
This paper describing SAFER Ukraine opens a pathway for future collaborative projects, with St. Jude and other international partners.
The first convoy of 37 patients arrived in Poland on March 1. And for the next 12 weeks, SAFER Ukraine organized 15 convoys that included a range of patients from six to 73.
As of May 19, 2022, 949 patients had arrived at hospitals in countries all across Europe and North America. Eight of those patients came to St. Jude and are still receiving treatment at the research hospital in Memphis.
"Before the war, we already had partnerships with foundations and clinical partners in Ukraine and in Poland," Dr. Agulnik said. "So, that explains why we were able to help so quickly when our partners in Ukraine called saying that the war has started."
The Ukrainian Tabletochki Foundation, a partner of ALSAC, the fundraising and awareness organization of St. Jude, and the Polish Society of Pediatric Oncology and Hematology hotline identified patients and families who needed to be evacuated.
They were then transported to the Western Ukrainian Specialized Children's Medical Center in Lviv where they were stabilized. The hospital team in Lviv worked with officials in the Ukrainian and Polish governments as well as Non-Government Organizations (NGOs), including the Polish Center for International Aid and the Herosi Foundation, to coordinate the medical evacuation of patients and their families.
"Originally, patients were evacuated from Ukraine into Poland and then went to hospitals within Poland, but very quickly it became clear that the number of patients was going to exceed the medical capacity of Poland," Dr. Agulnik said.
Poland only sees about 1,100 new diagnoses of childhood cancer per year, Agulnik said, compared to an estimated 1,100 to 1,500 new diagnoses in Ukraine each year. And when you consider that cancer treatments can last longer than a year — with perhaps between 2,000 to 3,000 children in active therapy — they had to look outside Poland, she said.
"So that was our motivation to work with all the international stakeholders to create a system that allows for triage and referral of patients to appropriate care in Europe and North America. And to do that, we needed a location. And that is where the Unicorn Marian Walemski Clinic came in."
That clinic became a triage center where large convoys of children could be evaluated and families could rest. Those at high risk or with acute illnesses went to a local hospital. Others who were stable stayed at Unicorn until they could be transferred to other hospitals abroad.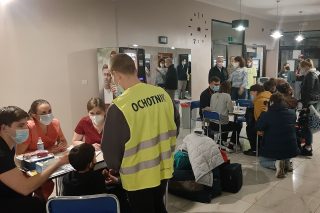 SAFER Ukraine worked with hospitals and foundations organized through the European Society for Paediatric Oncology and Childhood Cancer International (Europe). Hospitals that volunteered to take patients were asked to provide medical transportation, cover the cost of medical care and psychosocial services for the patients and their families.
The success of SAFER Ukraine has provided a proof-of-concept that these doctors say can be leveraged in future international emergency responses.
"For me, SAFER Ukraine is a long-continuing journey giving me the opportunity to meet many people around the world who are focused on helping Ukrainian children through their two combats, a cancer and the military violence in their country," said co-corresponding author Wojciech Mlynarski, MD, PhD, Medical University of Lodz, Poland. "Many of these people have become my new reliable friends.
"This paper describing SAFER Ukraine opens a pathway for future collaborative projects, with St. Jude and other international partners," he added.