St. Jude

researcher Ellis Neufeld, MD, PhD, receives national award for work in pediatric hematology
Neufeld is the recipient of the 2022 George R. Buchanan Lectureship Award from the American Society of Pediatric Hematology/Oncology (ASPHO).

June 23, 2022 • 2 min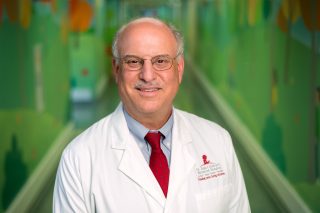 Ellis Neufeld, MD, PhD, executive vice president, clinical director and physician-in-chief at St. Jude Children's Research Hospital, has received a prestigious national award from the American Society of Pediatric Hematology/Oncology (ASPHO).
Neufeld, a renowned researcher who has formally mentored more than 40 individuals throughout his career, received the 2022 George R. Buchanan Lectureship Award in May at the organization's annual meeting in Pittsburgh. The award recognizes his work as an accomplished educator, committed mentor and effective speaker.
"Progress against pediatric blood disorders, including hematologic malignancies, requires not only collaboration between researchers in the lab and the clinic, but also effective mentoring between senior and early career investigators," said Neufeld. "We learn as much from our mentees as they learn from their mentors. George Buchanan was a mentor of mine and a leader in our field, showing us how to advance knowledge in hematology while inspiring the younger generations of hematologists."
Neufeld is an internationally respected leader in pediatric hematology, a field that studies and treats blood disorders and disease in children. Over more than 30 years in the field, he has built expertise while caring for patients in clinics and leading research in labs that track the long-term impact of blood diseases on children, including hemophilia, ITP, and rare inherited red blood cell disorders.
Neufeld, who holds the John and Lorine Thrasher Chair in Pediatric Medicine at St. Jude, joined the research hospital in 2017 after more than 25 years at Harvard Medical School, where he served as associate chief of the Division of Hematology/Oncology at Dana-Farber/Boston Children's Cancer and Blood Disorders Center.
He is a two-time recipient of the Cooley's Anemia Foundation National President's Award and the 2021 American Thrombosis and Hemostasis Network Lusher/Shapiro Leadership Award.