Cancer survivor vows to 'look after every kid with cancer in India'
CanKids, a charity dedicated to kids with cancer in India, works with
St. Jude

so more kids live.

February 15, 2023 • 6 min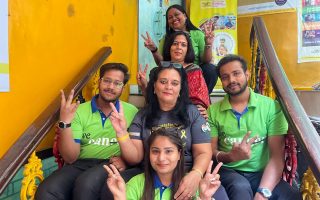 When Poonam Bagai talks about her deal with God, she casts herself as a nautanki, a drama queen of Bollywood films, beseeching the Almighty.
"Dear God, let me survive," she says with considerable flair. "I promise I'll go back to India. I'll figure out a way to reach every child with cancer."
When Bagai is laughing about her story, this is how she tells it. But the real account — though filled with much more fear and heartbreak — isn't so far off.
In 2000, Bagai was diagnosed with colon cancer at age 38. She had two boys, 7 and 3.
"I can die, and what do I have to show for my life?" she remembered thinking. "I'm bright and smart. I had a great education. We're well-off. I have insurance. I have everything. And I've had lots of opportunities. But what do I really have to show for the fact that I could die today, and this is all I've managed to do?"
For nine months, she worried every procedure would be the last.
"I pledged that if I could live, if I could survive, then I promise I'll go back to India, and I'll look after every kid with cancer in India," she said. "That way, I could know that I survived for a reason. And I survived for my kids. It was like a plea bargain with God, honestly."
That was a monumental task for anyone. But Bagai hadn't lived in India for years. She'd been on a five-year leave as a civil service officer from the Indian government, living all over the world — London, Bangkok, Moscow, Warsaw — with her then-husband who worked in international banking. She'd worked as a bureaucrat and a United Nations consultant.
In truth, she had everything but no idea what people in India whose children had cancer might need.
Still, she was undeterred. And once she was cancer free, Bagai told her husband they were moving back to India — not to Korea for his next assignment. "I promised," she told him. "I have to do this."
Little knowledge, plenty of guts
Bagai started by going to All India Institute of Medical Sciences, in New Delhi, which has comprehensive facilities for teaching, research and medical care. That's where she met Sonal Sharma, a woman whose daughter had cancer about the same time as Bagai. Sharma wanted to hold the hands of every parent whose child has cancer so they wouldn't face the diagnosis alone. The pair forged a friendship, volunteered together at the Indian Cancer Society and then co-founded CanKids KidsCan in 2004, whose mission is to enable the best treatment, care and support of children in India.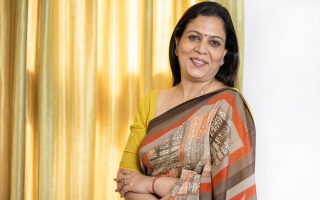 The organization is one of the foundations that has recently joined the St. Jude Global Alliance — a global network that brings together institutions and foundations dedicated to the shared vision of increasing access to quality care and improving survival rates for children with cancer and other catastrophic diseases, with a specific focus on low- and middle-income countries.
The pair started in a single hospital, sitting on muddas, or small stools, talking to families.
Their initial focus was to ensure that children who'd already reached a hospital got the care they needed. When a pediatric oncologist refused to start treatment until a family had all the funds, CanKids found the money.
In hospitals with no space, Bagai brought chatais, thin woven mats made of river grass, opened her box full of files and set up shop on the floor. She called them chatai clinics.
For the first decade, they provided social support services, home-away-from-homes through a network of hospital partnerships and an overarching support program called YANA – You are Not Alone. Then, they partnered with state governments. And finally, they began to empower patients and families to use their voices in a country where there is centuries-old gender bias, stigma and fear surrounding disease.
"I want to tell you the reality of India," Bagai said. "I still remember there was a gentleman — a father — standing opposite me, asking me: 'You know, I think my boy's relapsing. He's the sixth of my children. Is it ok for me to stop treatment?' There was a mom who asked the same question once."
Her daughter's arm had already been amputated.
"Her cancer was not curing, right?" Bagai said. "She wasn't palliative. She wasn't terminally ill, but it was a long haul. And the husband had abandoned his wife. And she would keep asking me, in fact: 'Can you tell the doctor to tell me there's no further treatment so I can go home? It's too hard. And what will I do with her even if she survives? How will I ever get her married? How will I teach her to be independent? What a hard life I will leave her to have.'."
Gender bias is one of the reasons CanKids started the Girl Brigades, to empower girl cancer survivors to raise awareness that childhood cancer is curable — and that girls are worth saving. CanKids has tracked gender bias and found it is more prevalent in the north of the country than in the south when it comes to both getting children in treatment and keeping them there, Poonam said.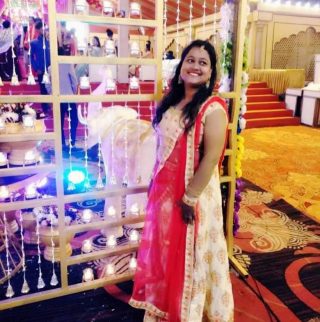 Sitara Khan, deputy manager at CanKids, is a member of the Girl Brigades. She was 12 when she was diagnosed with rhabdomyosarcoma. People in Khan's community and her own extended family told her parents they shouldn't waste money on her treatment, that it would benefit the family more if Khan didn't survive.
But her parents refused to listen. Khan's father sold his family land to pay for her treatment until CanKids stepped in to cover the costs.
"It was very heartbreaking," Khan said. "But my parents, especially my father, never gave up on me. He continued my treatment, and here you can see" — she smiled — "I'm here."
Khan has a bright future and hopes one day to buy back her father's land.
CanKids has given her purpose.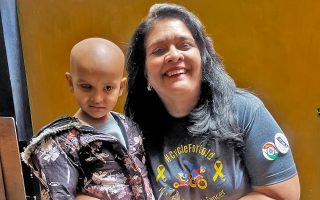 "My aim of my life is I will go to those people who thought cancer was incurable and make them understand that a beautiful life is waiting for their children, whether boy or girl," she said. "After cancer, their treatment, cancer survivors have a right to live a normal life."
A big milestone, but more miles to go
Since those days of chatai clinics, CanKids has grown to partner with 125 hospitals in 53 cities and 22 of the 28 states in India.
These days, the gaps CanKids addresses are broad reaching: Diagnostics, drug therapies, nutrition, hygiene and housing support for patient families, and palliative care. CanKids also provides trained manpower for hospitals — for nurses, psychologists, social workers, dieticians, patient navigators and teachers.
But there's so much more work to be done.
About 50,000 children are diagnosed with cancer each year in India, according to the Indian Cancer Society. And there are an estimated 50,000 more who go undiagnosed. Of those who are diagnosed, only about 40 to 45 percent survive.
"We still have a very long way to go," Bagai said. "We want to reach the WHO Global Initiative on Childhood Cancer target of 60% survival by 2030, and that, to us, means 100 percent access to care."
But they're making progress. CanKids is working with ALSAC, the fundraising and awareness organization for St. Jude, on fundraising best practices so the organization can identify and treat more children. Bagai and her team are fighting stigma by providing families with answers. And choices. They're addressing poverty and giving girls more platforms to speak.
"St. Jude Global changed everything for the whole world when it comes to childhood cancer," she said.
Bagai has reason to take heart.
Though CanKids hasn't yet reached every child with cancer in India, in 2019, the organization did mark a milestone: The organization helped a child with cancer in every state in India.
So, Bagai has kept her end of the deal.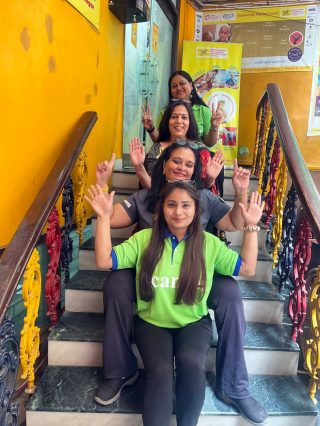 "I remember telling God: For someone who made a pledge, you have really made me work very, very hard," she said, laughing. "You really kept my nose to the grindstone."
She can't stop, she said. She doesn't know how to, really.
She laughed again.
"I think I have fulfilled my pledge, but I don't think God thinks so as yet."
For more information about CanKids KidsCan foundation, visit cankidsindia.org.
It is estimated that more than 400,000 children worldwide develop cancer every year, and nearly half of them are never diagnosed. In many low- and middle-income countries, 4 in 5 children won't survive cancer, largely due to the lack of access to quality care. St. Jude Children's Research Hospital believes children all over the world deserve the same chance at survival and is working with healthcare institutions and foundations across the globe to help make that dream a reality.