How do you explain childhood cancer when there's not a word for it in your language?
Akua Sarpong lost a daughter to cancer in Ghana and now heads a charity that partners with
St. Jude

to help other families through the same journey.

December 22, 2022 • 7 min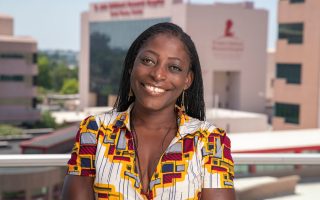 In Ghana, people speak more than 70 different dialects — and not one of them has a word for cancer.

The closest in Ga is helon fala, deep skin wounds. In Twi, it's kukram, a deep wound that never heals — or simply owuo. Death.
"Where do you even start?" asked Akua Sarpong, executive secretary of Lifeline for Childhood Cancer Ghana, a charity that works to save the lives of children with cancer. "I can't break it down to a family. And if I can't break it down, how do I explain symptoms? How do I explain the treatment procedure? How do I explain?"
In this West African nation where education is limited, literacy is low and healthcare is difficult to access, the understanding of cancer is often shrouded in mystery or tangled in taboo.
Sarpong's organization, a member of the St. Jude Global Alliance, works to educate parents to recognize early symptoms of cancer and to demystify the disease: Cancer is neither a curse nor contagious. And it isn't the work of the devil.
"Because of the myths and the belief system, that's why we have such low survival rates," Sarpong said. "Because normally, if a parent hears that their child has cancer, they'll convince themselves that their child will die anyway. 'So, let's just take the child home and keep the child in. Eventually, the child will die.'"
Sarpong, a well-educated, middle-class entrepreneur who lives in the capital city of Accra and speaks three languages — two Ghanaian dialects and English — knew what cancer was. But she didn't know that children could get cancer until her own daughter was diagnosed on April 23, 2016.
"I had three children," she said. That's how she began the story.
"A boy and —" she stopped herself. "I struggle to say, 'I had' and 'I have.' To me, she's still here."
When Sarpong's twins were just 17 months old, the older one — headstrong but sweet — stopped eating. She had headaches. She was lethargic. But the general practitioner said she must be teething. So, Sarpong added food supplements to boost the girl's appetite. It didn't work.
When the bright little girl's stomach bulged slightly, Sarpong sought a pediatrician for a second opinion. That doctor said it was probably constipation or gas.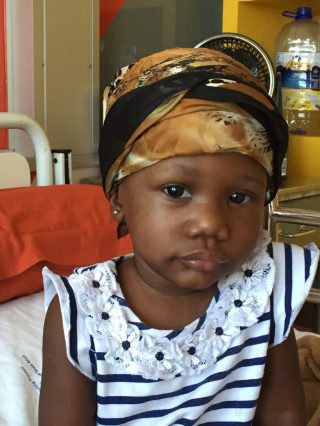 "Sometimes children do get constipation," Sarpong remembered thinking. "I'm not a pediatrician. What am I supposed to say? So, we carried on. And then the bulge was kind of coming up and was getting a bit tender. So, then I went back again. And they said, 'Ok, let's do a random scan since you're just so pushy.'"
Whatever Sarpong was expecting was not what the radiologist found. The ultrasound showed a mass in the stomach. When Sarpong read the report, she noticed a word she'd never seen before: neuroblastoma.
She had no idea what it meant. Sarpong went back to the pediatrician for answers.
"And she said, 'Oh, gosh. Your child has cancer,'" Sarpong remembered.
She said the word in English.
Every year, 400,000 children worldwide get cancer. Half are never diagnosed, and 4 in 5 won't survive due to the lack of access to quality care. St. Jude Children's Research Hospital believes children all over the world deserve the same chance at survival and is working with doctors and foundations across the globe to make that dream a reality. For every child, everywhere.
Here's the story of one of the many global foundations St. Jude partners with to help more children live.
"What?" Sarpong said. "'Your child has cancer. Oh, you should go to the hospital immediately.' Please. Slow down. My child is supposed to have constipation or gas, according to you. How does it go from constipation to cancer? I mean, I was traumatized."
Nobody in Sarpong's family had ever been diagnosed with cancer. Was her other twin at risk? She didn't know what to do.
Sarpong's daughter was referred to Korle Bu Teaching Hospital in Accra. It took 10 days of tests to reach a final diagnosis: It was rhabdomyosarcoma, a cancer of the soft tissue.
Treatment began immediately, but Sarpong's daughter didn't respond well.
"You almost felt like we had awoken something in her body," she said.
The little girl's stomach swelled.
"Rhabdomyosarcoma is cruel," Sarpong said. "It eats you up. It takes everything away from you. So, for a beautiful, bubbly, you know, 1-year-old child — beautiful hair. Suddenly, she's looking like a 90-year-old woman. It was just bones and just a big stomach. It was really scary. Skinny legs — everything. Everything was just gone."
The doctor suggested Sarpong take her to South Africa — nearly 3,000 miles across the continent — for more sophisticated treatment. Sarpong could afford it — a luxury few Ghanaians have — so they boarded a plane in June. Chemotherapy started right away and lasted three months. It took 12 or 15 cycles to shrink the tumor. Sarpong lost count.
"They couldn't even detect where the tumor was originating from," she said. "It just kind of covered all the organs."
When surgery day finally came in September, Sarpong's daughter weighed 10 kilos, or about 22 pounds. The next day after surgery, she weighed eight kilos, or about 17-and-a-half pounds.
"The size of the tumor was like a living baby," Sarpong said. "I mean, my first son (was) eight-and-a-half months — premature. And he was two kilos. So, I know what two kilos is. That was the size of the tumor in a 1-year-old child."
Finally, with the tumor gone and no signs of cancer cells in nearby tissue, Sarpong and her family celebrated. She took her daughter back home to Ghana to continue treatment. She did so well for months that there was talk of removing her port.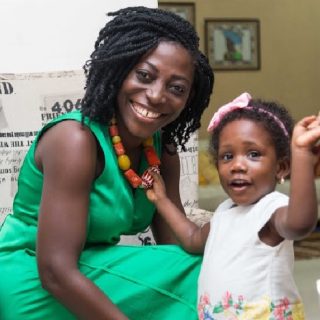 By March 2017, it was safe for Sarpong's daughter to go back to school. Life was good. Sarpong was no longer holding her breath.
But then at a checkup in August, the oncologist felt something on the girl's belly.
"And I'm saying, 'No. Don't even speak,'" Sarpong said.
Her daughter had relapsed.
"What did we miss?" Sarpong wondered. "What could we have done? Nothing. So, of course, I'm a believer, right? We've done this before. We'll do it again. We will win."
But when they returned to South Africa, doctors said the cancer had spread to the lungs and bones. The little girl's body couldn't stand anymore treatment.
"And so, we asked: 'How long do we have?' And they said, with some luck we'll get through Christmas," Sarpong remembered.
They did make it through Christmas, and through the following April.
Sarpong's daughter died April 28, 2018.
"It's devastating," Sarpong said. "Losing your child — it's no easy feat. Your life is wrecked. Where do you start from? You have other children. You've got to carry on somehow."
Sarpong needed an outlet. That's when she learned Korle Bu Teaching Hospital was looking for a way to direct donations to the pediatric oncology unit because cancer in children wasn't covered under the country's national health insurance program. Sarpong became one of the founding members of Lifeline for Childhood Cancer to raise funds for the treatment, care, and cure of children with cancer in Ghana.
In August of this year, basic pediatric cancer care was added to the national health insurance program, but only for four types: Wilms tumor, Burkitt lymphoma, acute lymphoblastic leukemia and retinoblastoma. The coverage is not comprehensive.
"It's out of pocket so, really, if we don't do it, the children will die," she said. "… Our incomes are low. So, between buying food and buying chemotherapy for a family, you think about it. It's a very easy decision. So, if we don't step in, we will lose our children."
Lifeline for Childhood Cancer Ghana provides funding for medicines, psychosocial services and job training for mothers whose children are in treatment. LCCG also helps fund the Rebecca Akufo-Addo/GHAPACC Sunshine Hostel, where children and their families stay at no cost while they receive treatment. LCCG is now working on a capital campaign to raise more than $1 million for a new pediatric oncology ward at Korle Bu, which will increase the number of beds from 25 to 40. Sometimes, the ward is so full that children sleep on mattresses on the floor.
Sarpong knows the cancer journey in Ghana well.
There are only two major urban centers and five pediatric oncologists in a country of 32 million people.
"For them to even get to the main hospital, they've left their family," she said. "They've left the children. And to start the process, they are already drained. They're broke. They're tired. They do not understand what is going on. So, it's a very, very painful process even from the beginning for every patient.
"So, our job in Lifeline is to ensure that they settle well, they have what they need. We can counsel them enough to understand the journey — that it's a long journey, it's a painful journey, it's a difficult journey, but at least there is a community that would assist you."
Sometimes, Sarpong wishes someone had done the same for her when she was going through it.
"I guess it would have been a lot different," she said.
In 2020, LCCG became a St. Jude Global partner to gain expertise and guidance on how to raise money to help more kids with cancer in Ghana live. In 2022, Sarpong visited the St. Jude campus in Memphis for training along with other foundation members from across the world.
Sarpong is hopeful for the futures of children with cancer in her country. Her organization, she says, is "getting ambitious, bold and audacious." And her work will continue in honor of her daughter.
"She was beautiful, beautiful," she said.
Sarpong leaned her head back as the first tears came to her eyes.
"She was beautiful," she said again. "Yeah. Her name was Akua Anane Akuoku Sarpong."
It was the first time in Sarpong's story she said her daughter's name. It means a girl born on Wednesday — and a fighter.
"Short, but very fruitful life," she said.
As a woman of faith, Sarpong is grateful for the journey despite the outcome.
There's so much more she has to do.
"Maybe if my daughter had survived, I would be one of the many parents who" — she swiped her hands together as if to wash them clean — "'Thank you very much, my child is well. I'm moving on.' But I have managed to use the pain. And I think maybe that's where God wanted me to be, to use my pain into making change, into making an impact, into changing lives.
"I am grateful to my daughter, for what she did for me and where she's brought me. This was never my pathway. No. I never would have imagined I would be here. But I think God had a purpose, and I think that purpose was through my daughter. She lives on. She lives on."
For more information about Lifeline for Childhood Cancer, visit https://www.lifelineforchildhoodcancerghana.org/