King Hussein Cancer Center in Jordan continues long partnership with
St. Jude

to help more children with cancer
Syrian children among those saved

July 28, 2023 • 5 min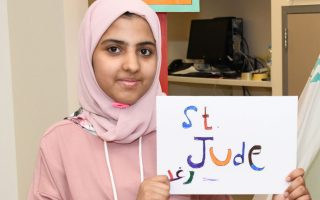 Raghad doesn't remember much about her family's escape from the Syrian civil war except that the bus ride to Jordan was crowded. She was only 5.
It was 2013 in the city of Homs, when armed men broke into the family house, dragged Raghad's father down the stairs and took him away. Raghad, her mother and siblings locked themselves in a room, and shoved a dresser in front of the door.
Raghad's father was gone two months before he was released. The family fled to Jordan.
Raghad didn't speak for almost five years. Afraid and anxious, memories of war lingered, still.
The family settled in Zarqa, an hour north of the capital city of Amman. There was little money, but they were all together, safe now. Slowly, with speech therapy, Raghad found her voice. She made friends, followed cooking shows on social media and went to school.
But in December 2019, Raghad's mother noticed she was dropping weight. Raghad complained of tooth pain and dizziness. And there was so much swelling in Raghad's face that her features seemed to change. Raghad's family took her to the hospital.
In the ICU, she heard her parents talk in soft voices with a doctor. And then crying. Raghad had leukemia. She remembered it was New Year's Eve.
"She suffered a lot," Raghad's mother, Hanady, remembered. "… When we put her in the ICU, they told us that she had this disease. The doctor said: 'You may be able to save her life, and you may not.'"
Raghad had no idea what could be the matter. Despite all her family had been through, she'd never seen her parents cry.
For 22 years, the King Hussein Cancer Center and the King Hussein Cancer Foundation have partnered with St. Jude Children's Research Hospital to save the lives of children with cancer in Jordan and across the Middle East., including Raghad.
During that time, KHCC has treated children using St. Jude as a blueprint for world-class cancer care, and modeled ALSAC, the fundraising and awareness organization for St. Jude, in fundraising, awareness, and operations best practices. Through this partnership, Jordan has achieved similar survival rates to the Western world.
An increasing number of those cancer patients in recent years have been displaced.
"We treat patients from across the Arab world," said Her Royal Highness Princess Ghida Talal of Jordan, Chairperson of the King Hussein Cancer Foundation and Center. "Many of these patients are refugees ― from Syria, Palestine, Iraq, Yemen, Sudan, Libya ― who would have no means to pay for treatment. … St. Jude has provided immense and invaluable support in helping us provide care to refugee and displaced pediatric patients."
From nothing to exceptional care
When Princess Ghida was appointed by His Majesty King Abdullah II to establish a cancer center of excellence in Jordan and a foundation to support it, the first thing she did was travel to St. Jude. The late Dick Shadyac, then ALSAC CEO who worked alongside founder Danny Thomas, cautioned her to start small and grow, little by little. He showed her the original footprint of the first building when St. Jude opened in 1962.
Princess Ghida followed his advice. The wife of a cancer survivor herself, she began by assembling a small team. Every penny raised went to the construction of the unique, state-of-the-art cancer hospital in Amman, and equipping it with the very best treatment available, she said.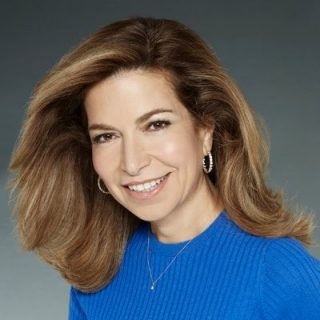 "In the United States, one can find treatment options practically at every corner," Princess Ghida said. "Whereas in the Arab world, cancer care — adequate cancer care — did not exist 20 years ago at all. So now, 20 years later, the King Hussein Cancer Center has become the cornerstone for this lifesaving mission and provides treatment at par with international standards."
Access to that care has meant hope for those diagnosed with cancer all over the Arab world but especially for displaced children who've fled war and violence in their homelands and have arrived with nothing.
"Unfortunately, they also come without any means of payment," Princess Ghida said. "And no government will cover them, not the Jordanian, not the Syrian. They basically fall through the cracks. This is why we established our Goodwill Funds, to provide for their treatment, and St. Jude has played an invaluable and very generous role in helping us care for them and restore their health."
Displaced youth like Amro, who fled Syria in 2014 when he was 7 and came to Jordan hoping for a better life, only to develop a cough in 2021 that wouldn't go away. The family thought it was COVID-19, but an X-ray showed it was lymphoma.
The move from Homs to Amman had already been difficult. His family left with so little. Even Amro's memories had faded: All he could recall was his house had four rooms and looked out onto a mountain.
With this diagnosis, there was yet another worry: The family had no means to pay for treatment to save his life.
"When I first got in the center," Amro said, "they told me that St. Jude would take care of my treatment. I searched it on Google, and then knew it was a hospital cooperating with King Hussein Cancer Center. And that it takes care of children."
Amro focused less on his hair and eyebrows falling out or the pain of treatment — if someone touched him, he often felt as if his bones would break. He worried more that he could no longer help his father, who has a weak heart and pacemaker or his two younger brothers for whom he feels responsible.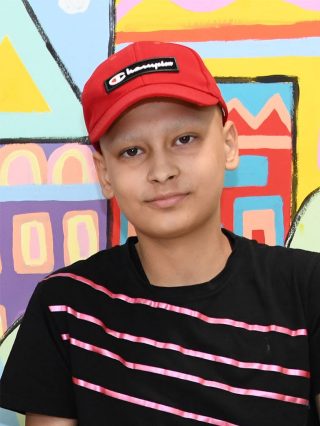 Treatment has meant Amro, now 16, will have the chance to become a cardiac surgeon — his dream — so he can help people like his father get well.
"I would like to thank St. Jude because it gave me a chance for treatment, and they are giving (to) other people, too," he said. "So, when you hear this thing, you feel kind of joyful."
Joyful is what Raghad has felt, too — even after two years of isolation because of her low immunity. Alone in her bedroom with only her mom for company during meals. Alone for long hours as she watched vendors selling produce, water and butane gas on the street from her balcony. Alone with just her prayers and verses from the Quran.
Even after the seizures and four-hour chemotherapy sessions. Even when all she could do — during her first outing in the world after all those months — was take a car ride with her uncle. Just so she could breathe a little.
And joy, too, now that Raghad's doctor says the 15-year-old can go back to school. Joy that she can still dream of one day becoming a doctor, too.
Raghad put her thumbs together in a downward V and curled her fingers over top to make a heart — the universal sign of love for every teenager across the world.
"I love the Hussein Center. I love St. Jude," she said in Arabic. "I love you both. … Thank you for your labor."
Without treatment, Raghad knows she would not be alive.
"Thanks to God, Lord of the universe, now I am healed," she said. "I am better because of you."
For more information about the King Hussein Cancer Center, visit https://www.khcc.jo/en
At St. Jude, we believe every child deserves a chance to live their best life and celebrate every moment. Treatments developed at St. Jude have helped raise the survival rate for children with cancer in the United States, where more than 4 out of 5 children survive. In many low- and middle-income countries, however, fewer than 1 out of 5 children diagnosed with cancer survive, largely due to lack of access to quality care. That's why St. Jude is working with healthcare institutions and foundations across the globe to increase survival rates. St. Jude won't stop until no child dies of cancer, no matter where they live.