Lebanese pediatric cancer charity partners with
St. Jude

amid years of crisis and instability to save kids
'You've got to do all (that) you can'

July 28, 2023 • 5 min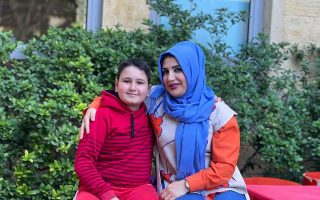 Yaman was in kindergarten when his teacher noticed how tired he was. The 6-year-old didn't participate like the other kids, and she was concerned.
She suggested to Yaman's mother, Wajeeha, that he might be anemic. He needed a blood test, she said. This was 2016.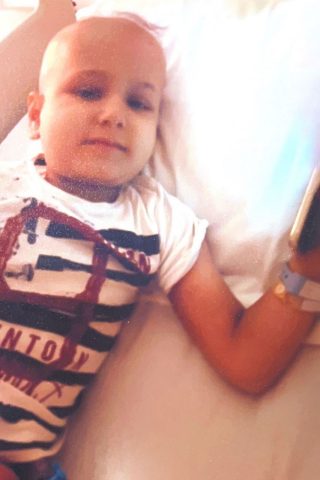 Wajeeha remembered it was hot that day because she'd asked Yaman's sister to give him a bath. That's when she noticed swollen nodules near his groin.
"I started asking him, 'Does this hurt? Doesn't it hurt?'" she remembered. "He said no. It doesn't hurt. We know from our parents and grandparents, they say, 'If you get something like that, and it doesn't hurt, then it is ― God forbid ― bad.'"
It was bad ― even after all the other bad things the family had endured.
Just a few years earlier, the family had left Idlib, a city an hour south of Aleppo ― one of the hardest hit in the Syrian civil war ― for the coastal town of Latakia on the Mediterranean Sea. They weren't worried about bombs, but war brings with it economic instability, and there was no work. Money was scarce and rent on their house had to be paid. Wajeeha worried for her children. They decided it might be best to leave the country.
Wajeeha's husband left first for Lebanon to find work. He stayed with his sister about 25 days, then called his wife. "He told me: 'I am not able to stay here without you and without the children,'" she remembered. "'I can't bear being far from you all.'"
Wajeeha sent their sons first, on to Lebanon to be with their father. Yaman was 3. When their daughters finished the school term, the rest of the family left Syria for good. They lived in relative calm until the message from Yaman's teacher came and, with it, the lab results from a doctor:
Their son had leukemia.
After several weeks of hospital visits in different parts of the country, uncertainty over where he could be treated, and a fever so high it left Yaman's mother screaming for doctors to do something, the American University of Beirut Medical Center, a partner with St. Jude Children's Research Hospital, finally had an open bed. It meant Yaman would have the best medical care available in the country, and because of the Children's Cancer Center of Lebanon (CCCL), a charity dedicated to helping young cancer patients, it would be free.
For the family with little money and no way to access health insurance, this was lifesaving news.
For 21 years, CCCL has worked with St. Jude to save the lives of children with cancer in Lebanon and, increasingly over the past decade, displaced children. During that time, CCCL has treated children using St. Jude as a blueprint for world-class cancer care, and modeled ALSAC, the fundraising and awareness organization for St. Jude, in fundraising, awareness and operations best practices.
Despite devastating economic and political instability, it has helped raise the pediatric cancer survival rate there to 80 percent.
"We have passed (through) so many different, difficult times," said Hana Chaar Choueib, general manager of CCCL. "… (But) seeing those children coming to the center every now and then, it always provides you with this drive that you need to just continue."
Whenever the Lebanese people are hit with a crisis, she said, they want to try again.
"It's so difficult to see that a child is not getting the treatment, so you've got to do all (that) you can," she said.
With its global mission to increase survival rates of children with cancer and other catastrophic diseases worldwide, St. Jude has partnered with hundreds of other institutions around the world. It's an extension of the belief and mantra of St. Jude founder Danny Thomas, who was Lebanese himself that: "No child should die in the dawn of life."
That means no child anywhere, no matter where they live.
Chaar Choueib has worked at CCCL for 18 of its 21 years of operation. The dream of Danny Thomas, she said, lives in each of her team members.
"You just have to keep this legacy going on and on," Chaar Choueib said.
Born of tragedy, steeped in heartbreak
CCCL was founded after a Lebanese businessman's son was diagnosed with cancer when he was 3 years old. In those days, no comprehensive treatment for pediatric cancer was available in Lebanon. So, the child was referred to St. Jude. The Lebanese father was so impressed with the care his son received that he wanted to create a center in his home country of the same quality.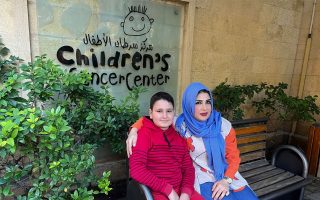 The mission of CCCL is to save children's lives — in memory of the doctor's young son.
Fulfilling the mission has been an act of everyday perseverance for Chaar Choueib and her team in the face of seemingly impossible odds: A series of bombings in 2007 and 2008 that made it impossible to host gala dinners. The influx of displaced Syrians that began in 2011. Lebanon's 2019 revolution. The chemical explosion of 2020. And the continued economic and financial crisis.
"These were all difficult times, but you realize cancer doesn't wait," Chaar Choueib said.
Her team had to get creative. They registered CCCL as a charity in other countries so they could raise money in the Middle East and Europe. They partnered with an international aid agency to bring children from rural areas across Lebanon to CCCL during the revolution to ensure they received treatment. And they found other ways to raise money at home when it was unsafe to hold big events.
Healthy and a dream to travel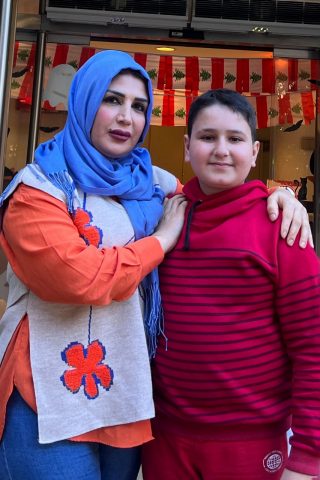 Yaman finished his treatment in 2019 and is in remission. He was brave during chemotherapy, his mother said. He often wiped her tears away. He never wavered in his belief that he'd be well.
Yaman, who's 12 now, dreams of traveling the world ― to any place beautiful, he said.
But he hasn't been back to school since right after treatment. Wajeeha sent him twice, but he caught a virus both times and had to be admitted to the hospital. She's too scared to send him now.
"It's a pity that a child his age can't read," she lamented.
But she has hope. And thanks to CCCL and St. Jude, she has the most precious gift of all ― her son.
"Many times, he tells me, 'Mom, I will travel. I will leave Lebanon. I would like to travel. I hope we get to travel somewhere. I want to become something. I've lost all these years, and I hope that I will be able to make up lost time and become the best I can.'
"I tell him: I hope so. I hope so, my son."
Allah Kareem, she adds ― God is good.
"I hope so."
For more information about the Children's Cancer Center of Lebanon, visit https://www.cccl.org.lb/home.
At St. Jude, we believe every child deserves a chance to live their best life and celebrate every moment. Treatments developed at St. Jude have helped raise the survival rate for children with cancer in the United States, where more than 4 out of 5 children survive. In many low- and middle-income countries, however, fewer than 1 out of 5 children diagnosed with cancer survive, largely due to lack of access to quality care. That's why St. Jude is working with healthcare institutions and foundations across the globe to increase survival rates. St. Jude won't stop until no child dies of cancer, no matter where they live.