House of Hope
Foundation in Philippines collaborates with
St. Jude

to help children with cancer

July 25, 2023 • 7 min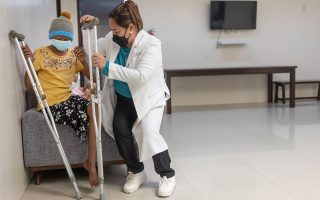 Josephine Ramirez made her way to the front of the public hospital in Davao City, Philippines, cradling her 7-month-old baby and steering her 5-year-old, sick with a mysterious illness, only to be told they couldn't come in the emergency room. Not with a healthy baby.
It had taken them eight hours to get there by public bus. Josephine's parents had sold off 51 kilos ― 112 pounds ― of pigs to pay for the trip. They had to get in.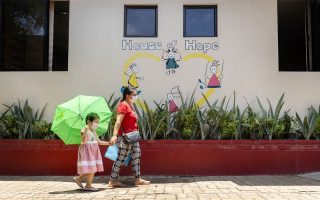 Josephine's older daughter Jovhen had been complaining about bruises that started on her feet and had spread up her legs to her belly. It hurt when anyone touched the spots. Josephine couldn't find a doctor in Surigao del Sur, their province, to examine her. And doctors an hour away had already run every test available in the hospital. What they found was beyond their capacity to manage so they referred her to the big hospital in Davao.
Josephine didn't know anyone in the city who could take baby Jia so she could go into the hospital. In her desperation, she noticed a crowd at the waiting shed for the jeepney stop – a lean-to with no walls and a rickety roof – where patient families waited for loved ones. Desperate to get help for Jovhen, Josephine handed her baby to a stranger, promising she wouldn't be gone long.
It would be 16 hours before Josephine could get back for her baby. And still, she had no answers about Jovhen.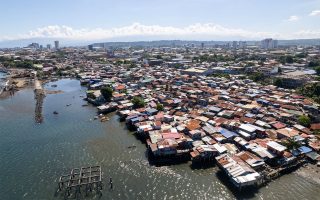 A crowded hospital and a diagnosis
Jovhen was initially admitted to a pediatric ward for children with infectious diseases. At first, doctors thought she might have dengue fever, an infectious disease spread by mosquitos. But blood tests revealed a much more devastating diagnosis.
It was close to 2 in the afternoon, and Dr. Mae Dolendo, the physician who'd read Jovhen's lab results, still couldn't find her mother. The little girl had been left alone since 9 a.m. when her mother left to check on baby Jia, and she hadn't stopped crying. Through tear-stained cheeks, Jovhen explained that her mother couldn't come to the third-floor ward because there was nobody to take care of her baby sister.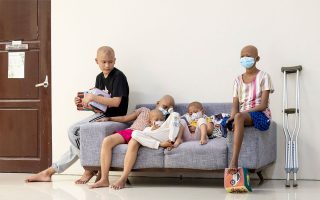 Dolendo asked a volunteer to go out to the waiting shed to search. When the volunteer found them, she held Jia so Josephine could go inside.
Dolendo held Josephine's hand and spoke softly. Nanay, she said – Filipino for mother – Jovhen's diagnosis is leukemia. Josephine was shocked and began to cry. Is it curable, she wanted to know? Josephine remembered Dolendo's words: "Let's just pray." She gave Jovhen an 80 percent chance if she finished all of the treatment.
Dolendo told Josephine to call her husband, that she couldn't take care of both children alone. Though Bienvenido had planned to stay home and work to send money, he needed to come to Davao. It would take him two days to get there.
So, Josephine headed back outside to the waiting shed where she and baby Jia ― crowded skin to skin with 20 other people ― slept, dodging raindrops slipping through the leaky roof. Josephine put a blanket over the baby to try to keep her dry.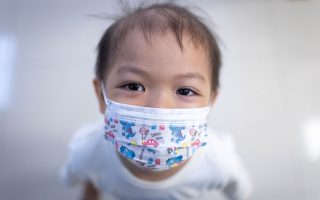 "It suddenly hit me that here I am, trying to cure children with cancer, and I couldn't even provide the most humane accommodations, not only for the patients, but also for the parents," Dolendo remembered. "I was overwhelmed and humbled by the enormity of the task."
For two nights, Josephine and Jia slept in the waiting shed.
Then, Dolendo offered space in an abandoned kitchen at the hospital where the family could stay. She knew it wasn't a long-term solution and vowed that she'd build a transient home, so patients and their families had a place to rest.
She didn't believe kids with cancer could survive
Dolendo had been back in the Philippines for about a year when Jovhen came to the hospital in December 2005. Dolendo had always wanted to be a doctor. When she was 17, her mother died of breast cancer, a tragedy that shaped her young life. She did her pediatrics training in Davao but shied away from oncology because she didn't believe children with cancer could survive. Almost all the pediatric cancer patients she saw died. She thought it better to be a gastroenterologist instead.
But then Dolendo trained in Singapore and had a month-long observership at St. Jude Children's Research Hospital in America. She saw survivors who lived to adulthood and had children of their own. She realized that with the right diagnosis and treatment, children could live. She wanted to bring that hope back home to the Philippines. So, she established a pediatric oncology program in Davao City.
Those early days when Jovhen was a patient were often filled with frustration and heartbreak. Dolendo was one of the first pediatric oncologists in Mindanao, an island of more than 25 million people. She started with three beds and a chair. Sometimes, patients had to share an IV pole. Mamas and papas practically lived in the hospital, sleeping on floors because they had nowhere else to go. And despite being trained as a pediatric oncologist in one of the best medical centers in Asia, Dolendo often couldn't help. The parents – laborers, farmers, fisherman ― couldn't afford even the cheapest medicine that cost two pesos. The survival rate was less than 10 percent.
"When you're working in a country with limited resources, when your options are very limited and very few, and you can't give so much to many of these kids who come to you very ill and suffering, it breaks your heart in so many pieces, and it's very tough to get these pieces back in place."
And yet, Dolendo persisted.
Letting go for hope on the horizon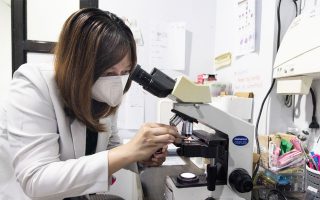 Jovhen's father had to sell their home lot and red lauan trees ― sometimes called the mahogany of the Philippines ― on farmland that he'd inherited from his father so his daughter could start chemotherapy. Bienvenido was a sentimental man when it came to his father's belongings, especially the land and trees — the same trees he used to build the family home. But he let it all go to save Jovhen.
For two years, Bienvenido tended to Jovhen in the hospital ward while Josephine looked after baby Jia and sourced chemotherapy and blood for transfusions for their sick daughter. All the while, Josephine and Jia slept on cardboard boxes in the crowded abandoned kitchen while cats and rats fought like siblings, Jovhen remembered.
In all that time, it never crossed Josephine's mind to give up and go back home. Instead, she talked to God.
"Give me a sign," she prayed. "Help me bring her back into our family, back into our home."
But Dolendo was making progress. In 2006 ― after years of consulting with St. Jude doctors on difficult cases ― a team from St. Jude visited the Philippines, and a partnership began. In 2007, the transient home Dolendo promised she would build opened. It was called House of Hope, and Jovhen and her family were among the first to settle in. They lived the last year of Jovhen's treatment in the home. Mamas planted okra, string beans and papaya on the adjacent vacant lots so families could eat nutritious food when funds were scarce. And they ordered medicine from outside the country together so they could save on shipping costs.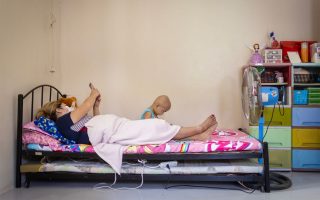 Jovhen finished chemotherapy in February 2008 and was declared cancer free on March 6, her 9th birthday. She got to go back home.
With each patient she cured, Dolendo's efforts grew – from those first three beds to 10 in 2006, a children's cancer and blood diseases unit in 2010 and a retinoblastoma center in 2012. In 2017, the Children's Cancer Institute, one of the largest in the country, opened a 43-bed unit. The survival rate slowly rose.
Still working to save lives
Today, cancer in the Philippines, an archipelago of more than 7,000 islands, is still quite scary, Dolendo said. It is estimated that nearly 5,000 children in the country develop cancer each year, but only about 30 to 40 percent are being diagnosed. Travel is difficult, and access to trained doctors isn't always possible.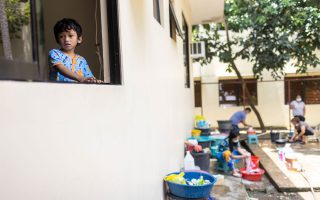 Dolendo said there are only about 188 pediatric hematologists and oncologists for a population of 100 million.
But Dolendo and her team have helped increase the survival rate of acute lymphoblastic leukemia, the most common type of childhood cancer, from less than 10 percent to 50 percent in her institution. Fewer patients drop out or discontinue treatment. And four House of Hope transient homes welcome patients and families for respite.
House of Hope Foundation for Kids with Cancer, named after its transient homes, is now part of the St. Jude Global Alliance, a global community of more than 200 institutions and foundations in more than 70 countries spread across seven regions with the goal of increasing the survival rates of children with cancer and other catastrophic diseases worldwide.
"The hardest is when you lose a child," she said. "And I go through that many times. But with every kid I get to save, I get to be inspired. And I wake up in the morning, and I feel strong. I keep inspired to face another day and try to save another kid again."
A kid like Jovhen.
What a life is worth
Last year, Jovhen graduated college with a degree in accounting. She hasn't yet decided whether she'll continue on to pursue law. She knows she wants to give her mother "the good life" after all she sacrificed to help her live. All Josephine wants for Jovhen and all five of her children is for them to outlive her. And for them to live out their purpose, whatever it is that God has prepared for them.
Jovhen shared her mother's and older sister's constant reminders for her.
"We need you alive and to live with us longer," she said. "We appreciate your hard work and desire to give back, but what do we do with your education, what you have attained with the courses that you graduated with, if it will shorten your life?"
But Jovhen is adamant. She believes that a good education is a way to a better life and to honor her parents. This is how she chooses to live her life after cancer.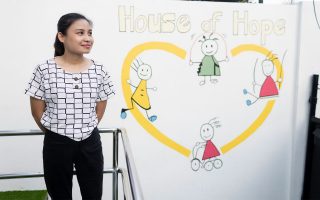 That's what Dolendo works for every day ― so kids like Jovhen can grow up to be whatever they want to be, to live full and long lives.
"To be able to save a kid like that is worth one life," Dolendo said. "It's worth my whole life."
For more information about House of Hope Foundation for Kids with Cancer, visit https://www.kidsofhope.org.
It is estimated that 400,000 children worldwide develop cancer every year, and nearly half of them are never diagnosed. In many low- and middle-income countries, 4 in 5 children won't survive cancer, largely due to the lack of access to quality care. St. Jude Children's Research Hospital believes children all over the world deserve the same chance at survival and is working with healthcare institutions and foundations across the globe to help make that dream a reality. 
– Photos by Pat Shanahan