Oregon teen dances for the sheer joy of normalcy eight months after coming 'home from
St. Jude

'
Angelina's parents celebrate their determined teen with two birthday cakes after a year in treatment

November 30, 2021 • 7 min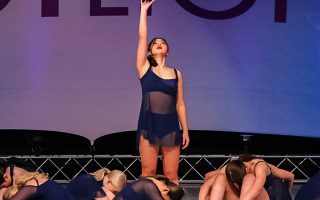 On a mid-November Friday night, already flush with thoughts of Thanksgiving, 17-year-old Angelina arrives at her former dance studio near her home in Oregon with her best friend, Mazie Hewett. They greet their hip hop choreographer, Don Flores, but his reaction is subdued, not something you'd expect after all these months.
This moment was choreographed, too. The idea was to make everything feel normal again.
Normal, like the old days when dancing with Angelina for more than 16 hours every week was just what they all did.
The room fills with music.
He teaches the two girls their steps. This moment of loose-limbed flow as they dance together is short – it lasts one song.
Angelina is pure energy. Pure light.
But grounded, too. She is soulful.
"She has a very unique style and has great technique," said Mazie, who has been dancing beside her friend since they were 12. "I've learned from her."
Angelina hasn't taken a formal dance class since before cancer but the strength she'd built through six years of dancing helped give her stamina to physically endure what she did – even her physical therapist at St. Jude Children's Research Hospital said so.
And the promise of returning to dance after one full year of intense stage IV alveolar rhabdomyosarcoma treatment sustained her in other, deeper ways.
Now with every step, with every pop and lock on this mid-November afternoon eight months after leaving St. Jude, she is claiming this place as hers, once again.
This place, these people, this moment, my life – are still mine. This space is still my home, and I belong here.
This was actually Angelina's second time back in the dance studio since coming home from St. Jude
It had been a lot harder the first time.
On the one hand, said Angelina, "I was like super-duper-duper happy when I got to go to dance, and everybody was like, cheering, and it was just a really great experience."
She'd been able to keep up with the other dancers, who were also some of her closest friends. Outwardly, this looked like a triumph – like the old days, but that's not exactly how she felt.
"She kind of struggled a little bit more with keeping up," said Angelina's mom, Linhda, "and I think that was heartbreaking for her."
When you are talented and practice all the time like Angelina did before her cancer diagnosis, the dancing seems to come unbidden from inside you. Your body and mind are so in synch that it's almost like turning the mind off to dance. On her first visit back to the studio, she'd been too much in her head, too anxious.
Maybe it was bound to be a mix of happy and sad, with all that expectation built up.
"When she came out, she kind of broke down and started crying to me when we got in the car," said Linhda, "and she said that it was really hard."
It was really hard, but Angelina is really resilient.
'I'm going to be alright'
Angelina's cancer journey started in December 2019 with her discovery of a lump below her left buttock that, as the weeks passed, began to hurt when she sat down.
The woman who first saw the tumor on the ultrasound was kind, but she did not have a poker face.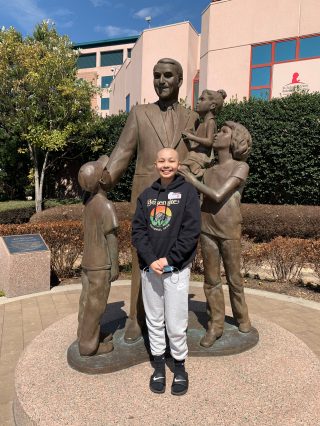 "I saw her take a deep breath and close her eyes for a second," said Linhda. "My heart just dropped, and I knew."
Scans and a biopsy confirmed Angelina had alveolar rhabdomyosarcoma, a soft tissue tumor that can arise virtually anywhere in the body.
"I've done crisis work my whole career," said Linhda, "and I'm always somebody who, at the drop of a dime, I've always known what to do. I can always react. You know? And I have to say, when I got the diagnosis for my daughter, it was the first time I actually understand what being paralyzed with fear means."
When Angelina's father, Michael, first heard the diagnosis, he got up from his chair and ran to the bathroom to throw up.
And what did Angelina do?
Two days after her biopsy and learning she had cancer, Angelina got onstage and danced with her team in competition.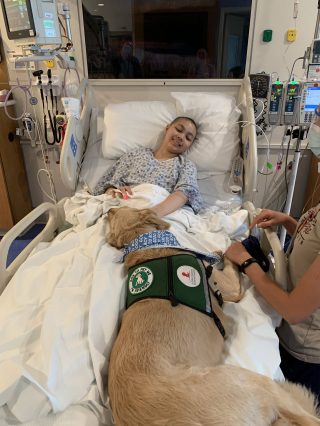 A friend of Angelina's mom who's a nurse helped the family seek out an open St. Jude research study for kids with newly diagnosed rhabdomyosarcoma. They obtained a referral and arrived to St. Jude three days later.
"Imagine walking into a hospital where you're looking at all these parents going, 'Oh my gosh, they are me, and I am them.' At the same time, it's so heartbreaking because you see these children with their hair gone. I'm looking at Angelina with her long, thick beautiful hair, and I go, 'Ohhh.'"
On one of their first days at St. Jude, when they learned Angelina's cancer had progressed to stage IV, Angelina turned to her mom.
"Momma, I'm going to be alright," Angelina said.
"And she just said that with so much certainty," said Linhda. "And I thought, 'She's the one going through this, and I'm the one drawing strength from her.'"
They also drew strength from Angelina's St. Jude doctor and the other members of her care team.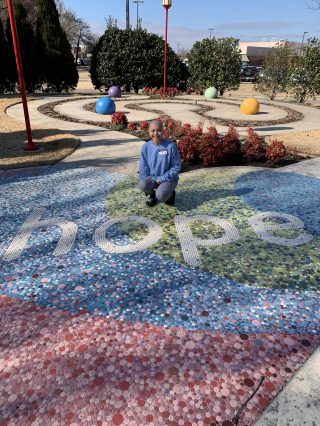 "I just love his optimism," Linhda said of Angelina's doctor. "I feel like some doctors kind of take that approach where they're like, 'We don't want to give you false hope.' But what you don't understand is that as parents, you get to a point where you do your due diligence…and you have a very strong understanding of the challenges your child is facing with their diagnosis, and so I don't want a doctor who's going to come in and remind me every day. …We actually have fun when we visit him."
Fun. It's not a word you usually hear about cancer treatment, and there were certainly hard days.
The treatment was grueling because it was an all-out war against the cancer that had spread to Angelina's left hip, her lymph nodes and her upper and lower spine. The radiation therapy caused painful burns at the site of her original tumor. The chemo made Angelina sick, and her hair fell out. Her muscles, so strong from dancing, weakened.
But Angelina's family called the St. Jude staff their "dream team" and their "angels" because they paid attention to Angelina's response to treatment and tailored their care to help with issues, such as nausea, that arose.
And Angelina never gave up. She stayed positive and believed things had the best chance of being OK if she worked hard to make them that way. She did stretching lessons learned from dance to try to "get ahead of" some of the debilitating side effects of chemo. She studied hard with the St. Jude school team and maintained good grades. She created gifts for her care team – like the crocheted honeybees she made them at Christmas – and told them thank you again and again.
Angelina's St. Jude care team loved her back, she believes.
Between all of that love and the care packages and texts from friends and family back home, including her dance team, Angelina made it through. Each and every week of Angelina's treatment, for example, Mazie sent her a handwritten letter by mail.
"Even though she could text me, I thought it was such like a generous and nice thing to do. Because not a lot of people send letters really," said Angelina.
And the 52-week course of treatment that had once seemed impossibly long, ended as it had begun: with a birthday party.
"When she first got to St. Jude, Angelina celebrated her Sweet 16, and they sang to her and gave her balloons and cards," said Linhda, "and that was the same thing they did for her before we left, only this time for her 17th birthday. …So our goodbye was them singing happy birthday to her and them throwing confetti and just hugs all the way around."
In a way, the celebration has never ended.
On the plane ride home from St. Jude, Angelina, her parents and her 6-year-old brother, Liam, kept repeating: "We're going home. We're going home!"
"My husband and I were constantly hugging Angelina, going, "You did this, baby girl. You did it, you did it. We're good. We're going home because you finished it," said Linhda.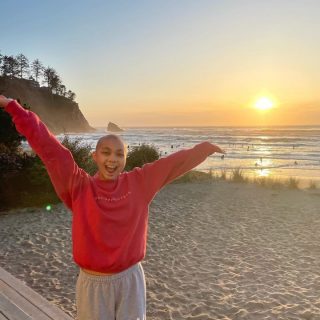 After they landed in Oregon, the four of them were standing together in baggage claim when they broke into a giant group hug: We're home. We're home. We did it.
It was late and they were hungry, so they grabbed tacos and burritos from a favorite place nearby where they live and sat there in their living room, including older sister, Sirena, and savored all of it.
"And I can't tell you that feeling of being able to sleep in your own bed," said Linhda. "You know, like to just come home and just like lay in your own bed, in your own sheets."
The next day, they left for a house they'd rented in Sunriver, and relatives from California and Hawaii gathered to celebrate. They had two cakes, one for Angelina's 16th birthday and one for her 17th.
After that trip, they picked up Angelina's dog, Mowgli, who'd been staying with her older brother, Austin, for more than a year. Mowgi hadn't understood why she'd been gone, so he opened his mouth and howled a long cry of such pain and emotion that he seemed to be speaking for all of them.
'She's just going for it'
Gratitude has marked Angelina's life since coming home.
She appreciates the green of her Oregon hometown and the proximity to bookstores. Her tastes run to romance novels and historical fiction. She has her driver's license now.
She works hard to maintain straight As in her classes, which include AP statistics and AP psychology.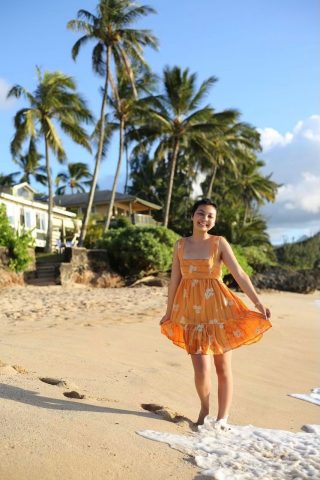 The St. Jude school program helped with that a lot, creating a large going home packet for Angelina that not only detailed what she'd learned, but also shared information about the kinds of challenges Angelina might face and the accommodations she might need to thrive.
She keeps drafting college application essays and deleting them because it's been hard to put words to what she's experienced – cancer and its treatment have defined her in ways she's still figuring out.
Right now Angelina's scans show no evidence of disease, but it'll be many more years of good reports before she can finally say she's in "remission." She still gets maintenance chemo on Tuesdays and visits St. Jude regularly.
"I think we've had to learn how to create a new normal," said Linhda. "We learn how to also just live in the moment."
Angelina taught her that.
"She's just out there living her life right now," said Linhda. "She's just going for it and not letting any of this hold her back."
And when the mood strikes her, she dances, for the sheer joy of it.