A big football player gets chance to see little boy with cancer all grown up
Pro Football Hall of Famer Howie Long first met Owen when he was 5 and in treatment at
St. Jude

Children's Research Hospital.

March 06, 2023 • 4 min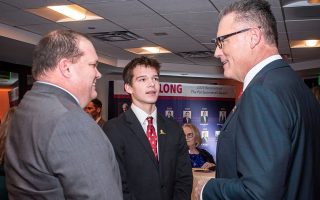 The first time Owen met the hulking former NFL player, the boy was just 5, bald and worn out from treatment for leukemia at St. Jude Children's Research Hospital.
Howie Long, a former Raiders defensive lineman, Pro Football Hall of Famer and current FOX NFL Sunday analyst, said he wasn't sure what to expect when he visited St. Jude along with his colleagues.
Long has had many great experiences during his 29 years with Fox Sports, including visiting American troops in Qatar, Afghanistan and aboard the USS Harry S. Truman in the Mediterranean Sea.
"One of the most inspirational things we ever did was to take that trip down to St. Jude," Long said. He toured St. Jude and its research facilities and talked to medical staff and researchers.
And then he met Owen.
"The kids are so inspiring," Long said. "They're so tough." Tougher than any football player, he said. Their families, too.
As a father and grandfather, Long can't imagine hearing those words: Your child has cancer.
Owen was 4 when his parents, Kelly and Brian, were told their son had acute lymphoblastic leukemia, or ALL. Owen was treated at St. Jude, where research and treatment protocols have helped increase the survival rate for ALL to 94 percent, up from 4 percent when St. Jude opened in 1962.
Owen stayed at St. Jude for two months after diagnosis and then took oral chemotherapy at home in Arkansas and made the hour drive to St. Jude every Friday to receive intravenous chemotherapy until he was 7.
It was during one of his weekend stays in August 2010 that Long and other members of NFL on FOX visited to shoot public service announcements as part of a partnership with St. Jude to help cure childhood cancer.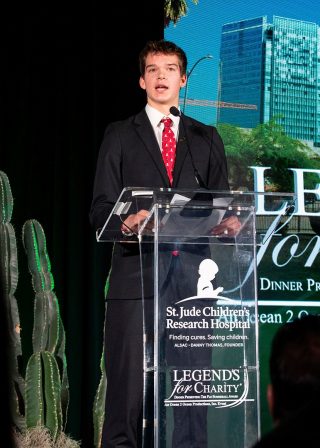 The former players spent time with Owen and a handful of other patients, building with blocks, coloring and tossing a football around.
"It was very lighthearted and fun for these little kids," Kelly said. Owen's dad couldn't believe his son got to play with Long.
"They were all heroes to my husband," Kelly said. "It was kind of surreal."
As soon as Owen finished treatment, at a time when a kid could be expected to slow down, he started running.
He joined his school's running program, and by the end of first grade he had logged 200 miles.
Owen hasn't stopped since.
'A really big deal'
Now 17, Owen wore a black suit with a red tie patterned with the St. Jude logo to the Legends for Charity® dinner in Phoenix, Arizona, during one of the biggest weeks for professional sports.
He marveled at the crowd — and their support of St. Jude. The annual dinner, created and produced by Cheryl DeLeonardis of Ocean 2 Ocean Productions, has raised almost $11 million for St. Jude since 2006.
"To have big names come out and support little kids from all over the country, it's a really big deal," Owen said.
He was there to speak about St. Jude to the more than 500 people at the event, where Long received the prestigious Pat Summerall Award for his broadcasting career.
At a reception before dinner, Long and his wife, Diane, made a beeline for Owen and his dad.
Long and Owen shook hands and then Long took a step back to look at Owen, now 6 feet tall. "Wow, you have changed!" Long said.
Owen is a junior in high school, a straight-A student who runs track and cross country.
"He was super surprised to see how I've grown up," Owen said.
Long asked about Owen's college plans — he recommended his alma mater, Villanova University — and running.
"I really like the feeling after a hard run," Owen explained. When Owen runs, he focuses only on when to go faster and when to draft, just putting one foot in front of the other. "It's freeing," Owen said. "It's just fun for me."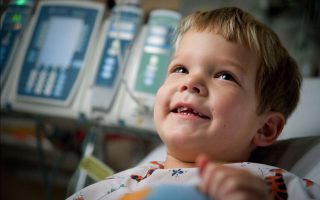 Long hung on Owen's every word.
"To see him now, as a high schooler, a cross country runner — I'm speechless," Long said. "It's really great."
He said he knew St. Jude did amazing work. Owen is proof of what is possible.
"You see Owen now at 17 years old — he was 5 at the time — it gives you a lot of hope," Long said.
Grateful for life
Owen is healthy — and strong from running. Except for the scar on his chest from his port, no one could tell he was a cancer survivor.
Except Owen wants people to know.
He welcomes opportunities to talk about St. Jude and runs the 10K in the St. Jude Memphis Marathon® Weekend, raising more than $17,000 in four years. He participates in the St. Jude LIFE Study, a research program for cancer survivors. He hopes what researchers learn from him helps other kids.
Owen is grateful for his life. He knows putting one foot in front of the other will get him where he wants to go.
"Compared to cancer," Owen said, "there's not much that can throw me off the track."