Embracing memories:
St. Jude

families remember their children on Día de los Muertos
The celebration allows families to display mementos and their child's favorite foods on special altars.

October 31, 2023 • 3 min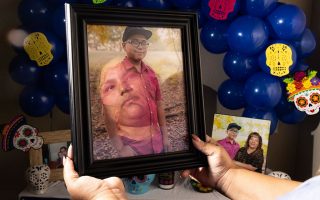 Español | English
Every year since her son, Alberto, died of a brain tumor, Nallely prepares a special meal on Halloween or Nov. 1 to remember and celebrate him.

In her kitchen in Oklahoma, she lovingly makes chicken tamales, one of Alberto's favorite foods, and once done, places them on top of a wooden cabinet in her living room that is already filled with her son's favorite toys and other mementos. Near the tamales, she also places a dish containing Alberto's most loved chips, crackers and gummy candy. And she makes sure to leave juice, water and a cup of hot black coffee, a beloved drink.
"He was a 3-year-old boy, but he loved coffee like an old man, and he spoke like an adult," Nallely said with a laugh. "That's why we put the crackers with the coffee."
It is a ritual she happily does to mark the Día de los Muertos or Day of the Dead, a traditional Mexican celebration that begins at midnight Nov. 1 and lasts through Nov. 2. For those who mark the holiday, the belief is that the souls of those who have died have a chance to return and be with their loved ones and enjoy their favorite foods, which are left on decorated altars that contain some of their treasured things.
Other Latin American countries honor the lives of their loved ones during the first two days in November when they visit cemeteries and bring flowers or other offerings. Mexico is known for its traditions surrounding the holiday which traces its roots to the Aztec people who held festivities for the dead they believed could return to Earth.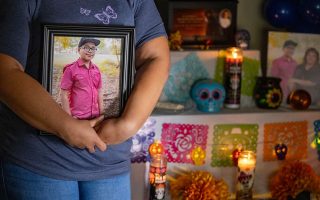 To show love and respect for the departed, altars usually contain personal items as well as food and beverages. The altars usually have colorful paper decorations known as papel picado, which represents the wind, as well as candles which are supposed to light the way for those who have died.
"It stirs a lot of feelings in me, but it's my belief that he's going to come, that he's going to see it, and I'm going to leave these things here because it's what he likes the most,'' said Nallely, who is of Mexican ancestry. "We believe that if we don't do it, then he won't come. Or, if he comes, he will be sad because he will think that we have forgotten him."
Alberto had just celebrated his second birthday in the summer of 2016 when he began falling and seemed to have no stability, his mother said. At first, she thought Alberto was playing because he didn't seem to be in pain. But one day, after dropping him off at a family member's house, he kept falling and was unable to walk, which led her to take him to the doctor.
Tests revealed the little boy had a brain mass.
"They told us here where we live that he wouldn't live more than six months," his mother recalled.
Alberto and his family were referred to St. Jude Children's Research Hospital®. St. Jude is leading the way the world understands, treats and defeats childhood cancer and other life-threatening diseases.
At St. Jude, Alberto underwent an aggressive treatment protocol that included surgery, chemotherapy and radiation therapy.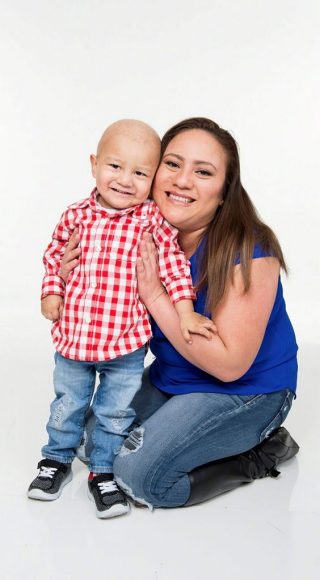 Alberto lived more than a year after he was diagnosed and died in September 2017.
Pediatric cancer is the leading cause of death by disease among U.S. children ages 14 and younger.
A display like no other
In Nallely's house, a picture of Alberto with wings hangs on the wall above the wooden cabinet that displays the little boy's toys and the animal figures he played with the most. Nallely also placed the pajamas he wore on his last day and his favorite superhero T-shirt in the cabinet. Throughout the year, she adds decorations to coincide with whatever holiday is celebrated. In October, for example, she places pumpkin figurines and at Easter, plastic eggs and bunnies.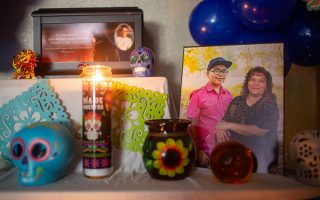 "We are trying to honor who they were with these altars, and we also add many pretty flowers and candles," she said.
More than a thousand miles west, in Arizona, Amelia begins weeks before to purchase decorations for the altar for her son, Juan, who was also treated at St. Jude for a rare brain tumor before he died in 2018 at the age of 15.
Amelia said she had always lit candles for relatives who passed away during this time of year. But after her son died, she began to read more about the traditions surrounding Día de los Muertos and began to erect an altar in her home. Her altar, which contains portraits of her mother, father, a close friend and Juan, as well as other children who have died, is covered with several offerings or ofrendas. She also made pan de muerto, or bread of the dead, a sweet bread, that she sets on her display.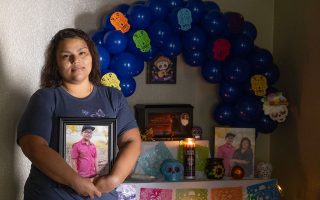 Amelia makes a special meal with some of Juan's favorite dishes to serve on Nov. 2, including a bean and cheese burrito with ginger ale or root beer, or both, and then chimichangas and rice. She places a portion of the food items on the altar between framed pictures and shares a meal with her youngest son, Javier.
Amelia said the days are bittersweet, but she likes to share in the tradition.
"It's a hard process because no one wants to make an altar for their child. That's not what I ever envisioned in my life, but it's also a way I feel to connect to Juan when I can still spoil him, as silly as that sounds," she said. "And even though I feel he is with me every day, and protects me every day of my life, our culture makes it a special day that I can make his favorite food and cater to him."