Alive and Singing
Singing with country music superstar Brad Paisley has put St. Jude survivor Addie Pratt on a national stage. She's using it as a platform to help others.

January 18, 2020 • 5 min
Rehearsals for the network TV special had ended, but Addie Pratt lingered on the stage to let it all sink in.
"I just sang with Brad Paisley," she said.
For a college freshman just three years removed from treatment for acute myeloid leukemia at St. Jude Children's Research Hospital, it was a moment to marvel over. She was performing with one of country music's biggest acts, on a bill with the likes of Carrie Underwood, Kelsea Ballerini, Hootie & The Blowfish, the Jonas Brothers and Peyton Manning.
But Brad, so taken with Addie's voice and spirit that he'd invite her into the studio to sing on his St. Jude-inspired single "Alive Right Now," was marveling, too.
"Better," he said, "than Brad Paisley."
On stage with a country superstar, in a TV performance seen by 6.3 million people — Addie sure was a long way from the Haute Pig.
That's the Mississippi barbecue joint where she made her public singing debut as a very persistent 3-year old. The family was there having dinner. Two guys with guitars, the hired entertainment, were performing. And little Addie decided she wanted to sing.
"She just kept on — 'I want to sing, I want to sing,'" said Kim, Addie's mom. "So she did. She got up with her little red curly hair, marched herself over there, told them she wanted to sing, in the microphone. And she sang 'You Are My Sunshine.'"
Addie's been singing ever since — from her car seat in her dad's truck, a 4-year-old belting out Toby Keith's "I Love This Bar" on the way to daycare, to the privacy of a schoolroom closet at St. Jude, a 15-year-old cancer patient asking her teacher, "You want to hear a song I wrote?"
Addie doesn't usually get nervous before she sings — she's usually having too much fun, doing something that's as natural to her as breathing. But that day at St. Jude was different. The song was one she'd written, during treatment. It's a song about faith, hope and perseverance; it's the sound of a girl who has "come too far to end up letting go."
So she and her teacher huddled in a closet, and Addie sang "I Hold On" — the first time she'd performed it for anyone.
Three years later, she was singing on stage, and in the studio, with Brad Paisley, one of St. Jude's biggest supporters in a country music community that's raised more than $850 million through the Country Cares for St. Jude Kids program.
He sings the bridge:
I've met angels and survivors
That twenty years ago there'd be nothing they could do
But thanks to places like St. Jude
And then Addie joins him on the chorus:
It's great to be alive right now
By the grace of God somehow
No one knows how long a time
But guess what? You're alive right now
"You hear it and you think, 'Oh, what artist is that? What major-label artist is singing with him on that?'" said Paisley, who was joined by Addie for a surprise reprise of "Alive Right Now" Saturday night at the St. Jude Country Cares Seminar, an annual gathering of artists and representatives of hundreds of country radio stations.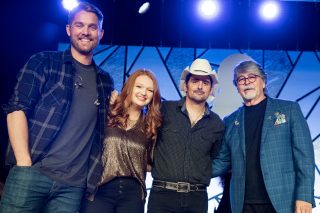 "When I sing the words 'It's great to be alive right now,' that's one thing. But hearing them from you?" he said, turning to Addie in a pre-show interview. "She said it in a way that I can't say it."
As Paisley introduced the song on stage, during the seminar's Songwriters' Dinner, he said, "There's a lot of great things about being on this planet right now. Don't lose sight of that. The greatest example, I think, of what humankind is capable of is this hospital.
"And when you're going to sing about being happy to be alive in these times, who better to do that than someone who has been through St. Jude and back again."
When Addie joined Paisley on stage, and in song, the crowd in the packed ballroom erupted. She rose to the moment again, her voice soaring above the ovations.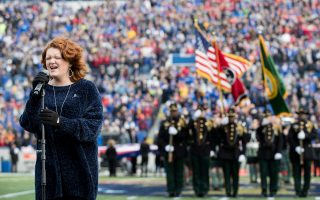 From an audience of one, to one of millions.
From her small Mississippi town that's home to the annual Slugburger Festival (yes, she's sung at that, too), to Brad Paisley's side, to people telling her she's going to be a famous singer.
From a life-threatening disease, to living it up.
"As soon as treatment ended, life just started going up. And it still hasn't stopped," Addie said. "It's like blessing after blessing. I feel like a lot of it is because of St. Jude. They didn't just stop at saving my life. They have made so many of my dreams come true.
"That sounds kind of cheesy, but I really mean it."
Not so fast, though, with the talk of fame.
"Everybody, seems like they want it to happen overnight, so fast," her father, Michael, said. "The whole thought of that scares me."
Addie and her parents are sitting in their den. Their dogs, Golden Retrievers named Fred and Max, are in and out of the room. It's a comfortable gathering place, where Addie likes to come in, sit down, and sing the family a song she's written. It's where one day Kim remembers telling her daughter:
"Addie, I don't know what you're supposed to do with this talent. I don't know what you're supposed to do with these songs. But I know they're not going to stay in my den. Because they're going to touch people, they're going to mean something to people."
Addie would love to have a career in music, but she has a couple of conditions. It needs to be part of God's plan. And it has to happen on her terms. Which is to say, she doesn't want to lose her soul along the way.
"I'm really thankful for all I've been given," she said. "So I don't want to pretend I'm something I'm not. It's a really unattractive quality in people, who think their blessings are something that they've done. When really everything's been given to us."
Addie wants to use the national stage she's been given to give back. She wants to use the stage as a platform to help others.
"The thing is, I don't want to be famous. You know?" she said. "I would love to be able to have enough financial capability to help kids that are going through (cancer and other catastrophic diseases), to be able to give money to St. Jude. Because I'm broke right now. I'm just a broke college kid. I don't have any money of my own to give."
It's a reminder that she's still a teenager. She's a college freshman who's studying hard ("The child wrote an essay for her honors college, in the hotel room, before she went and rehearsed with Brad Paisley," Kim said) and hanging out with her pledge sisters of Tri Delta (Yes, the same sorority that's raised more than $68 million for St. Jude).
And she's as grounded as ever. Consider her reaction a couple of days after the TV special aired, when she wrote: "This experience has been the highlight of my life. God is so good! Now I'm praying that I pass my finals!!!"
But for Brad Paisley, 6.3 million TV viewers and countless others, it's easy to hear her sing and get carried away by that big, pure voice.
It's easy to imagine, a few years from now, a young St. Jude patient standing on a stage, rehearsing for her national appearance with a country music star. You can see that young girl lingering on the stage, letting it all soak in, marveling in the moment. And you can hear her say:
"I just sang with Addie Pratt."
See highlights from the St. Jude Country Cares Seminar on Instagram.