St. Jude

patient Beckett reunited with family in time for Thanksgiving
After eight months of treatment for brain cancer, Beckett's family has so much to be thankful for.

November 09, 2023 • 3 min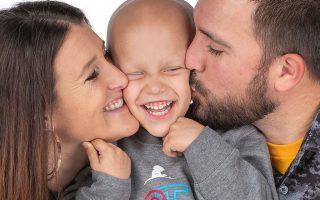 Five months into treatment for brain cancer at St. Jude Children's Research Hospital, 3-year-old Beckett was madly missing his brother and sisters back in Michigan.
He'd tear up, telling his mom and dad, "I just want my sissies back. I want my bro-bro back."
It had been almost two months since the kids' last visit to Memphis.
The results of Beckett's latest blood tests were good, meaning it was safe for him to travel. So, with six days until Beckett's next round of chemotherapy, his parents, Tammie and Brett, decided to make a surprise visit home.
Beckett comes from a blended family. The older three kids are Tammie's from her first marriage. Tammie and Brett married in 2019 and had Beckett. His brother and sisters adore him.
For the family of six, there's a comforting chaos to their life — work, school, homework, football practices and cheerleading competitions. They camp, hunt and fish together. Brett and Tammie play soccer on the same team. Their house is where everyone gathers.
Tammie and Brett miss it all. "Family is very big to both of us," Brett said.
He drove and Tammie rode in the back seat with Beckett, fielding video calls from the kids throughout the 11-hour drive trying to protect their secret.
"Why are you in the car still?" Cadence, who's 11, asked.
"We're heading to Target," Tammie told her.
"You just went to Target," Cadence said.
Finally, they pulled up outside the older kids' dad's house. Tammie had texted ahead, asking him to send the kids out one at a time.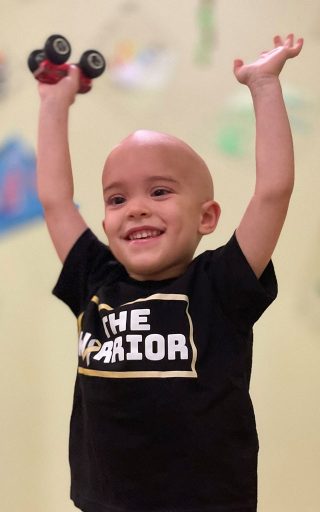 Paisley, who's 9, was first. Spotting them, she sprinted across the lawn to hug Beckett. She likes to have Beckett all to herself, taking him out back to swing or play in another room. They crack each other up.
Next was Cadence, who mothers Beckett, carrying him on her hip, reading him books and tucking him into bed.
"Oh, my gosh!" Cadence yelled, running to hug Beckett. Sobbing, she picked him up. Beckett buried his face in her neck.
"Those are happy tears, Beckett," Tammie told him.
And then Aaron, who's 13, was tearing toward Beckett, who turned and ran, laughing. Aaron caught him easily and then hugged his mom. Aaron is Beckett's protector, even more so now.
Tammie and Brett cried, too. Happy tears.
"It gives you a fresh sense of how important family is and how much we all mean to each other," Brett said. "It brings new meaning to our family connections."
In the five days they'd have together, they'd hold tight to one another and hope and pray that one day Beckett would come home for good.
'Mama, I dizzy'
It was late January when Beckett suddenly started getting lightheaded. He told Tammie, "Mama, I dizzy."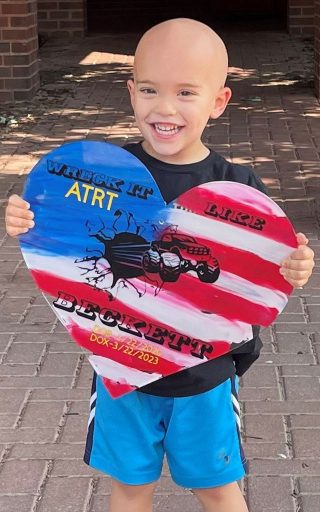 At the pediatrician's office, screenings showed nothing wrong. The doctor sent Beckett to a nearby hospital for a blood test that showed he was anemic. Beckett was prescribed daily iron supplements.
A month later, Beckett still was dizzy and worse than before. In his safety seat in the back of the car, he said, "Dada, don't turn." Even that made him dizzy. He began throwing up.
When Tammie called the pediatrician's office, she was told to give the supplements time to work.
Family and friends gathered to celebrate Beckett's third birthday with a party on March 11 and a monster truck show the next day. Brett's mom, a physician assistant, pointed out Beckett was leaning when he walked and cocking his head to one side.
The next morning, at 5 a.m., Brett's mom texted Tammie and Brett, saying they should take Beckett to the emergency room. There, a CT scan showed a mass in Beckett's brain.
He was transferred to a children's hospital, where a more precise MRI confirmed a 3-centimeter mass in his cerebellum, which primarily controls balance and movement.
In a 10-hour surgery the next morning, the surgeon could remove only part of the mass. After six days in intensive care, Tammie and Brett took Beckett home to await biopsy results.
"We were just a mess," Brett said. Sleepless nights and terror-filled days but still kids to feed and get to school. Friends and family came to help.
The call came an agonizing three days later on March 22.
Beckett had an atypical teratoid rhabdoid tumor, or ATRT, a rare and fast-growing cancerous tumor of the brain and spinal cord. It is notoriously difficult to treat, and the long-term outlook for children with ATRT is usually poor.
"Our world completely shattered," Tammie said. She wanted only to curl up with Beckett.
Brett scoured the internet for information about ATRT and the best treatment. Tammie's mother suggested St. Jude. Tammie's best friend turned up at 9 p.m. with the St. Jude website already pulled up on her laptop.
The next morning, Tammie and Brett got a call back, telling them Beckett had been referred to St. Jude.
"We decided there would be no more crying. No more feeling sorry for ourselves," Brett said. "It was time to be warriors and fight."
'Best possible outcome'
Three days later, on March 29, Tammie, Brett and Beckett drove 11 hours through the night, arriving at St. Jude a few hours before Beckett's first appointment. The first few days were a blur of scans, lab work and assessments.
Beckett's pediatric neurologist at St. Jude, recommended a second surgery. On April 6, in a five-hour surgery, the pediatric neurosurgeon removed the entire tumor. Tests showed no evidence of cancer anywhere else.
"It was the best possible outcome," Tammie said. Beckett was up and walking the same day.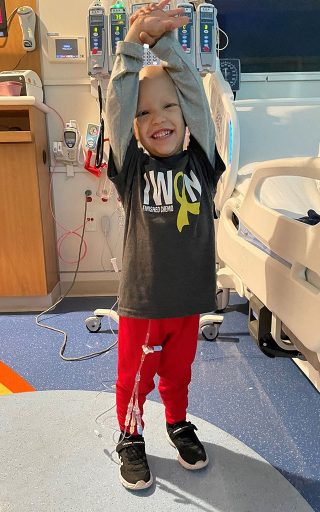 Tammie and Brett had seen commercials on TV for St. Jude and donated by rounding up at checkouts of businesses that support St. Jude.
But they didn't understand what happened at St. Jude until they saw it themselves. "They're changing people's lives here," Brett said.
For continued treatment, Beckett would undergo multiple rounds of radiation therapy. Then he'd get a break and get to go home for a month in June before starting chemotherapy.
The best medicine
In July, the whole family drove back to St. Jude so Aaron, Cadence and Paisley could visit for the first time.
After that, the kids visited for a few days every month or so, traveling to St. Jude with Tammie's parents. During those visits, Beckett is happier and, interestingly, Brett said, healthier, his lab results consistently better when his brother and sisters are with him.
"It even keeps us going," Tammie said. Without the family together, Brett said it is easy to fall into autopilot — appointments, meals, sleep and repeat.
Beckett is almost always happy, except when he's missing his siblings. Even chemotherapy doesn't slow him down.
He loves monster trucks and construction vehicles. He's bright, already learning to read and doing addition and subtraction. Not only can he count to 100, but he can also do it by 10s and 5s.
At Target House, a long-term residential patient facility where families never receive a bill from St. Jude for housing or food, Beckett opened the curtains in the morning and told Brett, "Dada, wake up. It's a beautiful day outside."
Tammie marvels at Beckett's resiliency. When she told Beckett he'd need lab work that day, he tapped the medical port in his chest and said, "Good thing I'm already accessed."
But Beckett always asks when they'll get to go home again.
Back in Michigan for the holiday
After the surprise trip home in August, Tammie, Brett and Beckett left the game where the girls were cheerleading at half-time on Aug. 27 to make the long drive back to St. Jude.
It would be almost three months before they would return to Michigan.
They've already missed so much. Birthdays. The girls' cheerleading competitions. Aaron's first day of junior high and his new braces.
Tammie misses hearing the kids yelling from upstairs, their bikes and scooters scattered across the yard, and the routines of daily life. Picking up the kids from school. Riding bikes around the neighborhood. Even cleaning the house.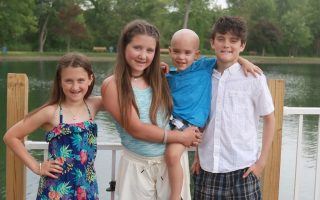 Brett misses sitting on the back porch with a cup of coffee before work. Having friends and family over for a barbecue. Even mowing the grass.
After what they've been through, they'll never take it for granted.
As excited as they are to go home, it's scary, too. "We're safe here," Tammie said.
Beckett has been cancer-free since his surgery in April. He's scheduled to celebrate his end of treatment with a No More Chemo Party, a tradition at St. Jude, on Nov. 21 — two days before Thanksgiving.
With what they've been through, Tammie said, "It's definitely going to hit home and hit harder this year."
Beckett will return to St. Jude every three months for scans and lab work, reassurance that if his cancer returns, doctors will catch it early.
"We are going to start our life back up," Tammie said. Regular, everyday glorious life.
They'll gather with family and friends for Thanksgiving and throw Beckett a second No More Chemo Party. They have so much to be thankful for.
Thankful for the friends they made among the patient families who understood what they were going through. "It's a real community," Tammie said.
Thankful for the overwhelming support of family, friends and strangers. "You definitely see the good in the world," Tammie said.
Thankful to St. Jude for saving Beckett's life. "We are indebted to St. Jude for the rest of his life," Tammie said.
Thankful to be all together.