Lifelong challenges haven't dulled Caleb's love of music and people
Mom says graduating senior has taken "so many knocks" but always bounces back.

May 21, 2020 • 2 min
As a kid who wasn't even expected to live long enough to reach high school, Caleb always had bigger things to worry about than whether he'd get to go to prom.
But come Friday night, the graduating senior will have a date and a whole lot of music to enjoy as he takes part in "Prom From Home: Under the Living Room Lights." It's a livestream event presented by St. Jude Children's Research Hospital in conjunction with radio DJ and YouTube personality Zach Sang for the Class of 2020, who are missing traditional proms because of the COVID-19 pandemic.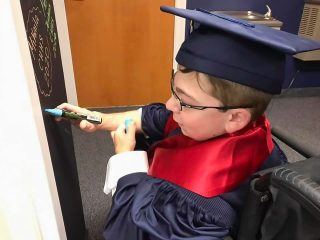 "He's just looking forward to all the different artists and the music and having fun," said Caleb's mom, Kelly.
Her son was born with a rare, incurable genetic condition called Hurler syndrome, which means he lacks the enzyme needed to break down and dispose of certain sugar molecules, which consequently build up in the body and cause progressive damage. Most kids suffering from the disorder die by age 10.
When he was just 18 months old, Caleb underwent a bone marrow transplant at St. Jude to blunt the progression of the disease and prevent further effects on his brain. In the 18 years since that procedure, he's also endured leg and hip surgeries, a cornea transplant, heart and kidney problems and other issues.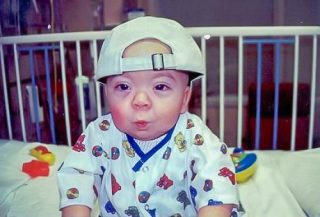 Those challenges steeled Caleb to adversity and setbacks, Kelly said. Compared to what he's been through, the quarantine imposed during the pandemic is nothing major.
"He's always taken so many knocks, but he's kind of used to coming back from them. It doesn't take him too long to bounce back from disappointments," his mom said.
Having lost much of his mobility in the past five years, Caleb is more dependent on his walker now. His physical problems, however, haven't dampened his main love: music.
In fact, after Sang called to personally announce he wanted to help throw the "best prom ever," a grinning Caleb offered up a long list of artists he would be interested in hearing during the event.
Like most other seniors, Caleb is looking forward to the prom as a milestone event and last hurrah of his high school years. His date will be one of his best friends, who lives just around the corner from his home in Mississippi.
"He said he can't be with his friends, but he can at least be with one of his best friends," Kelly said.
"She'll come over, and they'll enjoy it together."
Now 19, Caleb enjoys making people smile and laugh, something he plans to do as he pursues work in volunteer or part-time positions, his mom said. "He just wants to be able to show what God's done in his life, and he's open to wherever he leads him."
As for the virtual prom necessitated by the pandemic, it may not be as exciting as a real one but Caleb, as always, will make the best of it.
"He was supposed to live five to 10 years, so COVID-19 is not going to take the joy of how far he's made it," Kelly said.