Cooking with Carly: Her Triumph Story as Told Through Her Food
St. Jude

survivor and former chef, Carly reclaims her love of cooking and shares stories of dishes that marked her time in treatment.

January 10, 2020 • 17 min
Carly, 21, of South Dakota, has a favorite memory of her dad: He is dancing around the kitchen to Abba, chopping the ingredients for tacos. For three years, he was a missionary in Mexico and he knows how to make them the right way. When Carly was little and needed cheering up, her dad would take her to the grocery store to look at the produce and spices and imagine what they could make together.
Food is the key to understanding Carly. Food and family.
Carly wasn't particularly studious in high school, she says, but she was always learning in the kitchen. She idolized Chef Grant Achatz and read his book about cooking and cancer multiple times. She read Gabrielle Hamilton's "Blood, Bones & Butter," which convinced her a woman can be not only good at cooking, but great. She made food for her family at every opportunity.
She knew she needed real-life experience to become a chef, so for a year after high school, she worked as a pastry chef and line cook at an upscale restaurant near her hometown. That focused her and made her not afraid to work hard. She started her freshman year of college in the fall of 2017 and was easily maintaining a 4.0. But then the headaches started and the bruising. She would get so winded climbing a flight of stairs that she held onto her knees and gasped for air. At night in bed, she could feel her heartbeat in her back. While everyone else was sleeping, she would think about how strange that was.
In February of 2018, after a bone marrow aspirate, she was diagnosed with a form of blood cancer called acute myeloid leukemia.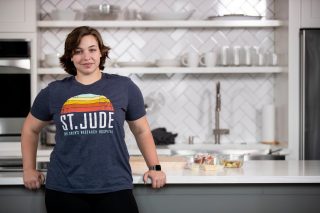 That was on a Thursday. By Monday, she was at St. Jude, which she describes as "a sort of surreal and slightly magical place where you never feel weird about being in slippers or having cancer. You never have to hide or look better to appease a societal norm. And everyone is nice and so accommodating." She began a treatment plan of six months of chemotherapy.
For a long time, it was too painful for her to stand upright, which made it impossible for her to cook. And the chemo changed her sense of taste. "I even hated water during treatment. It tasted like sulfur. It was as though you could taste the minerals." So she didn't cook for a while. Instead, she made friends. She carried around stickers and gave them out to the little kids. She bonded with a few of the other teens and a few of the moms. She especially loved a little girl named Hadley who had the same diagnosis, and she brought her stickers and toys.
She and her mom lived at Target House, a patient housing facility at St. Jude. "As a South Dakotan, I didn't go outside too much that summer because of the Memphis heat, but my room faced the courtyard. I loved it. The courtyard looked down on the playground. It was like paradise for kids with cancer. Nobody ever felt shamed or excluded, and the kids would be out playing like there was nothing wrong."
Achatz's book about cooking and cancer meant more to Carly in that summer of 2018 than it ever had before, and she reread it. "I would be laughing about these passages that were so dark where he's joking about cancer and death because I understood."
One day she made a lemon chicken dish for a friend at Target House – her first foray back into cooking. "It was just a simple thing – chicken, lemon, olive oil, butter. Easy. But it was a great moment for me."
Carly completed treatment in August 2018. That November, her dad drove her to Grant Achatz's restaurant in Chicago: Alinea, which has three Michelin stars. She got one of the restaurant's edible helium balloons made from sugar and fruit essences. The idea is to suck the helium up first before eating the balloon. Surreal and slightly magical. For Carly, it was a dream come true.
Carly had always wanted to be a chef, but now she clarifies she wants to cook for her family and the people she loves. Having cancer made her realize that the late and weekend hours of most chefs would make her miss out on what she had missed the most during her six months of chemo: time around the table with her family.
Ask Carly to imagine her favorite meal, and she says you must first picture the beautiful old wooden table at her parents' house. Her entire extended family is there, including her brother, who doesn't live in their hometown anymore. Abba is playing, and her father is dancing. The food, which they are making together, comes out in waves. There is beef carpaccio, steak "because my relatives in South Dakota are big on steak," and baked salmon. For dessert, a peach or strawberry schaum torte. "And the best part isn't even eating the food. It's that we're all together, making food together and sitting together at the table."