For
St. Jude

Patient Dakota, Life is Coming Up Aces
The 14-year-old just a couple of months out of treatment for acute lymphoblastic leukemia, steps to the 16th tee, takes a practice swing or two with his 7-iron, and then...

April 06, 2020 • 4 min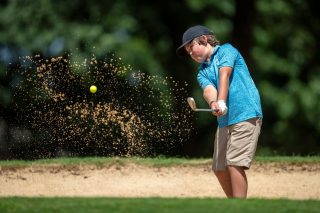 As a metaphor for life, golf has it all. A ball on a tee — that's hope and possibility. Then you take that swing, hope you don't whiff, and see where your shot takes you. Hopefully not lost in the rough. Hopefully not stuck in the sand.
Because golf, like life, can be tough and unpredictable.
But sometimes it looks nice and easy — if you're good at golf, and better still, good at life.
So here's Dakota, a 14-year-old just a couple of months out of treatment for acute lymphoblastic leukemia (ALL) at St. Jude Children's Research Hospital.
He steps to 16th tee, takes a practice swing or two with his 7-iron, and then thwack…
The ball sails straight and true for some 125 yards, then lands and bounces another five to the cup and … drops.
A hole in one.
And maybe that's a metaphor, for these times of the COVID-19 virus. Not a metaphor about how life looks nice and easy sometimes, mind you, but about all the perseverance and pluck it takes sometimes to finally get to a good place.
As Daily Memphian columnist Geoff Calkins wrote about Dakota's ace, "It certainly won't make our current trials any easier to bear. But for a 14-year-old kid — and anyone who needs reassurance that trials don't have to last forever — it was one shining moment, just the same."
For Dakota, it was three years of cancer treatment, during which "every side effect Dakota could get, he got it," his mom, Tricia said. Pancreatitis. Mucositis. Foot drop. And if chemotherapy wasn't tough enough, there was the migraine he'd get three days after each chemo treatment.
He persevered through it all. He relearned his motor skills. He made his way in a wheelchair, and then a walker. And then was walking the golf course under his own power, even as treatment continued.
The first time he broke 70, last fall in the final middle school tournament of the year? That was two days after a chemo treatment.
Asked last summer how far he'd like to go in golf, Dakota said, "I want to take it all the way. That's my goal."
Dakota's St. Jude story and his budding golf career are all wrapped up together, in fact.
Before cancer, soccer had been his game. His life — Tricia said. He was a goalkeeper, with the perfect personality for keeping his defensive teammates organized.
"He commands the field," Tricia said, still talking in present-tense terms, during Dakota's early months of treatment. "He's not afraid to be boisterous out there and take over."
But the boy would need a new sport, amid cancer and its treatment. Something that demanded a little less stamina. Something to keep him physically safer.
"So I picked up golf," Dakota said, "because it's a non-contact, non-other-stuff-like-that sport."
You could say, though, he was born to play. His father, Steve, used to compete on pro developmental tours, with Tricia as his caddie, before they had children.
And Dakota, as a baby, loved to watch his dad practice. "We had a practice room upstairs, and his dad would hit balls into a net and stuff," Tricia said. "And he would just sit there and laugh — just giggle and laugh, because he thought the sound was neat."
As a young athlete, Dakota went his own way — snowboarding at 4, becoming a black belt in taekwondo, competitive soccer — before finding his way to a place you might now call home: the golf course.
Along with success as a junior golfer, he was something of a star at last year's World Golf Championships-FedEx St. Jude Invitational. When golfer Justin Rose came up five feet short on a 50-foot putt for charity, Dakota coolly sank the remaining five-footer — clinching a $50,000 donation from FedEx.
Honorary pin flag caddie, St. Jude patient Dakota smiles for the crowd on the 18th green during the championship round of the World Golf Championships - FedEx St. Jude Invitational at TPC Southwind on Sunday, July 28, 2019.

Honorary pin flag caddie St. Jude patient Dakota meets golfers Haotong Li, Justin Rose and a caddie on the 18th green at the FedEx St. Jude Invitational on Sunday, July 28, 2019.
He also became impromptu golfing buddies with another pro, Bryson DeChambeau, when the latter visited the hospital during tournament week for the St. Jude Women's Club Patient Golf-A-Round.
DeChambeau worked with Dakota on his technique, but the lessons went both ways. Consider that the next night, as DeChambeau would be mentally preparing for the first round of the tournament, Dakota would be receiving another round of chemotherapy.
"It's inspirational, honestly, to me," DeChambeau said. "I've never had anything like that in my life."
The sport's place in Dakota's life — its power to drive and inspire him — was obvious from his golf-themed project for the St. Jude Teen Art Show.
Dakota's project includes pill bottles that spell out "St. Jude," pictures of the teenager playing golf, and written references to playing while undergoing chemotherapy, sinking the $50,000 putt, and his best-ever round of 69.
During a recent visit and tour, actor Patrick Warburton and his wife Cathy — who have raised more than $15 million for St. Jude through the Warburton Celebrity Golf Tournament — lingered in the hospital hallway that serves as the Teen Art Gallery.
Patrick was particularly taken with Dakota's project — not just for the art itself and the inspiring story it told, but also the photographs of Dakota in action and, the actor said, "the golf swing I'll never have."