FedEx
St. Jude

Championship:

St. Jude

brain cancer survivor excels at second shot
Ad airing during the PGA TOUR highlights Ian's perseverance on course and in life.

August 12, 2022 • 5 min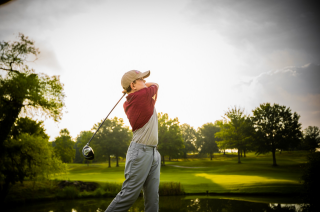 At the Darius Rucker and Friends golf fundraiser in June 2014, Ian, a novice golfer, was there to represent St. Jude Children's Research Hospital. The 6-year-old St. Jude brain cancer survivor had gotten to meet "Mr. Darius" himself, as Ian called him, and he liked the man right away.
He'd been invited to grab a club and drive off the tee, and Mr. Darius was watching, so he wanted to do a good job. He grabbed his little club, took his shot, and, well…
The ball didn't go in. It dribbled off the tee. No way around it, it was not a good shot.
His cheeks burning red, Ian got back into the golf cart with his parents and said, "I've got to get better at golf so I don't embarrass myself when I come back."
That statement says a few things about Ian and what drives him: He wants to be able to hang with friends. To the best of his abilities, he wants to do a good job. He's willing to work hard at the things he loves.
He just wants to take his shot. St. Jude had given him his first one.
When Ian was 16 months old, his parents noticed one of his eyes pointing inward, and when they touched the soft spot on his head, it felt swollen. A CT scan soon after revealed the presence of a mass behind his right eye.
When Ian's mom, Anna, heard, "I couldn't talk, I was crying so hard."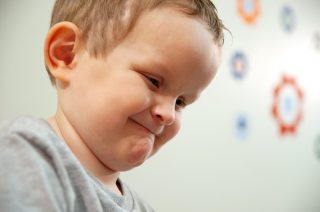 It took a 12-hour surgery to remove the tumor, and the pathology showed he had a rare and aggressive brain cancer called a primitive neuroectodermal tumor. The oncologist near their home in Tennessee did not sound hopeful and Ian was given a 50/50 chance of survival.
That's what brought them to St. Jude, with its reputation for helping children who have rare cancers.
In the time between Ian's surgery and when he got to St. Jude, his tumor had grown back – an aggressive beast of a tumor.
At St. Jude, he underwent a second surgery to fully remove it, as well as six rounds of chemotherapy. He also received proton beam radiation, which directs the radiation exactly where needed, sparing the healthy brain tissue that surrounds the tumor bed.
Afterward, he continued on six months of oral chemotherapy. For several years, his scans were clear, and his parents praised God.
What if Ian's first try at golf had been good?
What if the ball had gotten into the hole on his first attempt or been close enough for his shot to be indicative of some natural gifts?

Well, that would have been wonderful, of course. But that's not what happened. That's not Ian's story.

What happened is this: He tried harder with renewed purpose. Ian's parents enrolled him in junior golf lessons, and he began to play on the course with his dad.

Then, in 2018, his cancer came back. It would require another surgery and more treatment, but "St. Jude was with us every step of the way," said Anna.
Even during relapse cancer treatment, Ian practiced golf and put in the time. it was hard sometimes, and Ian, at 10 years old and now a two-time cancer survivor, had come to the decision that it was important to say this out loud.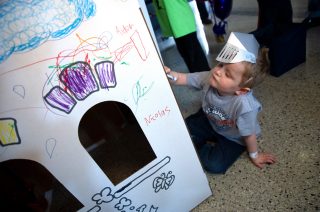 Because he was a little bit older and little more aware this time, he said, "You know, I am a little bit different. Things are a little bit harder for me, and I've got to acknowledge that and accept that, but not let it keep me from doing things."
Little by little, year after year, Ian has gotten better. He joined a Junior PGA group and began competing so he can gauge how he's progressing against the other golfers.
But he's not a competitive guy, Anna insists. Golf, the way Ian plays it, is about friendship and camaraderie.
"If the kid next to him is on the other team, and they shank it into the woods, he'll say, 'Great job. Better luck next time.' It's so cute, and it's so his personality. He's such an encourager.
"He's not hard on himself either. Even when he doesn't do well, he's just like, 'Oh well. Better luck next hole.'"
Now he's 14 years old, cancer free, a high school freshman, and he's just been named the manager of his high school golf team. His family has a St. Jude Heroes team, and every year he attends the Darius & Friends golf fundraiser for St. Jude to hit a few balls with Mr. Darius.
He's the star of an advertising spot about his golf game that will air during the FedEx St. Jude Championship and the PGA TOUR.
They say the difference between a happy ending and a sad one is where you choose to stop the story.
Earlier this year, Ian had been experiencing some treatable medical issues. Not a happy ending, but just wait.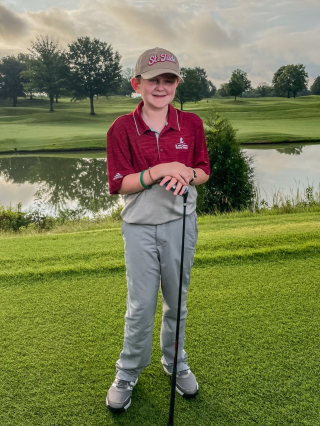 His parents took a calculated risk, adjusted his medication and decided to let him go to sleepaway camp anyway. He would be there with 350 kids from a new church his family had joined, most of them strangers.
He could do this, his parents believed, but in the days before the camp began, Anna was a nervous wreck. "I just prayed, 'Lord, just please help my son find one or two really good friends.'"
For the first few days she heard nothing from camp, and then on the last night, she got a text from one of the leaders, saying, "You've got to watch this," with a video link.
The video showed Ian walking onstage to do a lip synch battle to a TobyMac song called "Scars." But before he began to perform, Ian had something he wanted to share with everyone.
"Hey, my name's Ian. So I'm a two-time cancer survivor…," he proceeded to tell his story, "…and this song 'Scars' resonates with me and my life, and I just wanted to share it with y'all."
Then he bursts into the song in the lip synch battle and starts dancing for all he's worth.
"And I was just like bawling," said Anna, "and everybody in the audience is chanting his name, like, 'Ian! Ian! Ian!' And I'm like, 'Oh my gosh, I just asked for two friends, and you just gave him 350.'
"And the fact he was just so comfortable getting up there and weaving his story, but not making it just about that. And I'm like, 'Oh my gosh, we have come so far. It's so amazing to see him grow up and just become his own little person and be so brave, I tell ya.'"