From minister to medical, Ryan takes a journey of faith
Ryan Pattat was diagnosed with a brain tumor at 7 years old. His story, and his faith, have inspired others.

December 28, 2020 • 5 min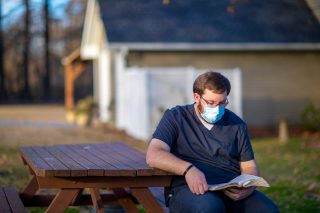 In the cemetery, under the newly pitched blue tent, stood a young man holding a Bible.
He could have been mistaken for a grandchild among the immediate family members who gathered for the graveside service. He was indeed a distant cousin, but on this day he was attending as the minister.
Ryan Pattat, 25, knew "Mrs. Tommie," 88, all his life. She attended the same church as his grandmother, and Ryan visited Tommie in her final months under 24-hour skilled nursing care.
When it came time for Tommie Pattat's funeral, her husband Billy, 90, wasn't sure who would give the service. His daughters, Laura and Linda, couldn't think of anyone better than Ryan. He was family, after all, and he'd been delivering sermons at church since he was a child.
Ryan was also the connection between Tommie and one of the causes she held dear: St. Jude Children's Research Hospital.
Ryan was diagnosed with a brain tumor and rushed into emergency surgery at just 7 years old. Witnessing Ryan's ordeal as a child — the start of an ongoing battle with cancer that continues to this day — inspired Tommie and Billy to become lifelong supporters of St. Jude.
"Whenever you know someone personally, it makes giving a whole lot more personal," said Tommie's granddaughter, Jennifer Hawkins. "You can see the commercials on TV that make you want to cry, but knowing someone, you find out firsthand all (St. Jude has) done."
When speaking with those who know Ryan, he's described as a gentle soul, one who's intelligent, mannerly, kind and funny, but above all else, people know his story and recognize his unshakable faith and belief in God.
"Initially, how Ryan is introduced in this community is by his diagnosis. You hear the story first and then you meet the person," Hawkins said. "You don't want to make him feel odd or different, but he puts all that away and you realize you are talking to someone who is just so special. He has stories that some people twice his age don't have any idea about. He was volunteering with hospice while still in high school."
Merry Christmas from the ER
As an only child to parents Danny and Cindy, Ryan was a happy and healthy little boy until something changed during the Christmas of 2002. Ryan began vomiting and would scream out from painful headaches.
A visit to the pediatrician resulted in the family packing a bag and going straight to Le Bonheur Children's Hospital in Memphis, where a scan revealed a mass in Ryan's brain.
"The second the doctor showed us that image of Ryan's brain, you could have knocked me over with a feather," said Ryan's mom. "I don't know anything about the brain, but I knew that's not supposed to be there."
Danny and Cindy chose to have the tumor biopsied and a shunt put in to prepare for radiation and chemotherapy treatment at St. Jude, but on the way home from the hospital something went wrong. Ryan's tumor ruptured. He went into a seizure and his brain began to swell. Shrinking the tumor was no longer an option. Ryan was rushed into emergency brain surgery.
"Right after my first surgery, I felt like my life completely changed," Ryan said. "I feel like the Lord began to use me."
Since Ryan's initial diagnosis, his brain tumor has returned twice, the latest of which was this summer. He finished radiation therapy in October and will continue to return to St. Jude for follow-up scans.
"Nothing is different," Ryan said about returning to St. Jude as an adult. "And that's what's amazing about St. Jude. It was like going back home."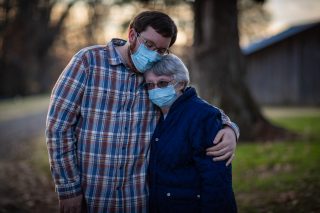 Answering God's call
By 12, Ryan was delivering sermons and prayers that rivaled the minister himself. He underwent lay-speaker training and filled in at churches throughout West Tennessee when their ministers were out of town. He developed a special gift at ministering to the elderly.
"He just had a glow about him," Billy Pattat said. "To tell you the truth, it's almost overwhelming to see a young man who can get in front of a crowd and present a service or lead singing like he can. He's just special."
The congregation of Ryan's childhood church encouraged his theological gift from a young age.
"There was a preacher at (the church) who was dyslexic," Ryan said. "He struggled to read, and I would read the scripture for him before he preached every Sunday. I could relate."
Ever since surgery, Ryan has lived with short-term memory loss. He also takes medication three times a day because of the damage the tumor caused to his pituitary gland and hypothalamus, affecting his thyroid and hormone levels.
"One thing that's been great, my diagnosis has given me a heart for others who have an intellectual disability," Ryan said.
Others like Mrs. Tommie, who was diagnosed with dementia.
"I knew she didn't always know who I was, but I loved to see her light up when I came into the room," Ryan said.
Visiting Tommie at her nursing facility was a homecoming for Ryan. A few years before she arrived, Ryan worked there. At the time, it wasn't the career he had planned, but it put him on the path to become a part of the medical community that's working to save his life to this day.
A divine change of direction
In fall 2018, Ryan was on track to attend theological seminary after achieving an undergraduate degree in Christian Studies and serving as the lead minister at three different churches.
Three weeks away from starting seminary, Ryan received news that his tumor had returned.
"We were blown away because we thought this thing was under control," Cindy said. "It was stable for 15 years."
Doctors told Ryan he would have to hold off on going out of state to attend seminary.
"I was so heartbroken," Ryan said. "My doctors successfully did the surgery, and I give the glory to God that he has changed my direction."
Ryan's doctors wanted him to keep his brain sharp while recuperating, so he signed up to take a Certified Nursing Assistant course.
As a CNA, Ryan now lives with and cares for his own grandmother, Betty, 84, who after her dementia diagnosis may not know just how much she needs him. Cindy doesn't know what she would do without him.
Working with the physical therapists at the nursing facility, Ryan was inspired to return to school to become an occupational therapy assistant. He is in his final year of school, and wants to work with children who must regain motor skills, much like he did, after surgery.
This summer, a board of medical experts specializing in brain tumors reviewed Ryan's complex case. Their hope is these six weeks of radiation at St. Jude will shrink the tumor enough to prevent it from causing future complications.
"It makes me feel better to know there are a lot of brilliant heads working together," Cindy said. "Faith is a big factor in all of this and still is, but sometimes I think, 'God, whatever it is you want me to learn, just teach me already!'"
Ryan's parents want what every mother and father want for their child — to grow up, be on their own, find a rewarding career and find happiness. For now, they're taking it one step at a time.
"I'll be happy to get him through school," Cindy said. "It's amazing for someone with short-term memory loss to accomplish what he has. I'm not just saying that because he's my son. Of course, it makes me a little more proud because I am (his mother)."