The Story Behind the Photo: Gabe's First Steps
Gabe, a
St. Jude

patient, took his first steps without the aid of a walker at the

St. Jude

Walk/Run Minneapolis, nearly two years after brain surgery left him paralyzed.

November 07, 2019 • 4 min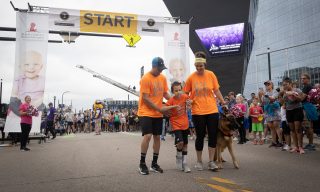 In a widely shared photo, Gabe, a St. Jude patient, took his first steps without the aid of a walker at the St. Jude Walk/Run Minneapolis, nearly two years after brain surgery left him paralyzed. He was assisted by his mom, Andrea, and by his hero, four-time Supercross champion and St. Jude supporter Ryan Dungey. This is the story behind the image.
It was 6:30 a.m. when Andrea got out of bed on the day of the St. Jude Walk/Run Minneapolis. She had watched the sunrise lighten the edges of the blackout curtains in the hotel room. "I didn't sleep at all the night before," she says. Too excited. Too nervous.
Her 9-year-old, Gabe, gets his liquid nutrition at night, and each morning early, she shuts off the feed and detaches the G-tube. So that's what she did.
Gabe's service dog, Tesla, nuzzled her, restless for his walk. With Gabe still in his PJs and set in his wheelchair, they rode down the elevator, let the German shepherd go out and rode back up.
"Gabe was still mostly asleep when I got him ready," says Andrea. "He was groggy and asked, 'What are we doing?'"
It had taken a lot just to be here. The family had flown from their home in Illinois to Memphis, Tennessee, for Gabe's checkup appointments at St. Jude before flying into Minneapolis on Friday, to rest up for the next day's event.
And it had taken even more than that. It had taken fortitude on Gabe's part. His treatment for brain cancer had included surgery, radiation therapy and chemotherapy, but he had also undergone tough physical and occupational therapies. Most of the time, he relied on his wheelchair, but he'd been working hard to change that.
Gabe could be forgiven for feeling a little displaced, a little confused about how he'd wound up here.
"I told Gabe, 'We're going to see Ryan,'" says Andrea. Supercross and motocross celebrity Ryan Dungey, but also Gabe's friend. A smile glanced across Gabe's face; now he remembered.
At that same moment across the city, Ryan Dungey's daughter, Harper, stirred in her bassinet. So Ryan and his wife, Lindsay, did what they've done every morning during this particular phase of their new daughter's life. They stood at the side of her bassinet and said "Good morning," and talked to her for a moment before Lindsay lifted her up.
"She was cracking us up with this huge smile," says Ryan.
Healthy and happy, the three-month-old sleeps through the night. They know how lucky they are.
Good health is not a given, Ryan knows.
After Ryan retired from dirt bike racing at the top of his profession in 2017, he decided to leverage his celebrity for good by supporting St. Jude. Meeting Gabe several months earlier had been like a "miracle," as he tells it. On the day he came to tour St. Jude, it just so happened that he got to meet Gabe, the Supercross Super Fan, who, like Ryan, had lived for dirt bike racing, mastering the terrain of dirt and hills and ruts and turns. They had, as it turned out, everything in common.
The St. Jude Walk/Run Minneapolis event didn't begin until later that morning, and Ryan lived just 30 minutes from the stadium, so he had time to relax and enjoy his family. Time to have a cup of coffee and put Harper down for her nap before he set out on his drive.
Gabe swallowed his five pills with two bites of applesauce. Two medicines prevent kidney stones. One regulates his thyroid. One helps his stomach and allows him to eat. Another prevents pneumonia. St. Jude pushed his cancer into remission, and the care will continue for as long as he needs it.
At 7:45 a.m., he and Andrea and the dog left the hotel for the stadium. Tesla wagged his tail, happy to burn some energy. It was two days until autumn and overcast, but warm. And Gabe was fully awake to the possibilities of the day.
"He asked me, 'Finally, it's the day I get to see Ryan, right?'" says Andrea. "'Yes,' I told him. 'What time is Ryan going to be there?' he asked me. So I said, 'I don't know, bud. We'll have to wait 'til we get there to find out.'"
Ryan spotted Gabe and his mom, and he joined them and gave them hugs. Gabe lit up.
"This was my first time seeing them without all that stress on them," says Ryan.
Hundreds of participants were gathering in the event space, wearing St. Jude shirts or shirts they'd made in honor of someone in their life with cancer.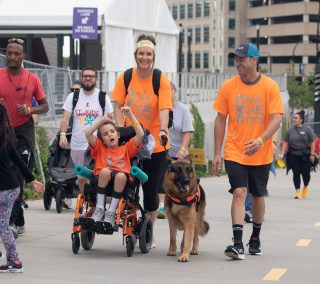 "We talked about his wife and how the baby is doing," says Andrea. "I could always tell that he truly cared about Gabriel and every kid at St. Jude, but I think it hurts him a little more now to know that this could happen to his daughter at any moment. As a parent, you have that more hurtful feeling."
Gabe wanted to know about Ryan's new baby. Where was she? Was she okay? Was she coming?
"What you've got to understand about Gabe is that he's a baby fanatic," says Andrea. "He loved the babies at St. Jude."
As Prince played from the sound system, Gabe's mom, Andrea, finally felt herself relax.
"Gabe didn't feel nervous at all," says Andrea. "He had told me, 'Mom, I was born ready.'"
It had helped Gabe to know his favorite dirt bike riders had setbacks, too, where they would strain or pull a muscle, have a concussion or break a bone. And they would power through it even though it hurt, submitting to physical therapy and pushing past the pain. Gabe could do it, too.
They made their way to the Start line.
Flanked by his mom and his best friend, Ryan, and his other best friend, Tesla. Surrounded by the multitudes who were there for the event, many of them having endured their own challenges.
Gabe put one foot in front of the other, and he walked.
"Honestly, everything went so great. He did some of the best walking with someone not behind him," says Andrea. "He asked me, 'Mom are you proud I did it?' I teared up. He's always been the kid who wants to please people.
"I told him, 'I'm proud of you no matter what. You've done so much, bud. Every step is an accomplishment.'"
Gabe smiled. Gabe walked. The crowd cheered.