Kate Takes Flight
Years after losing her leg to cancer at
St. Jude,

pre-med college student wins awards for gymnastics.

May 07, 2020 • 4 min
There's something about the feeling of doing your skills on the bars right, where you feel the force of it pulling on you. It's just a cool feeling to know that you are creating all this power. It's like you're flying. It's amazing.
T
here aren't enough hours in the day for Kate, a college junior, but she resolutely fits you in during a break from biochemistry homework. If tonight is a "good night" for this biology and philosophy major on the pre-med track, she'll be all done studying and to bed by 1:30 a.m. But if it's a "bad night," a night with too much to do and not enough time, she might not turn in until 3:30 a.m.
You could ask a thousand questions and still not know how Kate does it now…
How she undertakes her daunting pre-med undergraduate coursework…
How she finds time for her side gig as manager of her collegiate women's gymnastics varsity team…
How she competes on her collegiate club gymnastics team – claiming second place honors in the national women's decathlon last year – and with a prosthetic leg…
Or how Kate did it then.
How she survived cancer twice and the loss of her leg. And didn't let that stop her. And got back on the gymnastics mat.
Something having to do with strength of character and facing challenges head on…
Something about tenacity and pushing herself to perform at the highest level…
Something about the utter faith she could do it.
You can listen, and you can appreciate, and you can gain insight, but you cannot know.
That X-factor, that indefinable thing that makes Kate herself and no one else, it fascinates and draws you to her.
Now Kate, 21, has her sights set on medical school.
Without St. Jude Children's Research Hospital, she might not be here. Here, as in: right here with her biochemistry homework spread before her. Here, as in: life saved.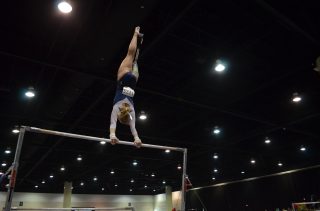 Kate has done gymnastics since she was 8, so she's accustomed to balancing – literally and figuratively, it turns out. It's kind of her superpower.
"My parents always felt very strongly that school could not come at the expense of gymnastics," said Kate. "I think that's served me well in college because clearly I have a lot of things that I like to do. Balancing them can be a little bit tricky, but I make it work."
Her path here hasn't been easy. When she was 12, a series of strange infections were revealed to be symptoms of acute myeloid leukemia. Complications from her first round of chemotherapy led to the amputation of her leg, which took place on the same day as her bone marrow transplant. "She was up on crutches the day she lost her leg," her mother, Barb, said. "Within a week of getting her prosthetic leg, she was learning to run."
She relapsed just as she was planning her return to gymnastics competition. When her family's insurance company refused the treatment plan her doctors recommended, they obtained a referral to St. Jude, where "insurance would never be an issue," said Kate.
Her experience at St. Jude molded her career ambitions.
"I really found that I enjoyed learning along with the medical students and the residents," said Kate. "The doctors would make sure they were teaching them as they were providing care to me. …Clearly I didn't know a whole lot, but there were little puzzle pieces that I liked putting together as much as I could."
A bone marrow transplant at St. Jude followed and, finally, a return to the sport she loved. "There are only a handful of gymnasts with a prosthetic," Barb said. "It's a very difficult thing to do."
But Kate has always been drawn to the difficult thing.
When she's not cramming for an exam or competing in club gymnastics, Kate helps with practices as the team manager for the women's varsity gymnastics team. At home meets, she makes sure the judges and volunteers know where to be and what to do, and she ensures the paperwork and scoring get entered.
Last year, Kate competed for the first time in the lower Decathlon Level at the National Association of Intercollegiate Gymnastics Clubs. She won second place.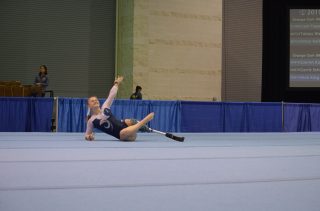 Kate's not perfect, she insists. Because no perfect person would break her prosthetic so much.
She damages her prosthetic leg regularly by falling on it, over-stressing it, using it in ways it was never intended. A piece breaks off, or something gets snagged. "Yes, so I'm really good at breaking it," said Kate. "Maybe they're not meant to be used for 15 hours of gymnastics a week? Who knows?"
But even a break has the potential to become an opportunity for innovation.
"A while ago, we were really worried about me hooking it on the bar because there's kind of a curved running blade," said Kate, "so I told my prosthetist, 'Hey, here's what I want to do, and here's what I'm concerned about.' And he said, 'Alright, give me a couple of hours,' and he came out with this custom little piece that I can fit over the top of it."
Returning to gymnastics after her leg amputation and cancer treatment, Kate felt acutely aware she was blazing a trail, but since then, she's begun to hear about others with prosthetic limbs competing in gymnastics. "I don't think anyone's competing at the level I'm at," said Kate, "simply because I've been doing it a lot longer."
After the MCAT this summer, and graduation next year, Kate hopes to be the first of her kind yet again: an amputee gymnast medical student.
And then someday, a doctor. "I want to do for someone else what my doctors have done for me," said Kate. "I want to be the person that saves that kid's life."
Before you get off the phone with Kate, she promises to find some gymnastics photos and send them. You get them seconds later. Not one minute of wasted time.
That desire to do more, still more, always more – to storm the palace and take the prize. To do the hardest things. She's always been this way, even before the cancer thing, even before the leg thing.
For Kate, the only limits are time and gravity, and sometimes, not even those things can stop her. Because when the force of who she is meets the pressures against her – that's when she's flying.