Cancer, Eat Her Dust
Four-year-old
St. Jude

cancer survivor follows in family's motocross tracks

June 29, 2020 • 3 min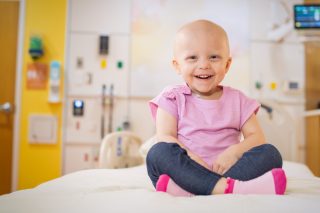 "A punch in the gut I cannot describe."
Leading up to February 2018, there were reasonable explanations: Hadley had recently started daycare with other kids, so of course she was getting sick a lot. If there were bruises on her legs, well, 2-year-olds run and fall down, and firecrackers like Hadley tend to play rough.
But at her wellness check-up, Hadley was diagnosed with acute myeloid leukemia, an aggressive blood cancer. It was an incredible blow. "Like being hit by a truck," said her dad, Darrin.
Said Brittany, her mom, "I'll never forget. When we left the doctor's office, my husband and I were crying because she has cancer, she's crying because we forgot to get her a sucker on the way out.
As a 2-year-old, your child should have problems that you can still fix. You should be putting Band-Aids on scraped knees and kissing boo-boos and wiping tears over silly things."
The next day, Hadley was flown to St. Jude Children's Research Hospital.
Brittany – a self-described "Type A personality" – was worried about, well, essentially everything, with her daughter's life at the top of the list. But she was also worried about Hadley's happiness. How would they explain why she had been uprooted, why she couldn't go home, or have her dog in the bed with her at night and her fish on the nightstand?
But after an initial adjustment period, Hadley rallied and began returning to her go-with-the-flow self. "I can't tell you how many times she caught me crying and told me, 'Mom, don't worry.' That's just who Hadley is. She has zero fear," Brittany said.
"She is the bravest person I've ever met. I wish I could be more like her."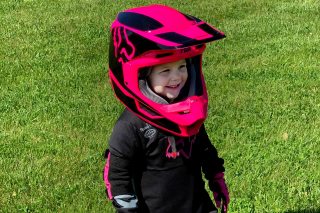 Hadley turned 3 while a cancer patient, during roughly six months of chemotherapy at St. Jude. If she was unfortunate to have cancer in the first place, she was fortunate not to require a bone marrow transplant, and to avoid any of the serious physical side effects that can result from chemo treatments.
And in August 2018, she got to go home, in remission. She went to the amusement park and rode every roller coaster she was tall enough to board. She graduated preschool. And then, as you do when you're a 4-year-old cancer survivor – and a fearless one to boot – she took up a hobby suited to her level of risk tolerance.
Dirt biking.
Actually, Hadley is following in her grandmother's tracks as a female rider. "Mimi" began motocross racing as a 10-year-old. Hadley's uncle, grandfather and great-grandfather still ride.
While it seems likely she was born to the sport, it was seeing the neighbor kids, her best buds, whizzing around on wheels that really piqued Hadley's interest in riding. But she doesn't ride a bicycle without training wheels yet. So Hadley's dad and uncle found a minibike for sale, fixed it up and outfitted it with training wheels.
Hadley had no idea.
Her parents surprised her with a pink riding jersey, pants, gloves, boots and a helmet. When she saw there was a motorbike waiting for her in the driveway, she got right on and took off.
"My heart stops when she's riding," said Brittany, "but I mean, YOLO, right? She is always so proud of herself when she gets off her dirt bike. It makes me so happy for her."
Recently, Hadley's family turned a youth regional qualifier for a national motocross race into a fundraiser for St. Jude, and raised just shy of $2,000 for the research hospital. There were riders from all over the country, and Hadley had an absolute ball watching other kids her age racing on that huge track.
Who knows but that one day, she'll be qualifying for a national race. After all, anything is possible now.