A tale of Christmas past
Each year, Kaylee's family remembers the journey that brought them where they are today.

December 18, 2020 • 3 min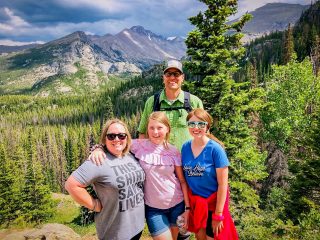 For the Chavez family, the approach to Christmas marches along a particular kind of Advent calendar, one of certain days they each mark in thought, sometimes in conversation.
Leading up to December 2014, Jen Chavez's older daughter, Kaylee, was 10 years old and not feeling well. She had bad headaches and no appetite — a virus, they were told. "One morning, she couldn't get out of bed even, and she rolled over and got sick. Just one time. That doesn't happen with a stomach virus," said Jen.
December 5th is the first of the unforgettable dates. This was when the doctor at the hospital pointed to the CT scan and said, "This is a tumor."
December 9th, Kaylee underwent brain surgery. On this date her parents were told the odds of her surviving the tumor were perhaps 50 percent.
The next comes two, or maybe three, days later — it was by now a whiteout of terrifying news — when they heard the word medulloblastoma, a form of brain cancer. It had spread. There were spots on her spine.
"Those dates are ingrained as life-changing dates," said Jen. Two more are etched in the Chavez family mental calendar: Christmas Day, of course, and then four days after Christmas, when everything changed again.
After brain surgery, Kaylee stayed in the hospital, recovering and trying to regain strength and function on her right side. But she was allowed to go home in time for Christmas, so the four of them — Jen, Kaylee, her dad, Nick, and her sister, Jill — could be together.
"It was good to be going home, but we had this black cloud over us, too," remembered Jen. "We kept thinking, honestly, is this our last Christmas with her? It was a horrible, indescribable feeling. The whole thing was just heavy, heavy, heavy."
Any preparations for the holiday had, of course, ended with the crisis. But their friends stepped in with a decorated Christmas tree and heaps of presents for the girls. And in another act of caretaking, Kaylee's grandpa had sent an inquiry to St. Jude Children's Research Hospital, just in case.
Every night, Jen and Nick went to bed begging God to intervene. And then, they got a phone call that the referral wheels were in motion; they could bring Kaylee to St. Jude if they chose. "I cannot describe how this changed our Christmas," said Jen. "I cannot even put into words what hope like that does."
On December 29, Kaylee and her parents arrived at St. Jude.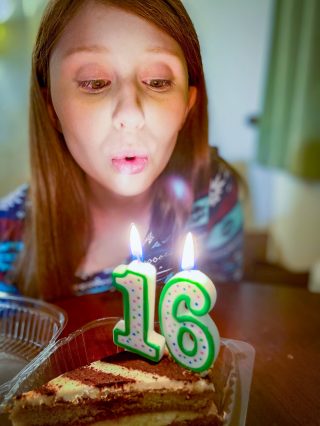 The calendar repeats itself, but so much has changed. After six weeks of radiation therapy and seven rounds of chemotherapy at St. Jude, Kaylee's scans showed no evidence of disease. She's 16 years old now, and a hard worker at her first job. She loves rock climbing and hiking and animals and archery.
This December 5th was, as always, colored by that complicated feeling. "Not sadness, but that was the day our lives changed forever," said Jen. And 2020 is different in its own ways: The girls, even though they're older now, still get a kick out of Elf on the Shelf, and currently Elf is isolating in a glass jar, observing a mandatory two-week quarantine after traveling from the North Pole.
But on Christmas Day, even in this pandemic year, there will be light instead of darkness, and gratitude instead of fear.
And in the first week of the new year comes another anniversary that's especially poignant to the Chavez family. "I remember when Kaylee was in treatment, sometimes I would walk over to the Danny Thomas Pavilion on the hospital campus and cry," said Jen, "because if Danny had not had his dream that someday no child will die in the dawn of life, Kaylee might not be here today. If he had not pushed to fulfill his dream, so many lives would not have been saved."
That date is January 6, the day St. Jude's founder was born.