The love of a madrina lifts up cancer patient at
St. Jude
Best friends Melissa and Jenny, whose boys had cancer at
St. Jude

years apart, provide support for one another.

November 23, 2020 • 5 min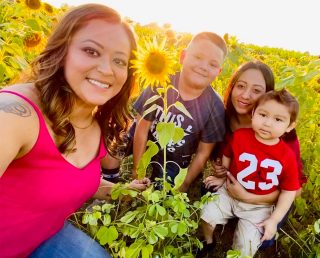 English | Español
Jenny steadies the toddler, Luis, as her husband cradles him in his arms so the priest can gently pour the holy water. The water tickles the baby's forehead and trickles into the collar of his christening suit.

There is so much in this moment.
On that day in August 2019, Jenny became Luis' madrina — his godmother. She will be his spiritual mentor, she has pledged, the one who celebrates the special moments in Luis' life, along with the family, and the one entrusted to become a mom to Luis should anything happen to his mother Melissa.
How could Luis' parents know that just three months later, he would be diagnosed with leukemia and begin treatment at St. Jude Children's Research Hospital? They couldn't have, of course.
But they also couldn't have chosen a better godmother.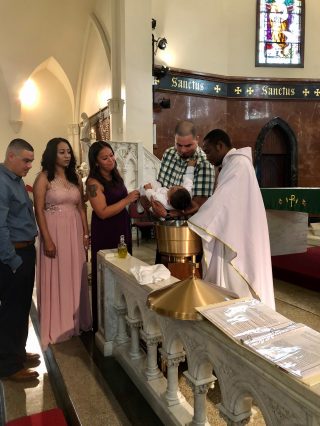 Jenny has stood beside them, loving Luis and protecting him, just as she would for her own son.
Exactly as she had for her own son, as a matter of fact. Because, remarkably, Jenny's own son, Dionisio, had been a St. Jude patient, too.
Dionisio, 9, welcomes Luis into his room and urges him to pick out any toy he wants. He loves the little 4-year-old, fusses over him. Reminds the other children to give Luis his space and be gentle — like a one-man security beat.
They're best friends, just like their moms and dads, despite the slight age difference. Luis and his family even call Dionisio "Brother."
"All Luis does is follow Brother, follow Brother," said Melissa. "When Brother sees Luis playing rough, he says, 'Hey, be careful with your buddy, Luis.'"
Luis' "buddy" is the port he has on his chest to help St. Jude with blood draws and the administration of fluids for his cancer treatment.
Last year, when Dionisio found out little Luis had leukemia, he "cried and cried," said Jenny.
"I don't know if it brought back memories or if it just hurt him because he loves Luis," said Melissa.
Dionisio had begun his leukemia treatment at St. Jude in 2012, when he was 18 months old, and celebrated the end of treatment with a No More Chemo party in 2014, when he was 4 years old. He knows how the cancer hurts, and he knows how to help.
Dionisio will do just about anything for Luis if it will make the little boy smile.
As the children play, their moms talk in the kitchen. Jenny's home fills with the aroma of enchiladas, and Melissa breathes in. Jenny is from Mexico and Melissa, who is Honduran, can't get enough of her food, and vice versa. When Melissa cooks for them, she makes tajadas.
"She'll cook dinner one night and say, 'Hey, y'all want to come eat?' Or I'll do the same," said Jenny. "We mix our cultures."
Dionisio's mom is the more boisterous one, the self-described "crazy friend." The more she talks, the more Melissa, who's quieter, begins to cut loose. Soon they're both laughing. As close as sisters.
From the moment they met at a gathering 12 years ago, introduced by their husbands, who were high school friends, it's been this way. "I was nine months pregnant with my oldest, so she was drawn to my big belly," Jenny quipped.
Jenny's pregnancy may have gotten them talking, but "what really connected us was she had lost her mom when she was young" to cancer, said Jenny. Melissa needed someone like an older sister in life and Jenny, just a few years older and full of opinions, happily filled that role.
Yet it was the younger Melissa who took care of Jenny when Dionisio went through cancer treatment in 2012. She cared for Jenny's daughter, offered company at Dionisio's appointments, cooked meals and joined Dionisio's St. Jude Walk/Run team. It was a crushing time in Jenny's life, but at least they had each other.
Jenny lost a baby to miscarriage when Melissa was pregnant with Luis in 2016, and rather than withhold love from the newborn Luis, which might have been understandable, she did the opposite. She lavished love on Luis as if he were her son. There was no other choice for godmother.
Today, when they are together, they talk about the silly things their children do — they both have one older girl and one younger boy — and also about cancer. Little Luis undergoes chemotherapy on the same St. Jude treatment plan that cured Dionisio.
If Luis' mom has a question about his care, she calls Jenny first.
In October 2019, fewer than two months after his baptism, Luis came down hard on a playground slide and banged his back. Soon after, he started limping. The limp got worse, and he couldn't shake a fever.
For nearly two months, Melissa took Luis to doctors. "The fever was telling me that something was wrong with my son," said Melissa. "He wasn't playing. He wasn't getting up."
For Jenny, this felt eerily familiar. The listlessness, the fever — it reminded her of Dionisio in the days before his leukemia diagnosis.
One day, Melissa's mother-in-law and Jenny were adamant the young boy needed care right away, no matter what the doctors were telling her.
"I looked at her and told her, 'You need to go now [to the hospital]. There's no more waiting,'" said Jenny.
So she and her husband took him there. Luis' bloodwork revealed leukemia, confirming all their fears.
"At that moment, my whole world fell on top of me," said Melissa. "I just fell to the floor and cried and cried. Because, you know, I lost my mom to cancer. It had always been in the back of my mind." Soon after, the family was referred to St. Jude.
Jenny comforted them.
In our lives for a reason
"I just told Luis' mom and dad he was in the best hands possible at St. Jude," said Jenny. "I told both of them to look at what we had been through with Brother, and our outcome. The same thing was going to happen with Luis."
In December 2019, one month into Luis' treatment and during the harshest point of his chemotherapy, it became clear he would lose his hair soon.
It broke his mom's heart.
For her, it brought back memories of being 12 and watching her mother slip away. Rationally, she believed the encouraging things Luis' doctors told her about cure rates and the progress St. Jude had made with leukemia. She trusted them.
But oh, the fear.
Hope was at a low ebb for Melissa, but then Dionisio walked into Luis' inpatient room at St. Jude and restored it — just by being the older Brother, and the sweet boy he is.
Dionisio was bald. He had gotten his hair shaved for the younger boy, knowing it could help.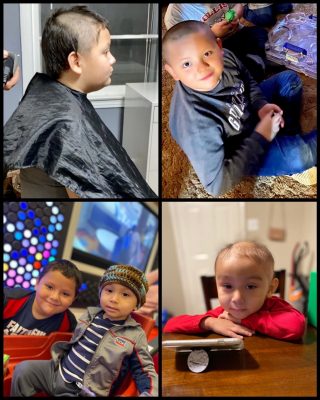 In his hospital bed, Luis, who would have done anything to be like Brother, beamed.
"That made me cry so much," said Melissa. "Brother, he doesn't know what he did to my heart that day. I wanted to shake his hand."
Brother was taking care of the little one, just like his mother had taught.
"I feel like God puts people in our lives for a reason," said Jenny.
They were meant to be there for each other. And hope filled that room.