Running, resilience and a 'robot leg'
One boy's journey from cancer back to basketball

January 17, 2019 • 7 min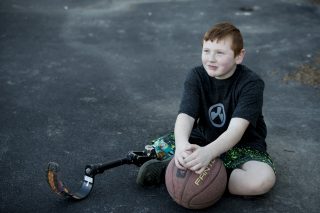 Mack is a boy in motion. He runs and jumps and tumbles as much as any 9-year-old.

Mack is also a cancer survivor and amputee, but that becomes an afterthought in his day-to-day. He employs his "robot leg," as his brother and sisters call it, to play in a community basketball league, lead the line to lunch at school, and explore the neighborhood around his home in a small town in East Tennessee.
"It's like a side skip, side step kind of thing," Mack's mom Amanda says of his gait. "He falls all the time. He has crafted it. It's beautiful. It's like those slow motion movies, that's how he falls."
This is a story about a boy falling, and getting back up again.
Mack is working through his reading comprehension homework. He's gotten a handful of the answers wrong already, but he giggles about it, undisturbed. "What does the phrase 'run like the wind' mean?" he asks aloud, then answers himself, "B. Run fast." Fittingly, he gets that one right.
Mack and his mom Amanda are cramming in a little homework before they head to Mack's last basketball game of the season. His challenge with reading comprehension is a lasting effect from chemotherapy. He also has a heart murmur that's being monitored. And in place of his right leg, a titanium prosthetic. The plastic connector where it fits on is adorned with Scooby Doo characters. In the past it's been Teenage Mutant Ninja Turtles and the Avengers.
Mom helps him with reading comprehension, basketball keeps the heart strong, and Mack himself is the master of his prosthetic.
Mack plays with the family dog at his home in East Tennessee.

Ryan, Mack's dad, pastors the church where Mack and his mom sing a hymn on a Sunday morning.

Homework has to be done before basketball in Mack's house. Amanda helps him with his reading assignment, accompanied by the family cat.

Mack cuts up with a friend during lunchtime at his school.

Mack is infamous for leaving his prosthetic leg in inconvenient places. Here he fiddles with the leg before the start of his basketball game.

This family keeps the kids active from morning to night. Mack and his sister explore the shore of a river near home.

Of course Mack needs a basketball hoop in his bedroom so he can practice at all hours.

There were lots of serious faces at Mack's last basketball game of the season.

Mack stays in the thick of the action and gets a shot at the basket.

Mack is able to keep pace with the rest of the team, working his prosthetic leg up and down the court.

The two brothers practice together in their driveway.
Mack runs everywhere. "He doesn't walk anywhere anymore," Amanda says. "If we don't break the prosthetics, we outgrow them. The prosthetic place has a warranty on them now."
But at age 6, Mack made a decision that would determine if he'd ever run again.
Interlude: Childhood cancer
Mack's leg hurt. His discomfort was initially dismissed as growing pains. But by the time of his basketball physical for the fall 2014 season, a knot had developed on his right leg.
Mack ended up in a hospital bed for a month. Based on MRI results, doctors near the family's hometown treated him for a bone infection. What they couldn't know is that Mack would have a negative reaction to the IV antibiotics used to treat him.

DRESS syndrome, an adverse reaction to medications such as antibiotics, is rarely discovered in children. When Mack continually ran a fever on such high doses of antibiotics, doctors did another MRI and then a biopsy. It was nearly Christmas when they found the original source of Mack's leg pain was Ewing sarcoma, and not a bone infection at all.
"We heard of childhood cancers, but we'd never really heard of Mack's cancer," Amanda explained. Ewing sarcoma affects only 200 children and teens in the U.S. each year. "We started researching it right away, of course. We always heard St. Jude Children's Research Hospital is the best place for children's cancer, so we didn't really question the referral when we got it."
Mack was in multi-organ failure by the time he arrived via air ambulance to St. Jude on Christmas Eve. He hadn't moved in two weeks. "His system was shutting down," Amanda recalled. "He was yellow from jaundice, his kidneys had stopped. Come to find out my child cannot have antibiotics at all.
"St. Jude started that night trying to make him better," Amanda said. "That just shows how much they care about the kids there."
Mack mustered the strength to ask that his Christmas gifts be sent to his three younger siblings: Jacob, Sarah and Emily.
Once St. Jude identified that Mack had DRESS syndrome and stopped the antibiotics, his body began to recover quickly. He then endured 14 rounds of chemotherapy and eight months of uncertainty about whether he'd be able to keep his leg.
St. Jude has a team of experts who perform limb-sparing procedures in children with bone tumors such as Ewing sarcoma, but in some cases amputation is necessary to ensure the tumor is completely removed. Mack's parents were hopeful their choice would provide his best chance at survival, and a more active life.
Even days before his surgery, the team was undecided.
St. Jude's approach to Patient Family Centered Care underlines the importance of open communication between the family and the care team, empowering Mack and his parents to weigh in on such a life-altering decision.
"We talked to Mack about it, even though he was only 6," says Amanda. "We really left it up to him and went over both surgeries and, in the end, he accepted it before we did. He said, 'Mom, it's sick, just chop it off. After this leg is gone I can run again.' He, his dad and I knew this was the best for him, but deep down I was so sad for him."
Mack's not ashamed of the robot leg — he plays with it and throws it behind his head when he's fidgeting. He can get around without it, too. The family recites a litany of inconvenient places where Mack has discarded his prosthetic for the time being, hopping away. His grandfather once tripped over it and broke a toe.
Mack is curt when asked about his leg: "They cut it off because of cancer." Even at 9 he refuses this as his main storyline. It is part of him but it is not him.
"The first thing I wanted to do was play basketball when I got out of surgery," Mack says now. Less than 24 hours post-amputation, he was ready to take his first steps. The moment was captured on video.
Hooked up to every kind of monitor imaginable and still an inpatient at St. Jude, Mack walked around his own hospital bed in disbelief at his accomplishment. "I'm doing it?" he asked in a small voice. His care team and parents surrounded him with hoots of encouragement and admiration.
At St. Jude, it's OK to be missing your hair, or your leg. But back in the community, there were stares. For all the people who know cancer isn't contagious, well, they still have questions.
"When we first heard that Mack was coming here I was a little apprehensive because I'd never had any students with that type of disability," said Karen Price, the P.E. teacher at Mack's school, where he is a fourth grader. "Of course it's not a disability for him." She quickly saw that if Mack was treated like a normal kid, he acted like one. "He used to freak me out a little bit and put (his prosthetic leg) behind his head. But he's just one of them. There's no difference."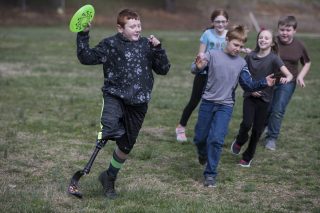 That's the paradox of Mack. He's different, even beyond the robot leg. He has to wear a mask to school every day, because even a sinus infection will have him in the hospital. But he's also like most kids — reluctant to do his homework, or eat his vegetables — and wants to be one of the pack, treated the same.
"Parenting a child with an amputation who's had cancer, there's no rule book for that," Amanda says. "Yeah, we probably should keep him in a bubble and away from people. But who knows how long anyone is going to be on this earth. I say let him live. Let him do kid things."
Basketball remains a grounding force. A kid thing. A family thing. Three out of the four kids play in leagues, and everyone practices together. When it's nice enough outside, Mack's dad Ryan hauls their basketball goal in the back of his truck so they can shoot hoops and run drills in the parking lot of the church down the street.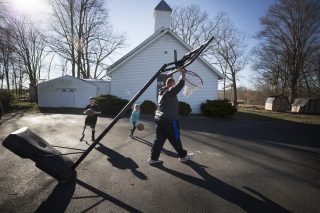 Mack shakes the goal as brother Jacob tries to make a shot; he teases Amanda on her form. This family is always moving and Mack is no exception. The kids don't watch much TV or play video games.
That approach translated well to Mack's year of treatment. "We kept him very busy," Amanda says. "We didn't give him time to sit and dwell and be depressed. It's not good for him and it's not good for us. We wanted Mack to be as upbeat as possible with what he was going through."
They got him involved in every craft and activity offered at St. Jude during his treatment. Accompanied by as many siblings as Ryan or Amanda could handle at one time, they took on the Memphis Zoo, museums and other local attractions. "We even drove to Little Rock once just for something to do during the day," says Amanda.
And there were lots of Grizzlies games. The Memphis NBA team had long been Mack's favorite. Just a couple months after his amputation, he got to shoot hoops with them, thanks to St. Jude.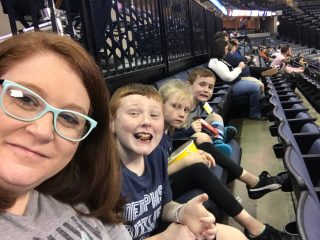 Mack continues to be a walking, mostly running, contradiction. He puts in the work to do the things he loves. "You can't baby him forever, because the world is not going to be nice to him as an adult," Amanda says. "He's going to have to do things for himself. So after his amputation, he was 6 years old. We taught him how to take a shower by himself, how to clean [the amputation site] himself. We taught him how to do everything for his prosthetic leg that an adult would do with an amputation. If he learns it now it's going to get better as he gets older."
On this Monday night after a long day of school and homework, challenges in their own right, Mack plays three out of four quarters in his game. Frustration turns his face red when he misses a free throw, exertion keeps him sweaty. Mack's brother is also on the team, and it's hard not to notice his ease in contrast. Running in that prosthetic must be grueling, but Mack doesn't cut his game short. He goes the full length of the court, back and forth, over and over. Dad pounds the bleachers. His sisters are both doing their version of cheerleading. Mom just laughs and yells encouragements.
Mack keeps his eyes on the ball and his hands up, waving. He's open.