Making Memories for Max
A young boy losing his vision to cancer experienced a year's worth of sights in a matter of weeks.

July 15, 2020 • 7 min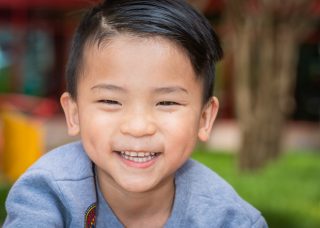 Once the surgery was over and the anesthesia had worn off, once it had come time to remove the eye patch, Max's parents knew all too well their little boy would never see again. They just hoped he'd remember.
His mom, Yanin, and dad, Shane, hoped that even in blindness Max would remember the sight of candles glowing on his birthday cake, Halloween pumpkins slathered in paint, lights twinkling on Christmas trees. They hoped in his mind's eye he would still see the blazing red sheen of a fire truck, the dizzying panoramas of an amusement park and the lush greenery of nature.
They hoped, in short, the rich visual banquet they served up for Max during those whirlwind weeks before the surgery would feed memories that would continue to flicker for the rest of his life.
That's all you can do for a boy who'd had one eye removed as a baby and now was losing the second: Make sure he sees as much as possible before he sees nothing at all.
And it helped. Ever since the surgery, Max has adjusted well, his parents said, even if he's still trying to make sense of it all. He occasionally blurts out a question that sounds like the product of a 6-year-old's phantasmagoric imagination.
Who took my eye?
Then there's the related question:
Will I see again?
To both queries, his parents respond with gentle candor. Doctors at St. Jude Children's Research Hospital removed his right eye, they explain, because, just like the left one, it was sick and could have made the rest of him sick.
And, no, they tell Max, no, you'll never see again.
But this story is not a tragedy at all. It's a tale, instead, that traces intersecting paths of compassion and mercy that connected a cancer-afflicted boy in China with the Illinois couple who adopted him from an orphanage. Their paths took them to St. Jude, where he and the family received lifesaving treatment and comforting support in equal measure.
Max was just 4 months old when he was abandoned at the gates to the orphanage in Changsha, capital of China's Hunan province. No one knows exactly why the boy's birth parents left him there, but Yanin, having read the file, suspects it was because they were alarmed by an ominous white coating on his left eye.
"I think the parents already knew there was something there. I don't think they knew it was cancer, but they knew there was something there," Yanin said. She went on to explain that medical care can be ruinously expensive for Chinese families, with doctors often demanding payment in advance. Parents are left with the choice of letting a child die or giving him or her up.
"When parents care about the child they will do that. They will abandon the child at the gates of an orphanage or by a police station, so that they know that child is going to be taken care of right away."
Max eventually was diagnosed with retinoblastoma, a cancer of the eye. When he was a year old, doctors enucleated the eye to prevent the cancer's spread. Enucleation means the eye is removed, but the eye muscles and orbital contents are left intact.
The boy was still living in the orphanage when doctors found cancer in the remaining right eye, as well. Max underwent chemotherapy that drove the cancer into remission, even though the conditions were less than optimal. He wasn't given a port for his infusions, which meant, as Yanin said, "he got poked every single time."
Meantime, on the other side of the globe, Shane and Yanin, who already had two biological children, decided they wanted to expand their family though adoption.
"We've always had it on our hearts," said Shane, a pastor. "God's blessed us with a big enough home where we could have more kids. There's a lot of kids who need a home, so God has taken us on that journey of adoption."
Part of the journey involved skimming through a book containing photos of children in need of adoption. "It feels a little wrong at times," Shane said. "It's almost like you're turning through a catalog looking at kids."
The photo of Max caught the couple's attention, though. And the fact he has the same birthday as Yanin solidified him as their choice. "There was," said Shane, "some weird connection thing" between them and the boy.
After they had begun the process of adopting Max, however, the couple received conflicting information about his health. Shane and Yanin initially were told the cancer in the boy's remaining eye had returned.
"We were really shocked. It was really disheartening because, at that point, I considered him my child," Yanin said.
The caseworker gave the couple the option of backing out of the adoption. "We decided if he had cancer we will bring him home anyway. We knew if he was not treated he was going to die there," Yanin said.
A day later, the couple got a different message: There had been an error in translation – Max still was cancer-free.
"We don't know if they knew and they just wanted us to bring him home, so they said, 'Well, no, he doesn't have it,' or they didn't know for real," Yanin said.
In March 2018, the couple traveled to China and came home with their new son, then 4 years old. But a few months later, doctors found four active tumors in the boy's right eye. They quickly headed for St. Jude.
Shortly after treatment began, doctors discovered still more tumors. By mid-September, they told Shane and Yanin that Max's only remaining eye should be enucleated as well. If not, the cancer might spread to his brain. The couple agreed.
"We had to think of the life of Max before the eye of Max," Shane said.
Surgery was scheduled for three weeks later, meaning the couple had a mere 21 days to prepare for their son's permanent blindness. Thus began a race against time.
"It triggered us," Shane said. "We came home and we tried to give Max all the experiences possible, visually, just to create memories."
And that they did. Shane and Yanin arranged family trips to places like an amusement park in Missouri. Max loved the rides – the higher and faster, the better. No boring carousels for him. "He doesn't get scared," his mom said.
The amusement park was part of a development that included a Christmas store, which allowed the family to squeeze in a visit so Max could see lighted trees for the first time.
Shane and Yanin also wanted the boy to experience a little of Halloween. Even though it was weeks away, they found pumpkins for him to paint.
They celebrated Max's birthday early so he could see a birthday cake – an experience he never had in the orphanage.
They took him to parks and arranged for him to see fire trucks. A friend of Shane's who was a police officer got permission to bring a squad car to their home.
"We just tried to do as much as we could," Yanin said. "Basically try to, in less than a month, cram everything you can imagine."
As time grew ever shorter, the couple raced to fulfill a special dream of Max's. "He was obsessed with monster trucks," Yanin said.
The problem was, they couldn't get into any monster truck shows before the surgery. So Yanin searched on social media and found a man who was selling one of the over-sized vehicles. She sent him a message, explained Max's situation, and asked if they could come see it even though she would not be buying. "We're running out of time," she told him.
"He said 'sure,' so we drove like two hours, and we got there and he was super-nice." Max sat in the truck and also got to see the man's tractors and other farm equipment.
The most challenging task for the couple, however, might have been explaining to Max that he would never see again after the surgery. It's something any 4-year-old would have trouble understanding.
Still, more than a year after the eye was enucleated, Shane and Yanin marvel at how well Max has adjusted, given all he's been through.
"He knew no English when he got here – all he had was Chinese. He just got to the country, had been adopted by a family he barely knows, then we've got to take his eyesight. All this within a year," Shane said.
"Only by the grace of God we were able to navigate those waters and come out the other side. We owe a lot of that to St. Jude. They met us just where we were at and really helped us get through this."
Max doesn't even complain about his blindness, Yanin said. She and Shane think they know one reason why: By the time his right eye was enucleated, his vision had deteriorated as the tumors proliferated.
"It was kind of like a blessing that he started losing his sight little by little because he was kind of getting used to not seeing that well with the only eye," Yanin said.
When Max asks whether he'll see again, and why not, his parents emphasize the senses he still has. They tell him he has hands to feel with, a nose for smelling, a tongue for tasting and ears for hearing.
Languages seem to come easily to Max. Within six or seven months of moving to the U.S., he was speaking English "like anyone else," Yanin said. Although he watches cartoons in Mandarin and uses that language while talking to himself, he refuses to speak it anymore to others, even St. Jude doctors from China who try conversing with him.
Max is learning Braille while also picking up a little Spanish. He rides the school bus with classmates and plays just as hard as any kid. His best friend at school often takes him by the hand, and together they run across the playground as fast as ever.
Max takes jiu jitsu classes, loves to ride on the back of a tandem bike and can't get enough of jumping on a trampoline. He's smart and sociable, the center of attention wherever he goes.
"Nothing holds him back," his dad said.
Max returns to St. Jude every six months for checkups. He's been doing well, but doctors have told Shane and Yanin the fact that the boy developed retinoblastoma in both eyes indicates he has a genetic condition that places him at increased risk for other cancers, notably those of skin and bone, throughout his life.
Max wears prosthetic eyes, which he can take out himself. He needs a little help putting them back in.
Especially rewarding for Shane and Yanin are those moments when Max lets them know he remembers the sights they presented to him just before the surgery. Sometimes they ask him about a specific memory and he says yes, he recalls the sights, just as they had hoped.
Last fall, a year after the surgery, the family visited Walt Disney World, where Max enjoyed rides once again. As he felt the wind in his face and experienced the gyrations of dips and turns – no doubt reminding him of the Missouri amusement park – he could barely contain his joy.
It was further proof that even in Max's sightless world, the future appears as bright as the happy memories that still shine.