With
St. Jude

Red Carpet for Hope postponed,

St. Jude

brain tumor survivor pivots to prom

As a dedicated supporter of St. Jude, Minnesota teen Marit found a way to continue fundraising even after her family's annual event was put on hold.

June 01, 2020 • 4 min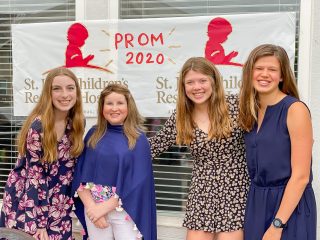 This wasn't the prom Marit envisioned for her senior year, but after two months of a stay-at-home order, the conversation and laughter flowed easily. She was glad to be sitting with her cousin Grace again, watching a virtual stream of top musicians playing back-to-back, mostly from their living rooms.
Marit and Grace had gathered to watch St. Jude Prom from Home, a fundraiser with a cause that was close to their own home. St. Jude Children's Research Hospital is the place that successfully treated Marit when the Minnesota teen was diagnosed with a brain tumor as a child.
Fundraising for St. Jude is practically a family calling for Marit and Grace. The two were to be co-chairs of the St. Jude Red Carpet for Hope Teen Gala this year, but because of COVID-19, the event was rescheduled for next year. When they learned about St. Jude Prom from Home, they asked the gala participants to attend that instead.
"I posted to my Instagram," said Marit.
More than 50 teens she recruited – some she's known since kindergarten – did fundraising for the new St. Jude event. She takes pride in knowing that because of her, other young people will support the place that saved her life.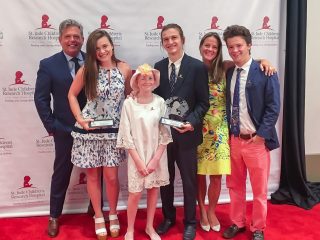 "I feel like Marit was chosen in our family to show us many, many things," said her mother, Berit. "I mean, she was the youngest of four, and spunky, spunky, spunky. So much energy and sassy."
But in 2008, shortly before Marit began kindergarten, she began feeling nauseous. Soon, she had headaches and problems with balance. One day, she fell down the stairs.
Her parents were in and out of the doctor's office with her over a nine-month period, but no one knew what was wrong. A nurse practitioner ordered an MRI as a precaution, to allay the family's fears. The scan revealed a brain tumor.
She underwent surgery to remove the tumor, which was typed as a medulloblastoma.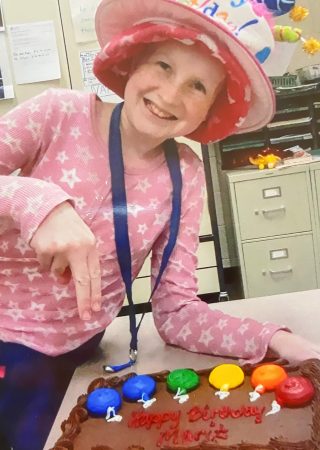 "When she came here, she had a lot of cancer in her body," said Berit. "I mean, peppered down her spinal column. It was in the crevices of her brain. I mean, it feels like it was a miracle. A miracle cure with the amount of disease that she presented with and the fact that she's a survivor today."
Marit and Grace are more like sisters than cousins, so it's been hard to be apart while social distancing. They talk frequently, and they're collaborating on a Pinterest board of places they'd like to go together once they can. Grace pinned a photo of London. Marit pinned one of Indonesia.
When Marit talks about the places she's been and where she'd like to go, it's not without some longing.
She got accepted to a two-year UCLA college program for people who have special needs, but it seems up in the air right now because of COVID-19. The program mixes typical college classes with lessons in life skills and living independently.
She doesn't want to do the class through distance learning; she wants to be all-in.
"We're California girls, aren't we, Marit?" said her mom, Berit.
Marit nods.
"I was telling my cousin Grace, 'There are so many people who just stay near home for college. And I was like why? You've lived here your whole life. Don't you want to change it around a little bit?'" said Marit.
That's when you realize: She's not afraid of much.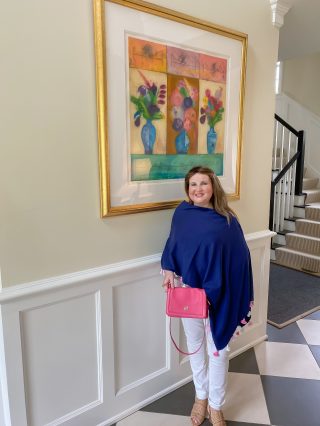 'For whatever reason, my chid survived'
When the family thinks of their time at St. Jude, many patients stand out. Marit became good friends with a teenager named Dylan, also from Minnesota, who lived in the room directly below them at Target House.
"I used to stomp on the floor above him," said Marit, for the fun of having Dylan scold her about it later.
Dylan passed away in 2010, and today the families are still close.
"It is hard with my closest group of friends down at St. Jude," said Berit. "I have survivor guilt. What's the right word? I don't want to say I'm lucky. I don't want to say I'm blessed. For whatever reason, my child survived the cancer."
But Marit has long-term effects from her treatment.
"I've qualified for my school's special education program," said Marit. "That hasn't stopped me from doing things that matter to me though."
She's participated in special needs sports and works out with a trainer. She swims and makes crafts, such as bracelets, from duct tape. She enjoys weaving.
There's also her work for St. Jude. In addition to the St. Jude Red Carpet for Hope Teen Gala, she raised $5,000 for St. Jude last year and got to participate in the St. Jude Leadership Society (SJLS), a special program for teen leaders. She urged her high school peers to join her in the SJLS. Several did and got to travel with her to St. Jude.
It was a calculated move on Marit's part because school and acceptance had not always been easy.
By showing them St. Jude, she wanted them to know what St. Jude does, and also to know her – the challenges she's faced and what she's overcome. She wanted them to see how strong she is.
So she showed them the medicine room for chemo and the waiting area for her radiation. She showed them the Kay Kafe and introduced them to her doctors and nurses, who down through the years had become like family. She showed them the ABCs of Cancer wall, where every letter signifies some aspect of cancer treatment.
Look at all she's gone through, and all she's survived.
Did it work? Did it make an impression?
Marit thinks so. She believes she's made a difference.