Mary Browder's LPGA moment comes during the CME Group Tour Championship
Golf helped this
St. Jude

patient through cancer treatment. Now she plays competitively and had a chance to play in the CME Group Tour Championship Pro-Am.

November 20, 2019 • 5 min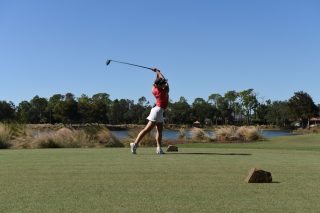 She grew up on the golf course, tagging along with her dad. You might say Mary Browder's first sandbox was the trap on the par-3 second hole. He'd play golf, she'd play.
But as she approached her 11th birthday, and dad Jason thought it was time to really teach his daughter the sport he loves, there was the complication of all complications:
Mary Browder was diagnosed with Hodgkin lymphoma. She became a patient at St. Jude Children's Research Hospital.
Nearly six years later, the family can smile at how it all played out — at the happy ending of cancer treatment, and the sweet beginning of a golf career. Yes, Mary Browder was successfully treated at St. Jude, and golf — a sport she now plays competitively ­— was, well, part of the cure.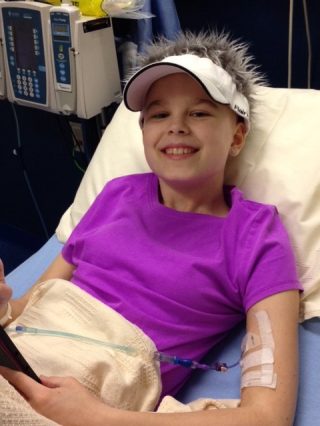 "It took me a while to really get into it and start liking it. It was mostly just something for me to be outside, at that point," she says. "But I'm glad I stuck with it. I really, really enjoy it now."
It's a story Mary Browder, now 16, can tell at this week's CME Group Tour Championship in Naples, Florida, where she's playing in the Pro-Am and serving as honorary starter and pin-flag caddie for the stars of the LPGA Tour.
She can talk about taking lessons from her dad at home in Kentucky between chemotherapy treatments at St. Jude. She can talk about falling in love with a game that challenges the body and mind like few others. She can talk about her aspirations to play college golf.
"We were looking for something, I think, not knowing it, to keep her mind off what was going on with her body," says Renee, Mary Browder's mom.
"We didn't really have a game plan for having a kid with cancer," Jason says. "We were making this stuff up as we went."
It's not as strange as it might sound — golf as therapy for cancer. With a compromised immune system, she was more suited to an individual pursuit than a team sport. And with her energy diminished, what better than a sport where the hard work is done while standing in one place? Plus, St. Jude wants its patients to experience normalcy — fun, even — to help them through the throes of treatment.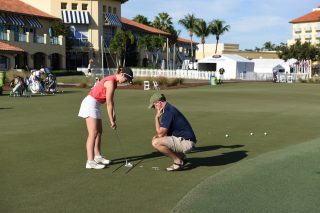 All that, and golf just seems to be in the family genes.
"She's got her mother's golf swing, thankfully," Jason says.
Still, there were some challenges. There was the matter of the PICC line — the catheter through which patients receive medicines, nutrition, blood products and fluids — in Mary Browder's left arm.
So they talked with her doctor at St. Jude. "We negotiated a half-swing, or putting," Jason says with a laugh.
Says Mary Browder, "There's only so much you can do with PICC line in your arm, but we made it work. And it's actually a very good introduction to golf. That's the bottom half of your swing. That's the baseline for your whole game."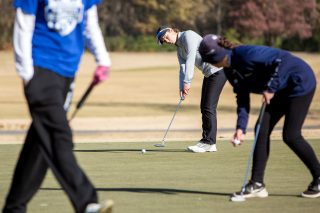 So, with her doctor's blessing, they focused on half swings and putting — the ball-striking aspect of the game. The backswing and follow-through could come later — Mary Browder had her whole life ahead of her, after all.
That's how she and the family approached her treatment. Be strong, and have confidence in St. Jude.
"Well, I knew they were going to take care of me, so I wasn't really too concerned about that," Mary Browder says. "I'm also about 10 years old at this point, so I don't understand much of what it all means. But I knew that it was going to make me sick, it was probably going to make me feel bad, and that it was just something I had to deal with."
And so she did, in her own ways. She walked through the hospital, as her mom recalls, with her bald head held high. She stayed busy with golf, ballet and reading. She quizzed doctors about every aspect of her treatment.
"She was in control, and we let her be," Renee says.
"She was in more control than we were, at times," Jason says. "It was hers. She owned it."
"Exactly," Renee says.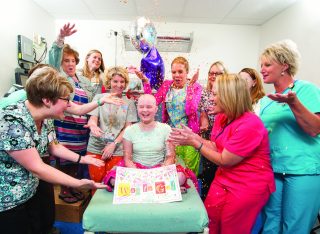 If Mary Browder seems capable beyond her years, this might be a good place to mention her ACT score. You'd like to do as well on the front nine ­— 34.
"Things come kind of easy to her, but she likes to challenge herself," says Amy McDowell, who teaches Mary Browder in accounting and coached her in golf for several years. "I've heard her asking for more work, which just cracks me up."
You might wonder how she'd find the time for extra classwork, what with the golf team, officer positions in Student Council and Future Business Leaders of America, plus Spanish Club, Math Club, and starting something new called the Finer Things Club.
As a golfer, McDowell says Mary Browder has "a different presence about her that I can't really describe."
"Golf is a frustrating and isolating sport, you're out there by yourself," she says. "But nothing seems to really faze her. Which is unusual, because usually there's tears. I mean, the boys cry. It's frustrating, but she's always got the same demeanor."
She even handled the pressure of hitting golf balls with PGA TOUR star Rory McIlroy in Yankee Stadium a couple of years ago, in a St. Jude-connected moment of a lifetime. "I'm so glad I didn't shank it!" she said with a laugh.
Mary Browder, who recently tied for 24th in the Kentucky girls state high school golf tournament, embraces the sport others find maddening. She likes the practice it takes, the repetition it requires. She seems challenged by the mind games it can play on those who try to master it.
"I'm really getting to where I can tackle the mental side of the game, or focus more on the mental side of the game than the technical swing," she says. "And this is where I'm hopefully going to see my scores start dropping into the 70s consistently."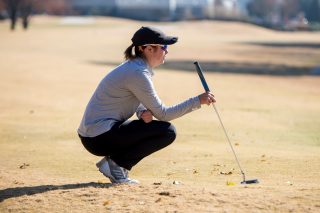 She's started to talk to college golf coaches, but academics will come first in that decision. Her dad thinks she'd be a great engineer. Mary Browder smiles at the suggestion. She doesn't know what she wants to do with her life. She's just a junior. There's time.
This week, she's living in the moment, and what a moment — a starring role among the stars of the LPGA and the CME Group Tour Championship. Ask her about it and she beams. "I am so excited," she says, reeling off names of favorite players, including Lexi Thompson and sisters Nelly and Jessica Korda. "I'm seeing celebrities," she says.
She talks about following the tour on Instagram, and about the CME Group Cares Challenge — Score 1 for St. Jude, in which the global markets company donates $20,000 to St. Jude for each hole in one on the LPGA Tour in 2019 — $640,000 and counting.
Ask her what will go through her mind at the tournament — memories of the illness that led to this moment, perhaps? — and she laughs at the silliness of the questions adults sometimes ask.
"I'm just going to be thinking," she says, "about how cool it is."