More than 10 years after a cancer diagnosis, an independent
St. Jude

patient is ready to 'fly' 
Kayla's mom worried a cancer diagnosis and treatment that followed would change the person her daughter was meant to be.

March 10, 2023 • 4 min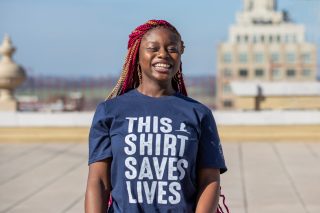 As a toddler, Kayla took off her diaper, handed it to her mother and asked for big girl underwear. She pushed away the bottle, wanting to drink from a cup instead. She wanted to dress herself, even tie her own shoes.
"She was just a really, really fast learner and she wanted to do it herself," Kayla's mom, Myestia, said.
At just 4, Kayla visited her godmother, a five-hour drive from her home, and from her anxious mom in Tennessee. Myestia called to check on Kayla, expecting her daughter to be anxious, too.
Instead, "Lady K," as her godmother called her, was just fine without mom and happily stayed the entire summer without complaint.
Kayla didn't cry on her first day of school, happily trooping into her classroom. In first grade at her Christian school, Kayla memorized Bible verses and led her classmates in reciting scriptures.
Myestia could imagine the kind of person Kayla would grow up to be. Independent. In charge. Ready to take on the world.
Then, in 2012, at the start of second grade, 7-year-old Kayla began complaining about headaches and stomach pain. Myestia worried what happened next would change who her daughter was meant to be.
After a family outing, Kayla came home, sick with a high fever. Myestia rushed her to the emergency room of their local children's hospital. An X-ray showed an enlarged spleen and liver. When they drew blood, Kayla wouldn't stop bleeding.
That was the first time Myestia heard that dreaded word — cancer.
"I was like oh, my God. They just said my baby was going to die," Myestia said.
Kayla was referred to St. Jude Children's Research Hospital® and was on campus by 2:30 the next morning. At St. Jude, Kayla was diagnosed with acute lymphoblastic leukemia, the most common form of childhood cancer.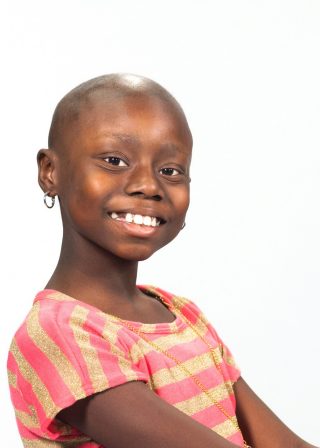 "I just remember trying not to cry in her presence," Myestia said.
Showing fear was not an option. Action was.
Myestia educated herself about her daughter's cancer and worked with the child life specialists at St. Jude to help Kayla understand it. They then helped her young friends understand that Kayla's cancer was not contagious.
Myestia, a middle school English language arts teacher, learned to clean the central line in Kayla's chest, while taking care of her 3-year-old and 1-year-old. And she was there for comfort and support when Kayla began to lose her shoulder-length hair during chemotherapy.
With Kayla losing her hair one braid at a time, Myestia decided to just shave her baby's head.
"I told her it would grow back prettier than ever," she said.
It did.
Even in treatment, Kayla stayed true to herself. She wanted to learn and never stopped asking questions. Kayla explained cancer the best way she could to her 3-year-old sister, showing her the central line in her chest.
Kayla was in treatment until April 2015 and is now cancer free. For the high school senior, her time at St. Jude helped shape her personality.
"Because without them, honestly, I wouldn't think I would be as nice as I am and understanding and caring and mature. I really thank them for how I've grown up," said Kayla. 
Kayla picked up her independent ways right where she left off. At 13, when her mom wouldn't pay for an expensive cell phone, Kayla found a way. She bought candy and chips to sell to her school mates. Kids who bundled their purchases and bought multiple items got discounts.
When she hit her $1,000 goal, Kayla shut down the candy store and paid cash for the phone.
At 16, Kayla was a trainer at the fast-food restaurant where she works. The younger employees look up to her like a big sister. By 17, she was in management training.
She sees in her future a possible degree in business, an esthetician license, owning her own salon and one or more fast-food outlets.
 Even with so much going on, Kayla always finds time in her crowded schedule to celebrate St. Jude.  
"I love to speak about St. Jude and tell about my story," Kayla said. "For me, it's a second home. I enjoy the fact that I can go there and see people that I've grown up with and see their parents and their siblings and understand that this is our community. Or family. This is our safe place."
Despite her cancer, St. Jude gave her so many once-in-a-lifetime experiences.  She has met professional athletes and gospel recording artists and hosted red-carpet gospel awards events. 
When she was 9, Kayla met former First Lady Michelle Obama. They only expected a few quick pictures.
"She actually came and sat at the table with us and talked to us and had a real conversation with us," Kayla said. "I really enjoyed it." 
For the mother and daughter, their faith in God and the support of their church family got them through those trying times and continues to keep them going.
"She's really doing well. I'm proud of her and the strides she's making," Myestia said.
Her family has moved back to Louisiana. Kayla gets scans now just once a year. Myestia has known for years about St. Jude, its mission and its promise. Families will never receive a bill from St. Jude for treatment, travel, housing or food – so they can focus on helping their child live. Before Kayla's diagnosis, Myestia oversaw a fundraising drive for St. Jude at her school. Now, after starting their own St. Jude journey, they will be forever grateful to all of the donors who made it all possible.
It is inevitable that children grow up and leave the nest. And it would be understandable that a mother who helped her child beat back cancer would want to hold on as long as she could.
But not Myestia.
She is ready to watch Kayla soar.
"I think the whole purpose of parenting is to prepare and then release," Myestia said. "I'm honored to be able to say I've done as much as I can. Fly."