It's not about the cards, candy or flowers — 'He is my gift'
For Mother's Day,
St. Jude

mom Erika celebrates all the little moments with her son after treatment

May 12, 2023 • 3 min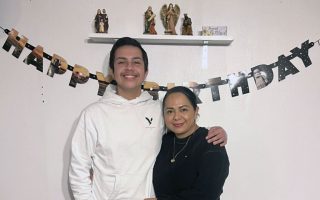 Every morning, after the alarm goes off, Erika counts her blessings.
There are many, she knows, but on the top of her list are her two sons and their well-being.
Not long ago, her son, Erick, was facing cancer, and now she's grateful for his health and the normalcy that has returned to their lives. They are everyday gifts, she said, and she does not take them for granted.  
"Every adventure we have together is a little victory for me that I rejoice and value so much," said Erika.
Recently the family embarked on a fishing trip. "We loved it, especially Erick since he had wanted to do it for a long time," Erika said. "He couldn't do it (in the past), though, because he had an intravenous catheter during his treatment. We couldn't risk it being submerged in the water."
Erika wants to make more of Erick's wishes a reality. 
"Other than fishing, he told me, 'When I finish my treatment, I want you to take me back to a theme park, to the beach and to a canoeing trip,'" Erika remembered. "And, of course, we are going to make those dreams come true."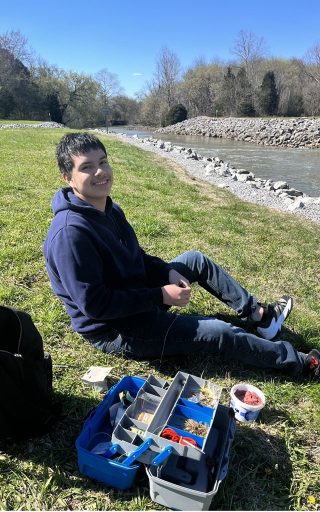 Erick spent seven months undergoing treatment at St. Jude Children's Research Hospital® following a diagnosis of Ewing sarcoma, a cancerous tumor that grows in the bones or in the tissue around bones — often the legs, pelvis, ribs, arms or spine.
Ewing sarcoma is the second most common type of bone cancer in children and can spread to the lungs, bones and bone marrow. Still, it is very rare. About 200 children and young adults are found to have Ewing sarcoma each year in the United States.
"I prayed to God"
Erika still remembers the agony prior to the diagnosis. They endured four long years of medical tests in which the doctors found no explanation for her child's unusual pain in one foot at age 9. But her maternal instinct told her there was something more.
Her son's pain only grew with intensity, and she felt he was deteriorating fast.
"I suffered a lot. I prayed to God to do something because I couldn't bear to see him like that without being able to do anything," said Erika with tears in her eyes.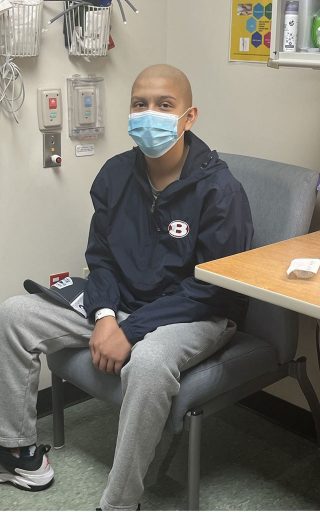 The pain became more acute and prevented him from sleeping or eating properly. He lost 20 pounds and then underwent more tests before the cancer was confirmed. He was referred to St. Jude.
"I was scared, just wondering, how am I going to do this if I quit my job, being a household with my two kids?" she said.
Still, not knowing what the future held, she was confident that this trip would transform her uncertainty into hope.  
You're in good hands"  
Erika does not forget the encouraging words that comforted her upon her arrival at St. Jude. She met another mother whose daughter was being treated at the hospital, who reassured her when she shared her anguish. 
"She told me, 'You're in good hands, they do a lot for the children here, and if you ever need anything, don't hesitate to tell (the St. Jude staff)'," Erika said. "I did not expect that they would offer me a place to stay with my sons. So, I was amazed and grateful for everything there was for us, even for my other son who was by our side the whole time," Erika explained.
Later, she learned that families never receive a bill from St. Jude for treatment, travel, housing or food – so that they can focus on helping their children live.
Erick also recalled being in awe on day one. After St. Jude doctors prescribed his first medication, he soon felt better, and he told his mom that he was very hungry. He had gotten back his appetite.
"As soon as they got my pain under control, it felt amazing," Erick said.
"Even though St. Jude is a very big place, I felt at home. And I liked that there were other children like me," he added.
Mother and son faced a new chapter in their lives that brought them even closer. Now, Erick is 14 and he returns to the hospital regularly with his mother for his routine medical checkups.
"I am happy to know that I no longer have cancer and that the treatment was faster than I expected," Erick said.
All of the challenges and difficult times that Erick has been through are a reminder every day to celebrate and smile, Erika said. Especially for the first Mother's Day after Erick's treatment.
"What better gift for Mother's Day can I get other than seeing my son rise every morning? I already have my gift. It is all about having more time together and taking advantage of it to continue celebrating other special occasions like this holiday. He is my gift."