World Golf Championships: Justin Thomas,
St. Jude

patient Nate are together, every step of the way
PGA TOUR golfer Justin Thomas will sport a pair of FootJoy shoes featuring art by 10-year-old medulloblastoma survivor Nate.

July 29, 2020 • 3 min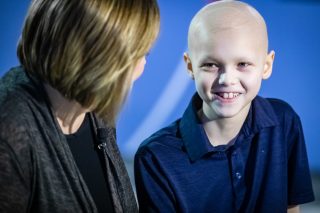 Not so long ago, if you asked Nate's parents how their son was doing, they'd have talked about photon and proton radiation treatments, high-dose chemotherapy and physical therapy to help him learn how to walk again.
They'd have talked about life at St. Jude Children's Research Hospital and Nate's treatment there for medulloblastoma, a brain tumor.
And now? Some 15 months after finishing treatment at St. Jude, they're talking about his golf game, his personality, sense of humor and everything else that makes Nate Nate.
A child saved. Childhood resumed. Life back to normal.
And how cool is this? Nate's art — a slice of pizza, his favorite food — is featured on the FootJoy shoes PGA TOUR star Justin Thomas is wearing at this week's World Golf Championships-FedEx St. Jude Invitational.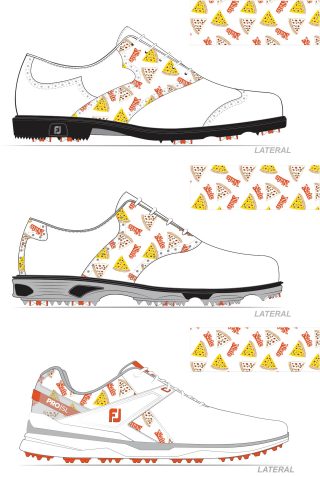 Nate's fellow St. Jude patients Ally, Caleb and Dakota also will have their art featured on players' shoes. FedEx brought FootJoy and St. Jude together for this project and delivered the shoes, as well.
In Nate's case, it's a perfect pairing: He loves the game, and is getting better and better at it.
"He's just awesome," said Ross, his dad. "He can hit 100 yards, 150 yards on a drive. He puts it on the green. He needs to work on his putting, but that's my fault — I'm not a good putter, either.
"Out there on the fairway, he's really good. He hits it straight, he's got good form. He listens to his instructors. They've taught him a lot, but he's got a natural gift for it."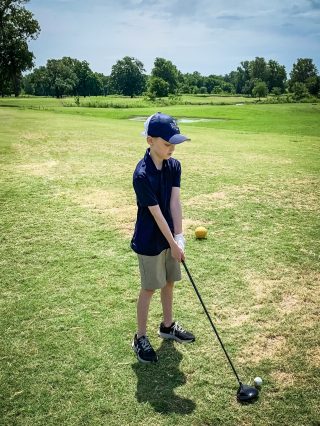 As for his personality, Ross said, "We're starting to see the old Nate kind of come back. During treatment, he was very quiet. I think that was his (coping) mechanism. He would open up with friends but he was very quiet with us."
His sense of humor doesn't seem to have skipped a beat. Consider ...
Here's Nate, after dad described how the family would talk through every phase of treatment and how a "very mature" Nate was an active participant in the process:
"I didn't really understand anything that they really said." Pause for parent laughter and comedic effect. "I'd smile and nod."
Here he is, on what it was like to be told, at age 8, that he had a brain tumor:
"Well, the first thought was, what the heck is a brain tumor?"
And here he is, explaining why his art on the FootJoy shoes is a slice of pizza:
"I love pizza. I've thrown it up so many times. And I still eat it."
His parents laughed and explained that throwing up is a side effect of medulloblastoma. In fact, it's how his illness was discovered — because he began throwing up at school, around 10 a.m. almost every day, like clockwork.
Mostly, they laughed.
"Gross," said Angela, his mom.
"It's true!" Nate said.
"He's very, very open," Ross explained. "There's not much guile in him."
There is, though, beyond the sense of humor and ability to hit a golf ball straight down the fairway, also an emotional strength to Nate that showed itself, his parents said, in how he coped with treatment.
"He's just always been very resilient, which, you know — thank goodness. Thank goodness for that," Angela said.
"He didn't whine and cry and complain," Ross said. "If he complained, there was really something wrong. Even on bad days, he wouldn't complain, typically."
Nate had a simple means of handling the rigors of treatment.
"I'd run and jump in the bed and lay there," he said, describing his post-appointment routine, "and watch TV for the rest of the day."
These days, he's a boy of action. He plays basketball. He's learning guitar. And golf, well …
"I will play golf all day long," Nate said.
This weekend, though, he'll stop long enough to watch the WGC-FESJI telecast on CBS. He'll have a rooting interest, after all. He'll be pulling for Justin Thomas, every step of the way.