New treatment offers hope for devastating brain tumor diagnosis for 6-year-old girl
Lizzie is back home in Texas going to school, participating in jiu-jitsu, and hoping to become a triathlete just like her older brother and sister.

April 29, 2022 • 3 min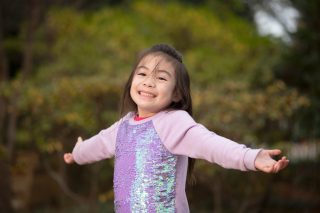 It was only supposed to be an MRI to find out what was causing her little girl's crossed eyes.
But moments after her 18-month-old daughter, Lizzie, underwent the screening, her mother Mary found herself on the fifth floor of the local hospital where doctor's offices for hematology and oncology were.
"I remember thinking oncology means cancer, and why are we standing here with my baby,'' she recalled. "I think that is when they started to try to explain it to us, but it was the shock of my life."
Lizzie was diagnosed with optic nerve glioma, a slow-growing brain tumor in or around the optic nerve. Lizzie had begun to lose vision in her left eye.
When doctors diagnosed the glioma, they told Mary and her husband, Juan, that they needed to treat it right away. They needed to get a biopsy, and then start treatment, which would likely include chemotherapy.
"I don't know if it ever really made sense,'' Mary said. "It was more of this is what's going on, and is what you have to do, so let's get on it. And your appointment is next week."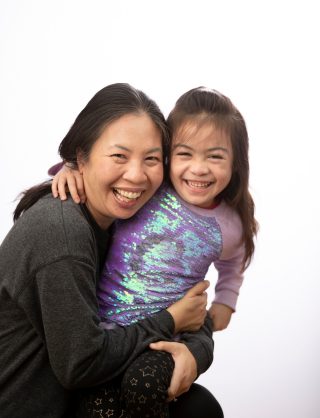 Soon Lizzie was receiving chemotherapy at a local hospital. Treatment lasted nearly three years. A few months after stopping chemotherapy, Mary found herself in a doctor's office hearing devastating news again during Lizzie's quarterly checkup. The tumor had grown significantly.
Doctors told the couple about St. Jude Children's Research Hospital in Memphis and its work with brain tumors. They referred the couple to the hospital and last summer Lizzie started to participate in a new drug protocol.
"We were just happy to have a place to go that we had an option, because at that point we felt like there was no other option,'' she said.
New treatment brings hope
At St. Jude, Lizzie was started on Mirdametinib, a medicine designed to block MEK proteins that are hyperactivated by mutations that arise in pediatric low grade (slow-growing) gliomas. Published studies on Mirdametinib have shown that it gets into the brain, where the tumors are located, better than the other available drugs, said Giles Robinson, a doctor at St. Jude and principal investigator of the clinical trial.
"This is really exciting for a group of children because, while they grow slowly, these tumors affect all kind of things, like vision, proper movement, cognition, and development. If you can put them on a medicine and shrink this down you can alleviate a lot of their symptoms and have them lead near normal lives while taking this medicine."
About two months after Lizzie started on the treatment, doctors saw tumor reduction and her vision stopped getting worse, her mother said. Several scans afterward have all been positive. Lizzie continues to take the medication at home.
During her most recent scans in February, Lizzie's tumor was found to be steadily shrinking, Mary said.
"It looks like the medicine is working, which is a huge blessing, and we are so excited about that," she said.
Birthdays, hikes and a future triathlete
The youngest of three, Lizzie started kindergarten after she returned home from St. Jude, and recently celebrated her 6th birthday. She takes classes in jiu-jitsu, where she has already earned two stripes on her belt.
Mary describes Lizzie as fun and sweet, someone who easily wins people over with her personality.
"She's a fighter, this has been a challenging path for anyone to go through and she has handled it like a champ," Mary said.
Juan called his daughter "extremely inquisitive," and "feisty," a child who likes to read and sing when she plays. She is also drawn to sports, like the rest of her active family. She doesn't let her limited vision stop her from doing anything, her parents said, even expressing interest in becoming a triathlete, like her older brother and sister. But first — she'll need to learn how to ride a bike, her dad said.
"She has to do a bit of growing, but she is the type of person that is very determined," he said. "She has a personality to be successful at it."